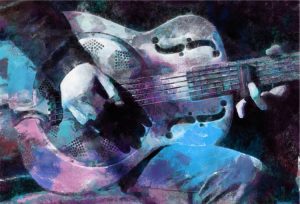 Behind the styles of folk, rock 'n' roll, jazz, and country & western music is the style of blues. Each of these styles have felt the passion and heartache of the blues during their early years of birth. Their pioneers were well-versed in the structure, melodic and harmonic characteristics of the blues, and utilized the blues as a springboard for their own musical explorations. This Study Unit examines the characteristics, instrumentation, and important contributors to this essential American musical form.
What will you learn in this unit?
Analyze the cultural influences which helped create blues music.
Learn the role of the rural birthplaces of early blues.
Examine the common musical characteristics of blues.
Discuss musical forms, such as the 12-bar blues, used by the musical style.
Trace the development of various sub-genres of blues, their characteristics, and uniqueness.
Learn about some of the influential blues composers and musicians.
Consider the lasting impact of blues on current American culture.
Study Unit Overview
Study Unit Worksheet
Study Unit Study Questions
Login
Accessing this course requires a login, please enter your credentials below!
Lost Your Password?