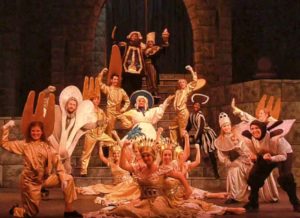 The American stage form known as "musical theatre" descended from early American, British, and European musical stage forms. This unit explores the beginnings of music on the American stage in the 18th century, through the stage spectacles of the 19th century, and into the modern era of musical theatre. During the 20th century, major composers and lyricists appear to shape and direct both the musical and lyrical styles of American musical theatre. Further composers, lyricists, and influencers contribute as it develops in new ways in the 21st century.
What will you learn in this unit?
Explore the rich heritage of American stage music and how it prepared for current musical theatre forms.
Trace the evolving characteristics and features of musical theatre.
Examine six of the elements essential to musical theatre productions.
Learn about some of the composers, lyricists, producers, and performers who helped to develop musical theatre.
Consider the impact of musical theatre on current American culture.
Login
Accessing this course requires a login, please enter your credentials below!
Lost Your Password?