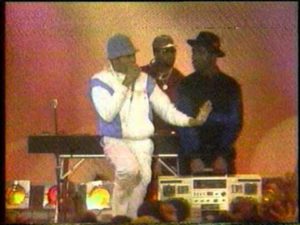 From the streets of American inner cities evolved a culture that was eventually called "hip-hop" and a music which was to be known as "rap". This study unit traces the music and the culture from the early days of "scratching" and "break-dancing" through the Golden Age, the East Coast/West Coast rivalries, into the mainstreaming of rap an era of multi-variations, when rap hybrids appear.
What will you learn in this unit?
Investigate the cultural environment which helped to shape early rap music and the hip-hop culture.
Discuss the evolving characteristics and features of rap music.
Analyze the differences between rap sub-genres created during various time periods and in geographical locations.
Explore technology and its role in the creation and development of rap music.
Learn about groups, musicians, and producers who helped to develop rap.
Consider the impact of rap/hip-hop music on current American culture.
Login
Accessing this course requires a login, please enter your credentials below!
Lost Your Password?