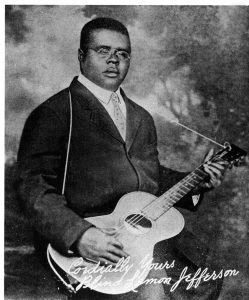 At the base of the healthy trees of American music called rock 'n roll, jazz and country & western is a root called the blues. It was an integral part of the early years of each of these formidable genres. When the pioneers of rock, jazz and country, such as Chuck Berry, Louis Armstrong and Jimmie Rodgers wanted to craft their own sound, the used the form and structure of the blues as a starting point. In fact, it can be sensibly argued that every American musical style of the past century has been directly or indirectly influenced by the style known as the blues.
When most people think of the blues, different images might come to mind. They might think of a sweaty, disheveled old African-American singer/guitar player with a funny name like "Lightning" or "Leadbelly" or "Blind Lemon" or "Muddy" bending guitar notes while singing about being "wronged" by his woman in some dive in Chicago or Mississippi or Georgia.
They could also think of the famous spinoff from Saturday Night Live, The Blues Brothers, starring John Belushi and Dan Akroyd as Jake and Elwood Blues. The image of the Blues Brothers, singing and dancing their way across the stage while the band behind them powers out a blues classic like "Sweet Home Chicago" could be one of the blues images people might identify with.
But, it would also be accurate to look at Elvis Presley singing "Hound Dog" or Count Basie and his big band pounding out a jazz classic such as "One O'Clock Jump" or Hank Williams singing a honky-tonk country blues song or classic rockers like Jimi Hendrix or Eric Clapton or the Rolling Stones to see the offshoots of the blues.
In fact, if the elements and the emotion of the blues were somehow mysteriously bleached out of contemporary music, the end result, from Garth Brooks to Eminem would be a shallow skin of itself. The blues has been so pervasive that it forms a significant part of the skeleton and ligaments of the healthy entity called American Music.