Earlier, we talked about the basic musical ingredient of rhythm: an organized measurement of time in music.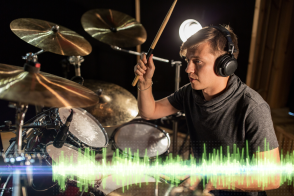 The element of rhythm is a more complex and interwoven musical concept. In its basic definition, the element of rhythm gives energy and pulse to the music. The rhythm element creates the feeling of "moving ahead" in the song and gives an organized pulsation to the music.
The melody may be fascinating, the harmony beautiful, but the rhythm provides the pulse and energy to the music.
Imagine six or eight piles of different types of fabric. The quilt maker chooses pieces from four or five piles to create a repeated pattern for the quilt; patches of purple, green, red, and blue are sown together to make three rows of the same pattern.
In the fourth, yellow is introduced instead of the green for just a row and then reverts again to the one containing the green pattern. The final product is a carefully crafted series of patterns and broken patterns which create predictability and surprise.
The rhythm element in music, most often played by the drummer, is like the colored patterns of a quilt. Combinations of bass drum, snare drum, toms, ride, crash and hi-hat cymbals are the aural fabric which are crafted to create a rhythmic quilt as a foundation to the melody and harmony.
Bass drum in a drumkit:
Snare and bass drums in a drumkit:
Cymbals (ride, high-hat, & crash) in a drumkit:
Simple rhythmic pattern with drums and cymbals:
More complex rhythmic patterns with drums and cymbals:
Still more complexity with rhythmic patterns:
Allan Mednard and group demonstrate the role of the drums in jazz, country, pop, and rock. From Ellington to Led Zeppelin, the drumkit and rhythmic patterns are explained and demonstrated.