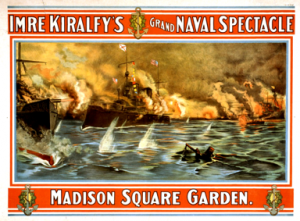 Originally developed in France, the extravaganza was at first a ballet performance which took the audience to a fairyland reality. When brought to America, the ballet and scantily clad dancers were augmented with ingenious 19th century theatre technology and machinery which brought about visual sights never before seen on the stage. Add to the female display and the amazing techno-accomplishments a cast of hundreds, sets, lights, costumes – and a world of amazement was available for the price of a ticket.
An 1893 performance of a "Grand Historical, Allegorical and Ballet Spectacle" called America promised that for the price of a ticket ($0.25 in the family circle, $1.50 in the front) an audience member could see
"Tableaux, Pageants, Marches, Groupings, Display and Choruses" portraying "the Process of American Civilization During the Past Four Hundred Years In Its Many Varying Phases and The Advancement of Commerce, Science and Art."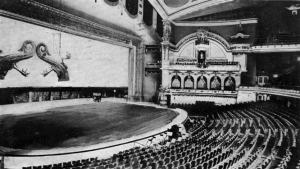 The culmination of the extravaganza stage form came with the building of the Hippodrome Theatre in New York in 1905. While the building was torn down less than thirty-five years later, during its prime, it was the only theatre that could do justice to the expansive productions called spectaculars and extravaganzas. Seating over 5000, the stage was large enough to hold six hundred actors comfortably moving simultaneously. Water ballets, cavalry charges, and baseball games were at various times enacted for the audience. The opening night show in 1905 was titled A Yankee Circus On Mars and featured a chorus of 280 female dancers. Another production, Andersonville or The Story of Wilson's Raiders reenacted a Civil War battle with 480 soldiers, rifle fire, cannons and horses.
While the peak of spectaculars and extravaganzas was reached in the late 1910s, the tremendous cost of the productions, the public's growing interest in vaudeville, and moving pictures, and theatre owner's realization that silent movies could bring some of the visual impact for a fraction of the cost brought the end of the visual spectacles that began in the 1860s.