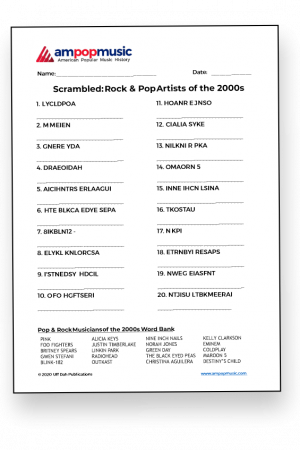 Scrambled Musicians Worksheets
Help yourself to these free "Scrambled Musicians" worksheets. You'll find four different genres of American popular music history represented. For jazz, blues, and country & western, musicians from the early 20th century to present are scrambled. The fourth worksheet is for pop musicians since 2000.
You can save the pdf as a "fillable form" for online assignments, or save and then print for your in-class students to complete.
Each of the worksheets have the "Name Bank" shown at the bottom. For greater difficulty, block off the names at the bottom and have your students complete the task without having the Name Bank to give them hints.
Be sure to click "Contact Us" at the top to find out more about AmPopMusic and set up a trial account to see inside the site and find out how this can help your students.