At its most basic core, music is sound – organized or disorganized sound. Most often, it is sound that has a single pitch, which is a frequency of vibration. Every pitch is created by something vibrating, whether it's a guitar string, drum head, or saxophone reed. Even speakers in your stereo or headset are changing electronic impulses into vibrations.
These vibrations, when even and consistent, are what we call "pitch". It is measured by the number of cycles per second. Visually, it would look like this: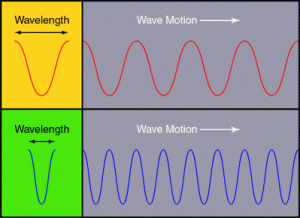 (click to see waves in action)
Pitch is related to the length of the sound wave, therefore, how many of those waves can be heard in one second. The higher the number of waves in one second, the higher the pitch. Pitches are measured then by the number of waves – or cycles – per second. 
Almost in the middle of the piano keyboard is a note known as 'A 440'. It has that designation because when that note is played on the keyboard, the string inside the piano is struck by a small felted hammer and vibrates very fast; in fact it vibrates at (or generates waves) 440 times every second.
Separate Pitches on a Piano:
Separate Pitches on Saxophones:
A large gong is another example of an instrument that creates many simultaneous, close pitches. In a sense, it would be like creating a series of frequencies of 430, 435, 440, 445, 450, 455 and 460 cps all at the same time. Because of such a tone cluster, we say that the gong, a cymbal, or a snare drum is a "non-pitched" instrument. Although it has many simultaneous pitches, none of them can be individually controlled, sustained, or altered while being played. The result is definitely sound, but would not be controlled pitch.