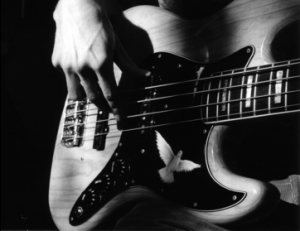 Fitted between the flow of the harmony and the fabric of the rhythm is the element called the bass. It is the logical connection between the two in that it borrows its choice of notes from the harmony being played and presents those notes in a way which can be either flowing and melodic, or rhythmic and percussive. When it functions as a rhythmic partner to the percussion section, a symbiotic relationship develops which is, at times, part dialogue and part duet.
The rhythm and bass fuse together to form a partnership which is foundational to the sound. When they work as a team, it's a powerful musical force. When they are not in the same "groove," that is, out of sync, the outcome is a feeling of disjointed musical foundation.
In some styles of music, the bass line is a simple rhythmic "bom-ba-bom, bom-ba-bom" back and forth between two notes or outlining the three notes in the chord. The bass and drums in a country and western song has a simple, predictable groove. Click the Country Bass Guitar part below to hear this bouncing bass part.
The bass line in other styles of music, like jazz, rhythm & blues (R&B), or rock, has a much more complex rhythmic beat. Click the Jazz Bass Guitar part in the Playdeck to hear a more complex bass line, this time on an acoustic stand-up bass.
Some styles of music, such as funk, allow the bass to create a flowing line which de-emphasizes the edge of the rhythm and reinforces the smooth flow of the harmonic progression. Click the Funk Bass Guitar part below to hear a more angular line on an electric bass.