To fully understand the role of Stephen Foster, it is important to realize that no great popular music was ever written without two crucial elements: a memorable melody and accessible lyrics. Prior to Foster, these two elements were absent from most American parlor songs.
This is not to say that there were not memorable melodies in early 19th century music. Many folk songs and spirituals contained melodic ideas that have remained in public consciousness for over a century.
But the melodic efforts of the popular tune-smiths in the early decades of the 19th century were overworked, self-absorbed and manipulatively melodramatic. The melodies and lyrics of "Woodsman," "Blind Orphan Girl," and "The Old Armchair" tugged incessantly at the emotions like a histrionic adolescent. Although at the time they were accepted as the finest standards of American popular song, removed from that era, they are nothing more than curious museum pieces, no more in touch with today's reality than women's corsets or men's shoe spats.
Into this era of flourishing melodic embellishments and flowery sentimentalism arrived a young man who was to turn American popular music towards a less affected path of emotion.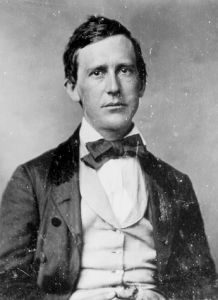 Stephen Foster was born outside of Pittsburgh, Pennsylvania on July 4, 1826 (the 50th anniversary of the signing of the Declaration of Independence and the exact day that both former presidents Thomas Jefferson and John Adams died). Growing up in a middle class family, Foster and his nine siblings were well exposed to music; his sister and father both played the violin and Stephen took piano lessons. His attempts to study the music of Mozart and Beethoven on his own were augmented when a local music teacher transplanted from Germany began to give him formal musical training. However, the predominant attitude in Foster's family was the same as in most American homes at the time: music is a luxury and an entertainment, but certainly not a career.
Although Stephen Foster published his first song at age 16, his career path had been selected for him: bookkeeper. At age 20 he moved to Cincinnati to become bookkeeper for his brother's store. While in Cincinnati, Foster was hunted down by W.C. Peters, the publisher of his first song years earlier. Foster was so excited the publisher showed an interest in his songs that he literally gave a dozen or more songs to Peters for the possibility of seeing them in print. Peters published the songs, which included the classic "Oh Susanna," in a collection and earned over $10,000 from the first printing. However, not only did Peters keep all the profits for himself, but Stephen Foster's name was not included on any song as composer.
The success of the collection did encourage Foster to quit his job as bookkeeper and decide to try his hand as a writer of parlor songs; he became America's first professional songwriter.
In New York Foster found a more reputable music publisher and signed a contract to receive a respectable royalty for his compositions. Traveling music groups such as Christy's Minstrels regularly performed Foster's songs, further aiding in their exposure and sales. Foster moved back to Pittsburgh, married a physician's daughter, and had a daughter. His popularity as America's foremost songwriter was established, his personal life seemed secure and grounded, and Stephen Foster seemed to be on the verge of becoming America's most successful composer.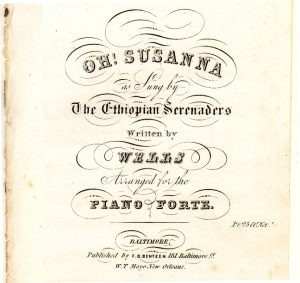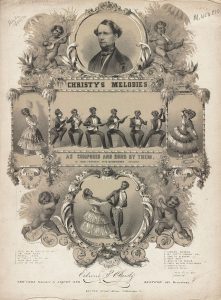 The legal right for a composer to own, publish, and gain financially from his composition was not established until the early part of the 20th century. In Foster's day, a composer could have his songs picked up by any unscrupulous publisher and never see any financial gain from its printing. Unfortunately, the same naivete which caused him to give songs to Peters without compensation was part of his professional downfall. Many songs which should have gone first to his New York publisher were published by another company and attributed to someone other than Stephen Foster. With no copyright law to protect his work, any publisher could print sheet music or lyrics without Foster having any legal recourse or financial compensation. So popular was "Oh! Susanna" that as many as two dozen other companies and individuals claimed legal ownership of the song between 1848 and 1851.
In spite of early success with the New York publisher, Foster's life began to fall apart. After being taken advantage of by several publishers, his home life began to be a place of pressure and reminded shortcomings. Foster became an alcoholic, which put further pressure on his home life and prevented him from meeting his publisher's deadlines. Leaving his wife and daughter in Pittsburgh, Stephen Foster moved to New York City to be closer to the industry and perhaps increase his chances of financial remuneration for his work. Increased debts forced him to sell ownership rights to songs before he wrote them.
The separation from his wife became permanent when she divorced him in 1862. When his contract with his publishing company expired, Stephen was reduced to composing his songs on a freelance arrangement, selling each for whatever the music publisher might offer, and then taking the money to buy enough alcohol to feed his addiction for a few days. When he once again was sober, he would write another song and the cycle would begin again.
On January 13, 1864, Stephen Foster died in a run-down New York apartment. He had thirty-eight cents in his pocket. If he had been born a century later, he would have been a millionaire several times over. He was a victim in spite of his own success.