The musical genius of Stephen Foster was in his ability to craft a melody and make a song that was accessible to the public. Certainly, much of this was an innate talent, but the exposure to several styles of music in his early years helped shape his musical thinking. The early studies of classical musicians like Mozart and Beethoven was important; so also was his exposure to the crop of syrup ballads in the 1830s and '40s.
But perhaps the most influential musical source was the performances of free African-American entertainers in variety stage performances called minstrel shows. The minstrel songs Stephen Foster heard while in his early years shaped his thinking about creating melodies that appealed to the public. Later, songs like "Oh Susanna" and "Camptown Races" were patterned after the syncopated rhythms of the minstrel shows.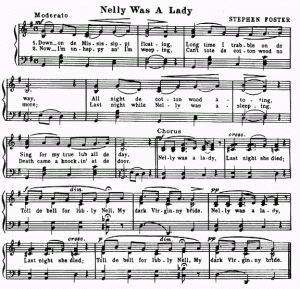 But, far from being racially prejudiced, Foster had great respect for African-Americans. One of his best friends from Pittsburgh was a leading abolitionist leader and publisher. Foster's songs went beyond the simplistic caricature of black performers and acknowledged the emotions and depth of feeling they possessed. One such song, "Nelly Was a Lady" (1849) was a lament of a black man for his deceased wife. It was the first example of a white composer writing a song for a white audience about the deep love between a black man and woman. In it, Foster repeatedly referred to the man's wife as a "lady," which in the past had been a term reserved for well-bred white women. His respect for African-Americans must be understood as part of his minstrel songs.
Although known primarily as a song writer, Foster did compose for other instruments, primarily the piano. One collection of 73 songs arranged for piano, violin, flute, and other instruments netted him only $150, a paltry sum for all his effort.
Early Foster songs followed the ballad pattern with some parlor songs and minstrel songs mixed in. In the last two years of his life, he collaborated with a lyricist gifted in writing novelty verse, suitable for the musical theatre shows. Lighthearted songs like "If You've Only Got a Mustache" and "There Are Plenty of Fish in the Sea" masked the personal anxiety and pain that the composer was experiencing.
In spite of the impact that he had on American popular music, Stephen Foster's lifetime earnings for his music was barely $15,000, an average of just over $1,300 a year. If today's copyright laws, royalty payments and performance fees had been in affect, Foster would have been America's first musical millionaire.
Stephen Foster's unique ability to craft melodies and lyrics that were sensuous without being silly, energetic without being giddy, and emotional without being sentimental brought popular music in America into the modern era. The tremendous financial success of his songs moved the music publishing industry to a new level of importance. His treatment of the parlor song form helped prepare the stage for the Tin Pan Alley songs of the early 1900s. Finally, his incorporation of the rhythmic syncopation of minstrel songs into popular music paved the way for the evolution of ragtime and the appearance of Scott Joplin.
In his simplicity, Foster was great. Because of his limited musical training, his natural, simple melodies were unencumbered by over-ornamentation. There is no doubt that the modern era of American popular music began with Stephen Foster, the "Father of American Popular Music."