By definition, folk music was music by the people, generally anonymously composed and evolving by oral tradition. It was reflective of the experiences and life of the common man and exposed to the singer's personal interpretations and alterations.
However, in the middle of the dust storm that was the 1930s, a singer-songwriter began to rise from the levels of anonymity to the place of national recognition–Woody Guthrie.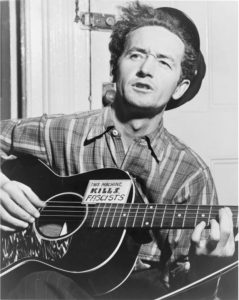 Guthrie was born Woodrow Wilson Guthrie (named after the American president) in 1912 in Okemah, Oklahoma to Charlie and Nora Guthrie. His childhood was characterized by two things: music and hardship. Like many of the Midwest families of the era, the Guthrie's exercised whatever musical muscles they had as an activity of togetherness. Guthrie's parents sang solos and duets at home and in church, and the five children learned early to participate in the music making.
But the music was paired with the tragedies and hardships. When he was only a baby, the Guthrie's brand new home burned to the ground before they could move in. When Woody was age seven, his oldest sister died in a fire. A couple of years later, his father lost all his real estate holdings and his job; the family was homeless. When he was 15, his mother, who had been showing signs of mental instability, exploded into a fit of anger and set Guthrie's father on fire.
Following Nora's commitment to a mental hospital and Charlie's recovery in the hospital, Charlie took the two younger children and moved to live with family in Florida, leaving Woody and his older brother, Roy, in Oklahoma to fend for themselves.
At age 17 Woody moved to the Texas panhandle to live with his father's brother, Jeff Guthrie. Uncle Jeff, an accomplished amateur musician, taught Woody to play the guitar and encouraged his musical talent.
At the beginning of the 1930s, when the one-two punch of the Depression and the drought hit the farmers of Oklahoma and Texas, many looked west to California for prospective jobs. The central valley of California, with miles and miles of farms, orchards, and vineyards, was rumored to be like a Garden of Eden for these hopefuls.
For young Woody Guthrie, the hardships and experiences were the springboard for musical creativity. In his book, "Bound for Glory" he wrote:
"there on the Texas plains right in the dead center of the dust bowl, with the oil boom over and the wheat blowed out and the hard-working people just stumbling about, bothered with mortgages, debts, bills, sickness, worries of every blowing kind, I seen there was plenty to make up songs about."
One of his first efforts, which also became one of his most famous, reflected the migrations of those headed west, "So Long, It's Been Good to Know You."
So long, it's been good to know you,
This dusty ol' dust is a-getting' my home,
And I'm bound to be movin' along.
In the mid-1930s, an estimated four hundred thousand people migrated to California in search of a better life. Most came from Texas, Arkansas, Missouri and Oklahoma, the latter being nicknamed "Okies." Many were settled on one of dozens of Farming Security Association "camps" where they worked and lived in secluded settlements.
In 1936 Guthrie followed the well-beaten path west to find work, landing in Los Angeles where he joined with another singer to perform country tunes in bars and on one of the local radio stations, KFVD. Between singing opportunities in L.A., Guthrie found his way north to the FSA camps where he entertained fellow Okies and other migrants.
During these visits to migrant camps, Guthrie met and became friends with actor Will Geer (best known for his role of "Grampa" on the 80's television series The Waltons) who heavily influenced Guthrie's thinking towards social activism and leftist political thinking. Guthrie began to view his songs and performances as more than mere entertainment. He believed that through his songs he could give people hope, he could challenge thinking, and possibly even bring about change.
His perspective from this time can be seen in the lyrics of songs of his such as "Talking Dustbowl Blues" and the following chorus from "Do-Re-Mi" (1937):
Oh, if you ain't got the do-re-mi, folks,
you ain't got the do-re-mi,
Why, you better go back to beautiful Texas,
Oklahoma, Kansas, Georgia, Tennessee.
California is a garden of Eden,
a paradise to live in or see;
But believe it or not, you won't find it so hot
If you ain't got the do-re-mi.
In 1940, Geer moved to New York City to take a role on Broadway. When Guthrie's opportunities in California evaporated, he heeded Geer's urgings and moved his family to New York City.
Almost immediately Guthrie's opportunities skyrocketed. In the first two months he had met Alan Lomax, son of John Lomax, who arranged first for a private recording session for the Library of Congress and then helped him get a recording contract with Victor Records. The result of the relationship with Victor was Woody Guthrie's first album Dust Bowl Ballads. The critical acclaim of Ballads opened further doors when he was hired to host and perform on a local radio program sponsored by a tobacco company called Pipe Smoking Time.
Within a few months, Guthrie had gone from the migrant worker camps of California to the radio waves of New York City. And, in his down-home, colloquial manner, Guthrie became the unofficial representative for the poverty-stricken, dust storm battered, weary, exhausted, and invisible migrant masses.
But the advantages of regular work and his celebrity status had its down side. Although for the first time in his life Guthrie and his family were no longer in poverty, he also was tied to the predictable schedule of a regular job and was responsible to a boss and the radio censors who guarded and critiqued his on-air commentaries.
"I got disgusted with the whole sissified and nervous rules of censorship on all of my songs and ballads, and drove off down the road across the southern states again."
In spite of the impact he was having on New York radio, Guthrie left New York City with his family and traveled through the South, across to California, and finally landed in the Northwest states of Oregon and Washington.
When he arrived back in New York in 1941, he joined Pete Seeger and others to form The Almanac Singers, who protested against "Hitlerism and other forms of fascism homemade and imported" and supported unions and worker's rights in American factories. On his guitar he hand painted the sign "This Machine Kills Fascists." He was no longer singing for entertainment, he was using his voice and songs to agitate society for change. Songs such as "Round and Round On Hitler's Grave" and "Reuben James" protested the actions of the Nazis in Europe.
While serving in the Merchant Marines in WWII, Guthrie survived being on two torpedoed ships and returned to civilian life in 1945. During this time period, Guthrie also finished his autobiographical novel, Bound for Glory and met and married his second wife, Marjorie.
Although the first few years following the war were positive artistically for Guthrie, it was not without further tragedy when Woody and Marjorie's daughter was killed in an electrical fire in 1947.
By 1949 Guthrie's own health began to waver. Long bouts of depression, the inability to concentrate and increasingly erratic behavior caused Guthrie to admit himself to a mental hospital. By the fall of 1952 doctors had diagnosed Guthrie as suffering from Huntington's Chorea, a degenerative genetic disease which was the source of his mother's emotional explosion and mental breakdown thirty years earlier. His guitar was silent, his pen was still, his typewriter was quiet; the artistic productivity and social activity was over.
In 1956 Guthrie was involuntarily admitted to Greystone Park mental institution in New Jersey. Over the next eleven years his health would steadily deteriorate to the point where, in the end, he could only communicate by pointing to "yes" and "no" cards with his head.
In the final days of Woody Guthrie's life, a new generation of folk songwriters came to pay homage. Bob Dylan came from Minnesota to see his idol before he died. Joan Baez and folk singer Tom Paxton were also among the many that paid tribute to the first voice of the modern folk era.
On October 3rd, 1967, Woody Guthrie died in the Brooklyn State Hospital. During his lifetime, Guthrie had taken the 20th century folk song from light entertainment and soft social commentary to the forged steel sword of social conviction. Never afraid of the repercussions, Guthrie used his songs, guitar, and voice to prick America's conscience regarding the Depression, worker's rights, and its war against the atrocities of Nazism in Europe.
In 1988, at a lavish $1,500 a plate dinner, Woody Guthrie was posthumously inducted into the Rock & Roll Hall of Fame. In accepting the award for his father, Arlo Guthrie looked out at the superstars and music industry moguls that filled the room and said "I don't know where Woody would be tonight, if he were alive, but I can guarantee you he wouldn't be here."
If Guthrie, the "Father of Modern Folk Music," forged the steel sword, it would be Bob Dylan who would wield that sword in the early years of the 1960s. Just before Guthrie's death, Dylan was asked in an interview "What is truth?" to which he responded:
"You want truth?

You'll find Woody Guthrie lying in a Brooklyn hospital."