The Importance of Bob Dylan
The full weight of the importance of Bob Dylan does not lie in the volume of his output, although it might be the measure for any other mere superstar. The importance of Bob Dylan can be understood in the impact he made as a reciter of musical poetry, a catalyst for change, an influence on other songwriters, an icon of the rock elite, and a standard bearer for intellectual and topical art-song.
The move to electric guitar at Newport in 1965 did more than just shift Dylan from one idiom to another; it was the beginning of the end of the mainstream popularity of folk music. Within two years of Dylan's actions, almost every main folk artist had begun to follow his lead; the folk-rock movement, with groups like the Mamas and the Papas, the Byrds, and Crosby, Stills and Nash, had reached a peak. In 1967 Peter, Paul and Mary released folk music's farewell to the stage: "I Dig Rock 'n Roll Music."
Rock musicians were beginning to take their lyrics seriously, signified by a shift away from lines of insipid bubble-gum words to more profound and carefully crafted lyrics. Under Dylan's influence and mentorship, rock 'n roll gained poetic maturity.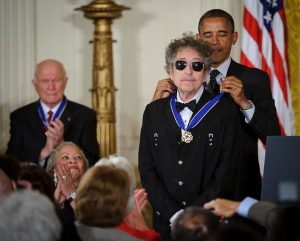 In December 1997, Dylan was one of five recipients of America's highest award for artistic excellence, the Kennedy Center Honors. It is the closest that America comes to awarding a knighthood. In another country, he would have preceded Sir Paul (McCartney), Sir Elton (John), and Sir Mick (Jagger) as Sir Bob (Dylan). The literary importance of Dylan's work was finally recognized in 2016, when Bob Dylan was awarded the Noble Prize for Literature.
The influence of Dylan can be seen in every generation of rocker who puts pen to paper with the purpose of crafting a personal message to their generation. Whether the artist is U2, Springsteen, Sting, Nirvana, Pearl Jam, or Tupac, the door towards more intense, passionate lyrics in rock music was opened first by Dylan.
In his introduction at Bob Dylan's induction into the Rock 'n Roll Hall of Fame, Bruce Springsteen said:
"Bob freed the mind the way Elvis freed the body. He showed us that just because the music was innately physical did not mean that it was anti-intellectual. He had the vision and the talent to make a pop song that contained the whole world. He invented a new way a pop singer could sound, broke through the limitations of what a recording artist could achieve and changed the face of rock and roll forever."