If there was one singer of the second wave of folk musicians who has remained as consistent in their socio-political principles as Pete Seeger has, it would be Joan Baez. Similar to Seeger a generation before her, Baez was born into moderate affluence and pacifistic convictions. Her father was a Mexican born physicist consultant to UNESCO (United Nations Educational, Scientific and Cultural Organization) and her mother a Quaker, which undoubtedly shaped her pacifistic convictions and world awareness.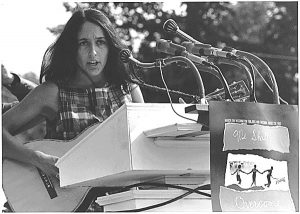 Although her early years were divided between New England and California, by the time she was 17 she had gained a reputation as a gifted interpreter of traditional folk songs in the Greenwich Village folk scene. In 1959, at age 18 she was a hit at the Newport Folk Festival and within a year had a recording contract and the first of seventeen records with the Vanguard label.
Early success came by way of traditional folk songs such as the English Child ballads (a collection of over 300 English and Scottish folk songs collected and printed by Francis James Child in the late 19th century), traditional American folk songs like "Wildwood Flower" and Leadbelly's "House of the Rising Sun" which was later a hit for The Animals.
But Baez's importance in the flow of music history starts when she began to be identified with the folk protest song movement in 1962. Shifting away from the traditional folk repertoire, Baez began to incorporate new material by other songwriters who shared her concern about civil rights, nuclear disarmament, and particularly, the war in Viet Nam. One typical song was by songwriter Phil Ochs: "There But For Fortune" a heartrending lyric identifying with the prisoner, the lonely, downtrodden of the world. Her heritage of compassionate pacifism was beginning to mature in her presentation.
During her 1963 concert tour, Baez introduced to her folk audiences a young songwriter from Minnesota named Bob Dylan. Dylan's performances in her concerts together with successful covers of his songs by other artists catapulted him to instant reverence with folk musicians and audiences.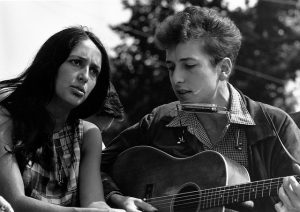 During the next four years, Baez was a constant promoter and interpreter of Dylan's music, using many in concerts and records. Her clear, shimmery voice providing an intelligible alternative to Dylan's own gritty, if not mumbled, recordings.
In August 1963, Baez was on the platform with Dr. Martin Luther King at the end of the famous March on Washington; singing several songs and helping to lead in the anthem of the civil rights movement, "We Shall Overcome." In 1965 she formed the Institute for the Study of Non-Violence in San Francisco and protested the war by withholding her taxes.
The folk song movement peaked in 1965 and began to quickly give way to rock 'n roll on the charts and radio airwaves. Baez, who never felt comfortable with the rock idiom, shifted from New York City to Nashville, where she recorded several quasi-country albums over the next decade. In 1971 she had her only Top Ten hit of the post-folk era with Robbie Robertson's "The Night They Drove Old Dixie Down."
In 1975 she wrote and recorded her own songs for the first time, beginning with the album Diamonds and Rust, the title song of which spoke of her relationship and love affair with Dylan.
Since the '70s, Joan Baez has continued to record, tour, and be active politically. Appearing in many of the trouble spots of the world in the last two decades, including Bosnia, Baez has remained true to her convictions. She currently lives in San Francisco.
Her place in the unfolding history of the '60s protest song movement was two-fold. First, the clarity of her voice, her selection of songs and the precision of her interpretations were the unimpeachable musical embodiment of the civil rights/anti-war movement. Secondly, she was instrumental in introducing the world to the songs and persona of Bob Dylan.
Joan Baez and Bob Dylan Documentary "How Sweet the Sound", 2009