Backwoods Beginnings
The roots of country stems back even before the hillbilly singers of the Appalachian Mountains of Tennessee and Virginia and Kentucky formed their first fiddle bands and picked their first guitars.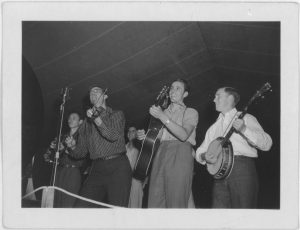 To fully understand country & western music, one must first understand that its roots reach back across the Atlantic to the green hills of Ireland, Scotland and England. When many of the ancestors of the hillbilly singers were transplanted from these countries in the 18th and 19th centuries, they came bringing their folk songs with them. Folk ballads about the everyday life of the British common man were easily converted to the new world. Authentic texts about life and its hardship, love and its heartache, work and its drudgery, religion and its fervor were all part of the fabric of the daily existence.
In an age, which predated CDs, DVDs, computers, music videos, movies, television, and radio, entertainment was almost entirely self-created. Sitting on the front porch or under the elm tree in the backyard, at a family picnic or in church meetings, while working in the fields or making meals, the common man and woman and child sang. It was to relieve boredom and to lighten the job. It was to find common ground between common folk and to encourage, entertain and provide a diversion in the drudgery of life.