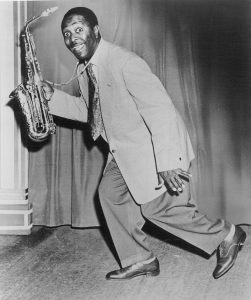 The evolution of rockabilly dates back to the final years of the big band era and swing jazz. Small combos called "jump" bands, led by artists like Louis Jordan in the late '30s, influenced the beginning of "rhythm & blues" in the early '50s. They were built on a type of "hot" jazz, which emphasized a shuffle-eighth note rhythm and a driving beat fit within a twelve bar blues format. It was energy, rhythm, humor and a catchy melody and lyric. Songs like "Ain't Nobody Here But Us Chickens," "Is You Is or Is You Ain't My Baby?" and "Saturday Night Fish Fry" were Louis Jordan hits in the late '40s.
A new, "cool" language known as "jive" evolved with the "jump" style.  It was built on metaphors and terms that seemed obtuse to those on the outside, but to those in the know, its definitions and meanings were clearly understood. The African-American culture was quickly building its own language, clothes, identity and music. Rhythm & Blues, or R&B, was an earthy, sensual combination of the beat of the jump bands and the passion of the blues.
As radio stations that were either owned by blacks or dedicated to playing black music began to pop up throughout the East and the South, young white audiences were discovering rhythm and blues. The big band era was over and the new generation wanted dance music that was theirs alone. The R&B, which they heard over stations like WLAC in Nashville, was just what they were looking for.
In an effort to create a "white" form of rhythm and blues, young singers from Philadelphia to Memphis to Texas were infusing their own styles with the energy of R&B. Western swing, hillbilly, R&B and a little gospel were melded together by artists like Bill Haley ("Rock Around the Clock"), Buddy Holly ("That'll Be the Day"), Carl Perkins ("Blue Suede Shoes"), Eddie Cochran ("Summertime Blues") and Jerry Lee Lewis ("Great Balls of Fire").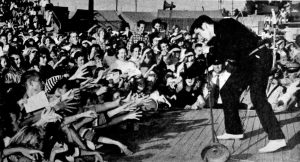 But the artist who popularized rockabilly more than any other was the one who was promoted in the mid-'50s first as The King of Western Bop and then as The Hillbilly Cat: Elvis Presley. Starting at Sun Records in Memphis in 1954 and moving to RCA in Nashville in 1956, Presley's string of rockabilly hits over two years included "Blue Moon of Kentucky," "That's Alright, Mama," "Good Rockin' Tonight" and "Hound Dog".
Most of the early rockabilly artists were recording outside of Nashville, almost all in Memphis. More conservative Nashville record companies objected to this style that was too close to "race records" to receive airplay on typical country radio stations. But suddenly, when Elvis came to town in 1956 to record at RCA, many rockabilly artists like the Everly Brothers, Conway Twitty and Faron Young found recording time in Nashville studios.
But as Presley moved to RCA Records, he became more polished and more crossover-oriented, leaving his rockabilly roots to others.  Until rockabilly's evaporation in the late '50s, Perkins, Lewis, Johnny Cash, Roy Orbison, Conway Twitty, Faron Young, and the Everly Brothers continued to produce hits in the high energy, country R&B style known as "rockabilly."
 "Elvis is written all over me. I grew up doin' Elvis's music.He was two years older than me.He was nineteen years old,hottest thing in the world, and I was seventeen years old, coldest thing in the world. But I was havin' to make a livin' and if you didn't know how to play Elvis Presley songs, you might as well go home."  –Merle Haggard