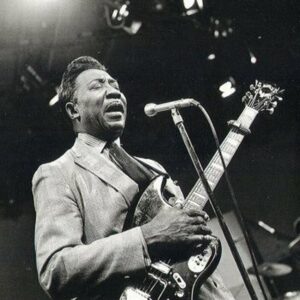 Muddy Waters
A new resurgence of blues power arrived in Chicago in 1943 with the appearance of McKinley Morganfield, also known as Muddy Waters. Waters was an authentic delta bluesman, learning from Son House, one of the first blues artists in the tradition of Charley Patton.
When traveling folklorist Alan Lomax came to Mississippi to record Son House and Robert Johnson for the Library of Congress in 1941 (the news of Johnson's death hadn't reached Washington, D.C.), he also recorded a 26 year old sharecropper who had doubts about his skills. Lomax's recordings of the young artist convinced Morganfield to leave the cotton plantations of Mississippi for Chicago.
By 1948, Morganfield had made major changes in his life: he changed his name to Muddy Waters, took up the electric guitar, and signed a recording contract with fledgling independent record label, Chess Records. His first single "I Can't Be Satisfied" sold out the few hundred copies in one day, a remarkable feat for an unknown artist with an indie label.
Urban Blues – Electric Guitar with Backup
Chess Records agreed to allow Muddy Waters to record his entire band in the next sessions, and the Chicago blues sound was born. In addition to Waters' electric guitar was a standup string bass, piano, drums, rhythm guitar and amplified harmonica. The raw, sexual tension of delta bluesmen, Charley Patton and Robert Johnson was reborn in the Chicago blues sound of Muddy Waters, his rival Howlin' Wolf, and Elmore James.
During the decade of the 1950's, no blues artist had the success of Waters. An endless stream of songs, including "Got My Mojo Workin'," "I'm Your Hoochie Coochie Man" and "I Just Want to Make Love to You" provided standards for blues artists from Memphis to England. One of the major British bands even named their group after a Muddy Waters' song –"Rollin' Stone."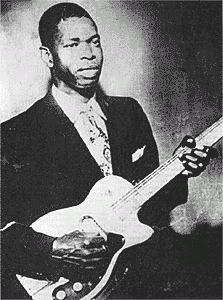 A different type of blues sound came from the slide guitar of Elmore James. James was one more in a long line of Mississippi delta bluesmen who traveled north to Chicago in the early 50's. If Muddy Waters was directly influenced by Son House and Charley Patton, Elmore James was guided by the sound of Robert Johnson, whom he met at age 19 in the final year of Johnson's life.
James' first hit recording was a Johnson song, "Dust My Broom," which he had presented in a more aggressive, amplified way. The unique bottleneck slide guitar sound of Elmore James became a key characteristic of his recordings and became an influence on early rock guitarists like Keith Richards (from the Rolling Stones), Eric Clapton and Jimi Hendrix. James' power "wah-wah-wah-wah" electric slide guitar was the first step in the path of lead guitar experimentation which eventually exploded into the fuzz tone and distortion of Jeff Beck of the Yardbirds and Jimmy Page of Led Zeppelin.
Chicago or Memphis blues were based on the rural blues sound of the Mississippi delta, but were given power amplification and a driving, raucous beat provided by non-traditional blues instruments such as trumpets, pianos and drums. The AAB rhyming scheme and strict 12 bar blues formula of rural blues was bent and eventually broken.
The second wave of blues popularity was rarely noticed in America outside the black blues community.
The slide guitar style of Elmore James' "Dust My Broom"