The pilgrimage towards cross-pollination between the well-formed styles of jazz and rock 'n' roll began in the mid-sixties from both musical directions.
Trumpeter Miles Davis led the path coming towards the merger from the jazz field. Davis, who had played at the end of the swing era, the beginning of the bop era and had already forged a jazz style known as "cool" was looking for a new sound in 1968. With his album Bitches Brew Davis made a conscious shift towards rock 'n' roll by building the sound on a steady rock drum pattern, the use of repeated bass line riffs (common in rock, unheard of in jazz), incorporating electric bass (acoustic bass was standard in jazz) and electric guitars and electric piano. Davis took the electrification of jazz even further when he "electrified" his horn by building a microphone into a horn mute and then sending the signal through a distortion pedal as Hendrix and others were doing on the guitar.
The jazz-rock sound was known as "fusion" and was crucial in the development of jazz and influential in the development of rock 'n' roll. Band members from Davis' seminal fusion album, Bitches Brew, would go on to form other significant fusion bands from the 70s: guitarist John McLaughlin formed the Mahavishnu Orchestra, keyboardist Joe Zawinul began Weather Report and keyboardists Chick Corea and Herbie Hancock formed Return to Forever and the Headhunters, respectively.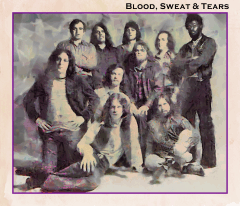 The rock side of the jazz-rock formula was a year earlier in beginning, with the forming to two bands, Chicago and Blood, Sweat & Tears, in 1967. The Electric Flag, a short-lived band of San Francisco guitarist Michael Bloomfield, influenced both Chicago and BS&T.
Originally an eight-piece band, Blood, Sweat & Tears experienced a personnel shakeup after their debut album. The revised version consisted of two trumpets, two trombones, saxophone, bass, keyboards, drums and a lead vocalist, David Clayton Thomas. With a firm rocking rhythm section (keyboards, bass & drums) and a tight, five-piece jazz brass section, and Thomas' soul inspired vocals, the band carved a powerful and unique sound.     The band's second album, Blood, Sweat & Tears was the #1 album for 7 weeks, sold over 3 million copies and scored three #2 hits in 1969, "When I Die," "Spinning Wheel" and "You've Made Me So Very Happy".
The following year the U.S. State Department sponsored BS&T on a goodwill tour of the Communist countries of Yugoslavia, Romania and Poland. Their Blood, Sweat & Tears 3  (there was no BS&T 2) followed the previous years efforts with "Lucretia McEvil" and "Hi-De-Ho" also appearing on the charts. For a few years, BS&T were regulars in Las Vegas and toured occasionally. After brief and mediocre success as a solo act, Thomas returned to the group in '74.
Blood, Sweat & Tears – "Spinning Wheel" 1969:
Following a similar path as BS&T, the Chicago Transit Authority (eventually shortened to just Chicago under pressure from the Illinois city) also gained chart success by fusing a jazz horn section to a rock rhythm section. A string of chart successes in the first years of the 70s like "Does Anybody Really Know What Time It Is," "Color My World," and "Saturday in the Park" made them staples on the AM radio and rewarded them with several gold and platinum albums. Then, almost as sudden as their meteoric rise, they vanished from the charts, only to emerge a decade later with a second string of hits. Chicago songs of the early '80s included "Hard to Say I'm Sorry" (#1, '82), "Hard Habit to Break" (#3, '84) and "You're the Inspiration" (#3, '84).
Chicago, "25 or 6 to 4", 1970:
The group Steely Dan was built around the talents of jazz pianist Donald Fagen and guitarist/bassist Walter Becker. During the late 70s the duo brought jazz session players into the studio to create their jazz-rock sound with great critical, and some commercial success. In spite of their refusal to tour or appear in front of audiences (they went twenty years between live performances), Becker and Fagen have overseen brilliant studio accomplishments. In 2000 their album Two Against Nature won 3 Grammys including Album of the Year and the accompanying tour frequently played to sold-out venues. Steely Dan was inducted into the Rock 'n' Roll Hall of Fame in 2001.
The jazz-rock groups of the late ''60s were not the first to add horns to a basic rhythm section of keyboard or guitar, bass and drums. Ray Charles had horns as a part of his soul sound of the late '50s. Little Richard was singing "Lucille" during the same time backed up by brass. B.B. King was playing the blues with a tight brass group behind him in the early ''60s. The Stax Horn section joined Booker T. and the M.G.'s on cuts by Otis Redding and Sam and Dave.
The concept that separated Blood, Sweat & Tears, Chicago and Steely Dan from these earlier efforts in rock 'n' roll was that they didn't limit the horns to playing short, punched chords or short, repetitious riffs. The brass of BS&T, Chicago and Steely Dan used the brass instruments to craft smooth flowing jazz harmonies as well as the syncopated riffs of rhythm & blues and soul.