At first glance, it would seem that the '90s were the decade dominated by grunge, alt-metal, and alt-rock. However, the culture-changing work of Nirvana, Metallica, and R.E.M. never entirely drowned out the thread of traditional rock. Sourced from the '50s, '60s, and '70s, subverted during the pop-dominance of the '80s, the foundation of rock's traditional pulse re-emerged in the '90s with a new generation of rockers.
While the concept of beat, melody, and harmony never left the flow of rock 'n' roll, they were reimagined during the punk, grunge, and metal eras. Anger and angst were the emotional bases from which distorted, overdriven guitar chords, jack-hammer drums, and screamed or growled melodies manifested themselves. With a few exceptions, musical virtuosity was never as important to many groups and powerful, hypnotic sounds and emoted messages of personal, communal, or societal suffering.
The influx of grunge, metal and its multiple punk-influenced alt-variations that led into the '90s never eliminated the pull of traditional rock 'n' roll elements. The basis of traditional rock 'n' roll from the '70s: steady, even, unadulterated drums and bass, clean and present harmonies from guitar, and sometimes keyboards, electric guitar solos, and a singable melody with occasional vocal harmonies found a new generation of rockers in the '90s.
When Kurt Cobain was working on his first lyrics of anxiety and unease at the beginning of the '90s, these bands were working to extend the tradition of rock 'n' roll into the new decade.
In the late '80s and early '90s, several bands were formed who picked up the trad-rock mantel from '60s bands such as The Allman Brothers, Lynyrd Skynrd, the Grateful Dead, and Creedence Clearwater Revival and brought it into a slightly repackaged sound of American traditional rock through the '90s and '00s.
One of the first trad-rock bands of the '90s was The Black Crowes. Built around the brothers Chris and Rich Robinson, The Black Crowes were the re-incarnation of the classic rock sounds of the '60s and '70s. With straightforward, emphatic drums and bass lines, clean electric guitar solos, and bluesy vocals that model The Rolling Stones' Mick Jagger or Led Zeppelin's Robert Plant, The Black Crowes were voted "Best New American Band" in 1990 by the readers of Rolling Stone magazine. 
Through the '90s, their recycled '60s sound was a fresh contrast to the grunge and metal sounds which seemed to dominate the charts and a reminder that not all rock was being sent through a distortion pedal or a scream-splintered microphone. Despite tremendous album sales (estimated over 30 million total), the Robinson brothers and band were seemingly on an endless revamp/breakup/hiatus/reunion cycle since the late '90s. Though never having the impact of the '90s, The Black Crowes helped re-establish the sounds of '60s and '70s trad-rock at the end of the millennium.
Growing up in the '70s, listening to Led Zeppelin, KISS, the Rolling Stones, and Creedence Clearwater Revival, Lenny Kravitz's path towards a musical style seemed established. Though his initial goals were to be a session musician and an actor, his musical skills on multiple instruments, gift for songwriting, vocal ability, and frontman charisma quickly set him on a more straightforward path. Though initially rejected by some record companies as being "not black enough," by 1989, five major labels (Capitol, Virgin, Warner Bros., Geffen, and Elektra) were all in a bidding war to sign him to a contract.
Though most of Kravitz's work is easily suited for a trad-rock framework, like rock icon David Bowie and others, he seemed to push the creative boundaries of trad-rock rather than be constricted by them. During the decade of the '90s, creative nods were made to Motown ("It Ain't Over 'Til It's Over"), Jimi Hendrix ("Are You Gonna Go My Way?"), David Bowie ("Believe") and the electrified funk of the late '70s ("Fly Away").
In addition to writing and producing songs for other artists ("Justify My Love" for Madonna and "Line Up" for Steven Tyler of Aerosmith, for example), Kravitz wrote, recorded, and released four of his albums during the '90s. He has worked with a parade of rock icons as a featured artist, and on his recordings, including Mick Jagger, David Bowie, Curtis Mayfield, Slash, Sean Lennon, Stevie Wonder, Jay-Z, and Madonna.
Through the decade and into the '00s, Kravitz enjoyed critical and popular success, with numerous awards from MTV, Radio Music Awards, American Music Awards, Brit Awards, and others. His four successive "Best Male Rock Vocal Performance" from the Grammys at the end of the decade set a record for most consecutive wins in one category by a male artist. With over 40 million albums sold worldwide and producing a wide range of songs by other rock artists, Kravitz established himself as a dominant icon in the trad-rock movement since the '90s.
Considered by some as a subset of the trad-rock movement of the '90s was a category often called "jam bands." The sound of Blues Traveler, Phish, Widespread Panic, and others took elements of the improvisational groups like the Grateful Dead and combined their improvisational characteristics with an eclectic rock character which included world music, bluegrass, soul, and psychedelic influences. Though often not as popular on the charts, jam bands did have enthusiastic fans who bought millions of tickets and passionately followed their tours.
The college-campus touring circuit helped many of the grunge and alt-rock bands gain popularity in the early '90s. Similarly, campus appearances and word-of-mouth helped launch the trad-rock/jam band Dave Mattews Band to national awareness. By 1995 and '96, D.M.B. had major hit singles with the rock-funk sounds like "What Would You Say" and trad-rock sounds like "Crash Into Me." The eclectic-rock sound of D.M.B., at times using a horn section, a bluegrass fiddle, a string section, or blues harmonica, has earned the jam band critical acclaim and huge record sales. Their recorded "Live" concerts in Chicago, Boulder, Colorado, The Gorge Amphitheatre in George, Washington, and their Concert in Central Park, New York City, all show the tremendous musicality of the ensemble. The "live" records often demonstrate the extended improvisational endings not present on the albums limited by time. An excellent example is their Central Park Concert version of "Two Step," extending for almost nineteen minutes. Their album and single sales translate into releases with over 60 RIAA gold, platinum, and multi-platinum certifications, with over 30 million total sales. 
Some bands toil for years on a tour circuit, sending demos to labels but never getting the attention their talent deserves, much less the recording contracts. Other bands seem to be launched into the mainstream, helped by other artists and producers who hear their talent and want to give them a boost towards success. 
The latter might be a description of the path taken by Counting Crows. Originally an acoustic duo, the two added other instruments to form The Himalayans in 1991. The band's demo tape was so impressive that it triggered a bidding war between record labels., It also generated the attention of T-Bone Burnett, award-winning producer, and music icon. His guidance helped produce their 1993 album, August and Everything After, an impressive, multi-platinum album that put them at the forefront of a retro rock movement. When Van Morrison was a no-show at his induction into the Rock' n' Roll Hall of Fame in 1993, Robbie Robertson of The Band introduced the little-known Counting Crows to perform a Van Morrison song for the ceremony. If there was any question regarding whether the band was becoming a significant presence in the trad-rock '90s movement, it was put aside that night. Since the '90s, the band has recorded a total of 11 albums, selling over 20 million copies, received numerous awards, and been featured in the soundtracks for several movies. Counting Crows have provided a stylistic connection with classic rock from that era for those hoping for a return of the rock sounds of the late '60s and '70s.
The move towards a more authentic rock sound in the '90s included several other impressive talents who either did not have staying power as a group or on the charts. The Spin Doctors crafted a two chart mega-hits in 1991 with "Little Miss Can't Be Wrong" and "Two Princes," which were ever-present on the radio and in bar cover bands during the early '90s. The Spin Doctors have worked constantly since but have never created the stir of their debut album, Pocket Full of Kryptonite.
The Wallflowers, created and fronted by Jakob Dylan, son of Bob Dylan, were formed in 1991. Though their debut album in 1992 was given critical thumbs-up, sales were slow despite nationwide touring as the opening act for the Spin Doctors and other bands. The next couple of years brought replacement band members, a new record label, and a new producer. Eventually, The Wallflowers released their most successful and critically praised album Bringing Down the Horse, in 1996. The work would eventually go quadruple-platinum and yield their most popular singles: "One Headlight" and "The Difference" – both nominated for "Best Rock Song" by the 1998 Grammys. Throughout the '00s and '10s into the '20s, the Wallflowers, primarily Jakob Dylan, continued to perform live concerts and work on new albums. Their seventh album, Exit Wounds, was released in July 2021. About the album, Jakob Dylan said that it was written at a time "when the world felt like it was falling apart" and that the album reflected that anxiety, but also, "you have hope. And it's all there."
When most trad-rock artists were forming bands, and many solo artists were gravitating towards either pop or country, a few solo artists, like Melissa Etheridge and Sheryl Crow, were exploring their trad-rock creativity but still finding a path towards chart success. 
Melissa Etheridge saw chart success, first in '93 with tracks like "Come to My Window" and "I'm the Only One." Through the '90s and into the '10s, Etheridge brought her voice to a heartland-rock style and maintained a solid following.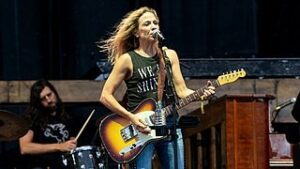 Following earning a music degree in university, Sheryl Crow worked as an elementary school music teacher, singing in local (and eventually national) ad jingles. She spent eighteen months singing backup on the Bad tour with Michael Jackson, then worked as a session vocalist on recordings by Stevie Wonder, Sting, Eric Clapton, Jimmy Buffett, Bob Dylan, George Harrison, Rod Stewart, Don Henley of the Eagles, and others. She also sang leads, duets, and backup for multiple television theme songs and movie soundtracks. During this time, Sheryl Crow-composed songs were recorded by such artists as Celine Dion, Eric Clapton, and Wynonna Judd.
Her breakout came with her 1994 official debut album Tuesday Night Music Club and the single "All I Wanna Do," which became an unexpected hit in October. The album has been certified 7x platinum and has sold over 7 million copies. It was the beginning of a series of albums and hit singles which included "A Change Would Do You Good" and "Everyday is a Winding Road."
Unlike her pop counterparts, Crow never relied on backup dancers, outlandish costumes, or polished pop effects. From the beginning, she built her songs on steady rock bass and drums, electric and acoustic (Sheryl's choice) guitars, sometimes slide guitar, and occasionally electronic organ, and backup singers. What she learned live on tour and in dozens of recording sessions was infused in the trad-rock albums for almost thirty years. 
Her most recent work, 2019's Threads, is a massive (17 songs) collection that encapsulates the essence of her sound and is an homage to her relationships in the music industry. The album features duets with Bonnie Raitt, Mavis Staples, Eric Clapton, Sting, country artist Chris Stapleton, rap artist Chuck D, blues guitarist Gary Clark, Jr., the late Johnny Cash, Stevie Nicks, Vince Gill, Kris Kristofferson, James Taylor, Don Henley, Willie Nelson, Neil Young, and Keith Richards. If the concept of traditional rock since the '90s is an acknowledgment of the essential musical elements of '60s and '70s rock 'n' roll and then building on it, Sheryl Crow's Threads is, perhaps, one of the best single manifestations of the definition: "trad-rock." If, as she has said, it may be her final album (as compared to working on singles), a better collection for an artist to say "farewell" to the medium could not be conceived.