Just as the British Invasion in 1964 had two distinct but connected prongs, the popularity of black music in the mid-'60s also had two distinct but related styles.
Geographically, Motown was centered in the northern American city of Detroit, while Soul had its base in Memphis and Muscle Shoals, Alabama. Although both styles were built exclusively around black singers, for many years Motown (with but two exceptions, a session bass player, Carol Kaye and Barney Ales, vice president of distribution) was an all black company. Soul music, which made no attempt to target a white pop market, was bi-racial, from studio executives to backup musicians.
In producing songs in the studio, Motown incorporated the latest recording techniques including reverb and multi-tracking, while Soul studios like Stax and Fame laid down gritty tracks that could easily be duplicated in live performances. In corporate structure, Motown was a self-contained corporate entity, from artist development to songwriting to recording to production to distribution and sales to concert scheduling. Soul music was the result of a cooperative effort between record companies like Atlantic, studios like Stax and Fame, independent artists like Aretha Franklin and James Brown and their growing fan base. Motown was about black success in a white economy, soul was about black identity in spite of a white culture.
But the core of their distinctive sounds lie in what they 'added' to the music of the black gospel church. Stylistically, Motown was a combination of gospel and polished pop, while Soul music fused gospel with gritty R&B.
Soul music is built around several concepts: a repetitious and rapid eight-beat pulse in the bass guitar, heavy accents from the drums on the back-beat, a horn section (trumpet, trombone and sax) with either long sustained chords or sharply accented riffs, counter-melody or fills by an electronic organ and intense, passionate, angst-filled singing.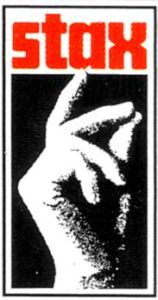 Soul music first began emanating from Stax studio in Memphis, Tennessee in 1962, when 21-year-old Otis Redding came in to record with the studio band, Booker T. and the M.G.'s. The resulting single "These Arms of Mine" hit #20 on the charts and established Redding as the first successful soul artist in America. Stax, named for brother and sister owners James Stewart and Estelle Axton, worked cooperatively with Jerry Wexler at Atlantic Records to distribute the records nationally. By 1965, Stax had nearly 100 acts on their roster, so Stewart and Axton hired African-American deejay Al Bell to handle record sales and assist with studio production. Bell did more than peddle records; he was the important link to the black community and often liaison between the artists and the executives. In the words of some of the black singers, Bell was the "Jesse Jackson" of the studio. Bell also helped to sell 8 million records for Stax in his second year with the company.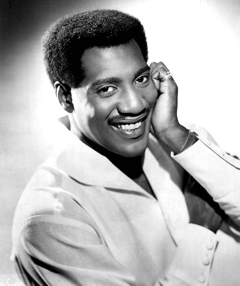 Wexler furthered the soul activity at Stax by signing and sending soul duo Sam and Dave and solo act Wilson Pickett to record. With Booker T. and the M.G.'s and the famous Stax Horns and studio producers like the genius Isaac Hayes, the three dominant soul acts of the time: Redding, Pickett, and Sam and Dave achieved significant chart success with songs like "In the Midnight Hour," "Hold On! I'm Coming," and "Sitting On the Dock of the Bay". "Dock of the Bay" was written by Otis Redding and M.G. guitar player Steve Cropper following their appearance at the Monterey Folk Festival. It was meant as a thank you to the fans that received them so warmly. It was recorded in late 1967, shortly before Redding was killed in an airplane crash and released early the following year.
After Wexler and Atlantic had a major falling out with Stax in Memphis (apparently, the fine print of the contract entitled Atlantic to own all of the Stax masters, devastating the smaller company financially and eventually leading to their bankruptcy in 1976), Wexler began looking for a replacement studio. He found it in a little town in Alabama called Muscle Shoals and a tiny studio called FAME. Like Gordy's boast in creating Hitsville, U.S.A., Rick Hall's FAME studio was the starting point for several singers and many more hit songs. The list of artists who recorded at FAME is impressive and includes such diverse talents as Aretha Franklin, Liza Milleni, Jerry Lee Lewis, Wayne Newton, Paul Anka, Alabama and the Backstreet Boys.
Soul music was mainstreamed when Otis Redding broke through at the Monterey Pop Festival, June, 1967
On April 4, 1968 Americans of all ethnic backgrounds were shaken by the assassination of Dr. Martin Luther King, Jr. By this time, soul music in America had begun to center around two specific artists: "Lady Soul" or "Queen of Soul," Aretha Franklin and "Soul Brother No. 1" later to be crowned "Godfather of Soul," James Brown.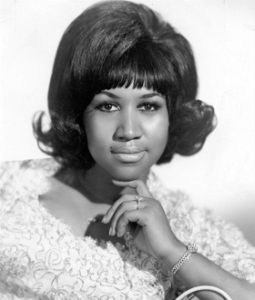 Though her first recording session for Atlantic was at FAME, the majority of Aretha's hit songs of the late '60s were recorded elsewhere. Daughter of a well-known Baptist minister, Aretha was the most dominant female voice in soul from '67 to '73. During this time she had more million selling records than any other female singer of the time with hits like "R-E-S-P-E-C-T," "You Make Me Feel Like a Natural Woman" and "Think". Over her career she earned 17 Grammys, was the first woman inducted into the Rock 'n' Roll Hall of Fame (1988) and was the first rock singer to earn the right to be called "Diva". Her influence is seen in contemporary artists such as Mariah Carey, Mary J. Blige, and Toni Braxton. In the passion of her singing and the power of her voice she is truly the "Queen of Soul". As some have said, Aretha may have left the church, but the gospel never left Aretha.
Aretha Franklin performs at the White House, 2015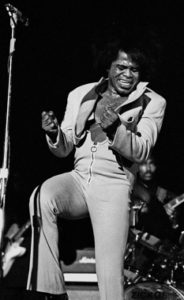 James Brown was born in either 1928 (as the records claim) or 1933 (as James claims). In either case, the "Godfather" was already in his mid to late 30's by the time he was hitting the charts with "Papa's Got a Brand New Bag" and "I Got You (I Feel Good)". With incredible energy, charismatic stage presence and a tight backup band playing "jump-and-shout" dance music behind him, Brown gave audiences all the electricity of an all-night gospel meeting without all the preaching. His stage act, though predictable and campy (he would frequently feign a collapse after a passionate vocal, be covered with a cape and led to the back of the stage only to miraculously "revive" and charge the microphone for another few verses before repeated the bit again) was the visual glitz for music that was simple in structure and repetitious in nature. "I Got You (I Feel Good)" for example, is a simple twelve bar blues structure with three chords, simple lyrics, rhythm backup and riffs punched from an aggressive horn section. Other songs by Brown (he supposedly had over 800 in his repertoire) are long riffs around a single chord in the background with shouting vocals. Early in his career Brown billed himself as "The Hardest Working Man in Show Business" and repeatedly defended the title throughout his life.
By the late '60s James Brown was a wealthy man, respected in the black community and recognized throughout America as one of the most important icons in the fight against racism. Songs such as "Say It Loud (I'm Black and I'm Proud)" were the anthems of a more rhythmic and militant musical movement among blacks called "funk". Other songs like "Don't Be A Dropout" and "I Don't Want Nobody to Give Me Nothing (Open Up the Door I'll Get It Myself)" were directed at black youth and all America. Brown spoke at high schools, performed for troops in Viet Nam, sponsored programs for ghetto youth and went on television pleading black America to remain calm following King's assassination. When riots broke out in Boston, James Brown encouraged city officials to broadcast his local concert on television. The plan worked as thousands of black youth remained inside watching Brown on television instead of rioting in the streets.
Much is made of Brown's confrontations with the law: drug possession, spousal abuse, disorderly conduct, tax evasion, and illegal possession of firearms. But like other celebrities before and since, his work should be examined in isolation from these unfortunate events.
James Brown was a charter member of the Rock 'n' Roll Hall of Fame, inducted in 1986 with Presley, Berry, Little Richard, Jerry Lee Lewis, Ray Charles and others. His music has been acknowledged to be an influence on other styles as diverse as funk, rap and disco.
James Brown and The Famous Flames, 1964