The history of rock 'n' roll is a study in contrasts; from commercialism to independent experimentation, from energetic dance to thoughtful ballads, from complex improvisations to simple, 12 bar blues harmonies, from overly produced techno-displays to bare acoustic lines, from power chords to soft violins; from romantic lyrics to lines of socio-political protest. The amazing truth is that no one style in the 50 years of rock 'n' roll has ever been in sole possession of the landscape. There have always been competing and often contradictory styles.
While the media was gorging itself on all things disco in the late '70s, another, radically different style was finding its own alienated path towards recognition. It involved no choreographed dance craze, no technologically superior equipment, no charismatic singers, no studio synchronized sound, and no colorful light show. It billed itself as the antithesis of pop and was the logical extension of sounds created in the New York lofts of the Velvet Underground, lyrics penned by Lou Reed or Jim Morrison and the simplified power chords of Black Sabbath. It was called "punk."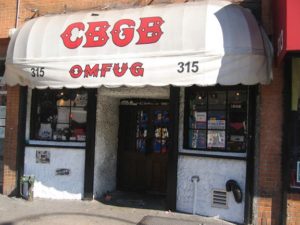 Punk began with an attitude, a look, a way of life, and eventually evolved into a sound. It was an underground urban movement, which like the beat generation of the '50s,
In addition to Reed, Morrison and Ozzy Osbourne, Iggy Pop and David Bowie also influenced early punk artists. Iggy Pop and the Stooges played music that was angry, offensive and repetitious. While the Stooges were grinding out a rhythm and series of chords behind him, Iggy often cut himself onstage, hurled mic stands towards the audience, smeared peanut butter on himself and dove into the crowd. David Bowie, in his Ziggy Stardust alter-ego, dressed in androgynous attire and wore extensive makeup, bringing in the era of glam rock.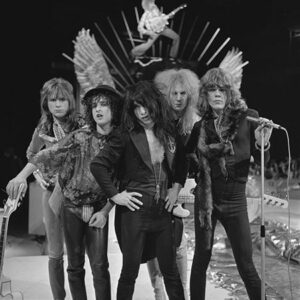 The punk movement began with a New York based group called The New York Dolls. The five men who comprised the group dressed in tight slacks, brightly colored female blouses and scarves, wore heavy-eye makeup and lipstick and climbed into high heels to perform. Their songs, about bad girls, drugs and the New York street scene reverberated from the songs of the Velvet Underground. Though commercial success eluded them, they began the evolution of punk.
One of the underground venues for the new sound was a nightclub called CBGB & OMFUG (Country, Blue Grass, Blues & Other Music For Urban Gourmets), but usually shortened to CBGB. It was the starting place for Patti Smith, a punk pioneer with a Janis Joplin-like gutsy voice. The Televisions also played CBGB, with a bass player who wore spiked hair and torn clothing, a precursor of the punk look to come.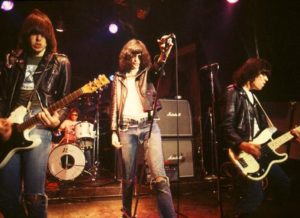 Another New York band that played the CBGB, The Ramones, built short, fast, high-energy songs with monotone-like vocal lines. The four band members (Joey, Johnny, Tommy and Dee Dee) all adopted the last name Ramone (from an early Paul McCartney pseudonym, Paul Ramon). With songs like "Teenage Lobotomy," "Blitzkreig Bop," "Sheena is a Punk Rocker," "Judy is a Punk," and "I Wanna Be Sedated" the band became the voice of early punk.
With simple three chord patterns, steady, rapid rock backbeat, hammered chords from a distorted guitar, and lyrics of disconnection from everything else in society, the Ramones crafted cutting-edge sounds. Far from the pretentiousness of heavy-metal rock, the Ramones kept their sound scaled down, not only in complexity, but also in length. They would often jam their way through 30 songs in an hour-long set, barely allowing enough time at the end of one song to begin the count-off to the next.
Though scoring limited success in America, they're sense of humor, shown through their sometimes-innate lyrics, and simple, straight-ahead style brought rock back to its roots. Their 1975 tour of England did for punk what Chuck Berry did for British rock almost twenty years earlier.
The Ramones at the CBGB club, September, 1974
While American bands like the New York Dolls, the Ramones, the Talking Heads and the Patti Smith Group forged an underground music scene in New York, bands in London were finding a similar path towards musical anarchy.
Punk in England was the mastermind of a London art student named Malcolm McLaren, who opened a clothing store and hang-out for disaffected teens. After visiting New York and seeing the emerging anti-fashion style, he returned to London, renamed his store Sex and began selling torn T-shirts, bondage gear, plastic bag clothing, spiked leather, sexually provocative designs– anything that the mainstream found fashionably repulsive and distasteful. The London punk scene, complete with body-piercing and multi-colored spiked hair, was born.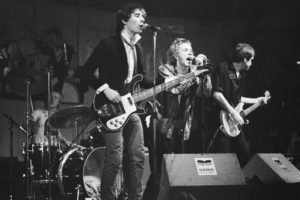 Foremost among the London-based punk bands was The Sex Pistols, who began their first rehearsals in McLaren's shop. The band members, who included Johnny Rotten and would soon include Sid Vicious, knew very little about playing music. After stealing their sound system and equipment, the four set out to learn only the most basic elements of music: rhythm and power. They combined raw, distorted power and gratingly hypnotic rhythms with their real talent: the ability to shock, provoke, disturb and incite audiences. Backed by a simple eight-beat rhythms with simple, rapid power chords, Johnny Rotten sang "I am the Anti-Christ, I am an Anarchist" and pleads for total destruction of government and society. It was the message of the Velvet Underground pushed to its musical, philosophic and sociopathic extreme. The Sex Pistols were together for less than two years, with Johnny Rotten announcing the breakup in January 1978.
Few punk rock groups desired to follow the nihilistic despair put forward by the Sex Pistols. In their wake, new bands with diverse influences splintered punk into a wide variety of sounds. The resulting movement would be called the "new wave" of commercial punk.
The Sex Pistols, "God Save the Queen" 1977