Pre-Rock – Influences from Jazz, Blues,  Country & Gospel
In a simple world of logic, rock 'n' roll would have had two parents: country and rhythm & blues. But almost every genre of American popular music at the midpoint of the twentieth century contributed to the musical characteristics of the new sound.
Jazz
Following the height of its popularity during World War II, most jazz bands were generally downsized to smaller, more compact ensembles. Some continued to play swing while others began experimenting with a style emphasizing improvisational solos called bop. A third style, lesser known in the white community, took the hot jazz sound of big band to a new tempo and modified structure. It was known as jump blues and it contributed a shuffle boogie-woogie rhythm on the piano with a backbeat (emphasis on the 2 & 4 beat), instrumentation (piano, drums, guitar, bass & saxophone) and racy lyrics to early rock songs. Boogie-woogie piano had been a regular part of the blues and jazz sound. Soon it would find its way into early rock 'n' roll through the fingers of Little Richard and Jerry Lee Lewis.
Among the best in the jump blues style during the late '40s and '50s was Louis Jordan and his Timpani Five (or Six or Seven, depending on the time). Although Jordan never actually used timpani (also known as a kettle drum), he did have a drummer, standup bass, piano, trumpet, and sax player behind his own solo sax and vocals. In contrast with the long, ambling solos being created by bop soloists like Charlie Parker, Jordan's honking sax solos were short riffs (in this case, one measure repeated ideas) or single repeated notes over a "shuffle boogie" rhythm. His performances were sheer showmanship, though, as he twisted and turned his body, sometimes curled up or writhing on the floor in front of the band. Louis Jordan gave energy to the blues, helped pave the way for later rhythm & blues, and was an influence on Chuck Berry and Bill Haley, among others. The guitar riffs that Berry plays in "Johnny B. Goode" over a blues harmonic structure, for example, are patterned after the jump blues sax riffs that Jordan was creating in the late '40s.
Rhythm & Blues
By the early '50s, jump blues was giving way to a new sound, one in which the backbeat (heavy stress on 2 & 4 in a four beat pattern) was replacing the shuffle and the guitar and piano were replacing the saxophone as the solo instrument. The songs were often accompanied by story telling lyrics and often followed the strict three chord (I-IV-V) pattern of the twelve bar blues (although most songs followed a verse-chorus structure rather than the AAB blues format). The new style, which was aptly titled rhythm & blues, moved away from the shuffle boogie of Louis Jordan into a stricter, driving eight-beat pattern.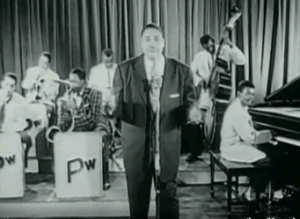 Early R & B bands were led by individuals like Jimmy Reed, Hank Ballard, and Johnny Otis (a white R & B performer who helped many early African-American singers in the '50s and '60s). Otis had 7 hits on the R & B chart in 1950 including "Double Crossing Blues" (#1), "Mistrustin' Blues" (#1), "Rockin' Blues" (#2), "Deceivin' Blues" (#4) and "Far Away Christmas Blues" (#6), which also made it to #4 on the pop charts. Since the mainstream record labels, such as RCA and Columbia, wouldn't record this new sound, independent upstart record companies, such as Atlantic, Savoy, Duke and King, were established to promote it.
By the mid-fifties, fans of the new R & B sound had dozens of labels providing recordings of hundreds of R & B songs for their enjoyment. Black listeners, and a growing market of young white teens, were buying the 78s in furniture stores, pharmacies and local businesses. By 1952, market demand caused record store owners to find a place in their offerings next to records of country, jazz, and pop.
The sound of R & B was firmly established in the white market by mid-1950 with artists like Big Joe Turner ("Shake, Rattle and Roll") punching the backbeat under a lyric laced with racy metaphors about sex, relationships, and marriage. Bill Haley and the Comets covered the song the same year, providing a sanitized version for white teens.
About the same time, Antoine "Fats" Domino from New Orleans was having great success with a fast triplet piano sound over a boogie-woogie bass line on songs like "Ain't That a Shame" and "Blueberry Hill" and regularly selling over a million records per song to white and black teens. In the next few years, his songs would be covered by early rock 'n' roll's Big Four: Elvis Presley, Chuck Berry, Little Richard, and Jerry Lee Lewis.
Rhythm & blues gave rock 'n' roll its backbeat, its driving rhythms, its electric guitar solos, its irreverent personality, and its taste for racy lyrics. Its basic instrumentation – vocals, piano, drums, guitar, and bass – was similar to that of honky-tonk and western swing country groups, and therefore an easy transition point to the style which became known as rockabilly.
Country & Western
The influence of country on early rock 'n' roll is indisputable; many of the pioneers in the mid-'50s, such as Buddy Holly, Bill Haley, and Carl Perkins came from country groups. Chuck Berry listened to country and pop. Elvis Presley included country singers as well as gospel and rhythm & blues artists as his influences.
Musically, country placed a steady bass note on the beat (often root of the chord on 1 and fifth of the chord on 3), with a subdivided "boom-chik" feel in the accompaniment (the latter can be heard dominantly in Chuck Berry's "Maybellene," for example). In contrast with jazz, blues and R & B, where notes were delayed or syncopated, in country, the notes of both the melody and harmony were placed crisply on the beat. Lyrics were often story telling about an event or relationship and were clearly articulated above the musical background. Simple vocal melodies, with occasional slurred entrance pitches, were sometimes augmented in the chorus by a second harmony voice above the melody moving parallel to the lower voice.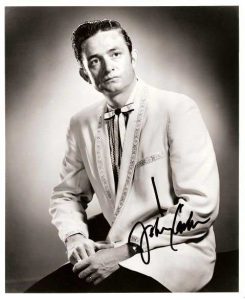 These musical elements, basic to Hank Williams, Kitty Wells and other country artists in the early '50s, were merged with an R & B beat and energy to create a style known as rockabilly.  It was to be the entrance point into rock 'n' roll history for pioneers like Elvis Presley, Carl Perkins, Jerry Lee Lewis, Buddy Holly, Johnny Cash, and the Everly Brothers. Bill Haley and the Comets were, in some ways, a fusion of western swing (such as Bob Wills and the Texas Playboys) and jump blues (as epitomized by Louis Jordan and the Timpani Five). His "Rock Around the Clock," which was a huge hit when released (a second time) as part of the seminal teen-rebel movie "Blackboard Jungle," was one of the first mega-hits of the rockabilly style, eventually selling 22 million copies, a feat previously unknown to R & B and rockabilly artists. Their outrageous stage antics, mimicking Louis Jordan's group, anticipated the wild performances of later rock groups.
By the time Buddy Holly and the Crickets were recording "Peggy Sue" and "That'll Be the Day" in 1957, the standard rockabilly instrumentation (lead guitar, rhythm guitar, bass, and drums) had been established. Holly sang vocals as well as played solid body electric guitar, an instrument that gave the group a crisp, aggressive sound. Within a short time, electric guitar was the standard instrument for rockabilly and the four-instrument sound of the Crickets was the formula for future rock groups such as the Beatles and, eventually, the Rolling Stones.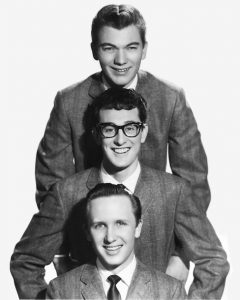 Gospel Music
Gospel music, which was a term applied in the 1930s to an evolving popular form of religious music, had its roots in the spirituals and songs of the workingman's church. Different from the strophic (verse without chorus) and stiff hymns of the higher Protestant churches, the gospel songs followed the pattern of pop songs, with verse-chorus structure, catchy melodies, intimate lyrics of religious expression and comfortable rhythms. They were often built around a "hook" lyric phrase and were frequently sung as impassioned pleas to repent, exhilarated cries of joy, or energetic fervors of righteous celebration. The vocals were at times a "call and response," where a lead singer would line out a melody and have it repeated by the congregation, or a tightly harmonized vocal with melody placed in the middle of four voices.
Gospel music's key contributions to rock 'n' roll, aside from its place in the lives of many early artists, lay in the passionate style of singing and the intense vocal style of melody with additional vocal harmonies. Presley, Little Richard, and Jerry Lee Lewis all exchanged the religious fervor for secular (and sexual) style of intense vocal. Gospel singing was about passion and close harmonies, and it was heard reproduced in songs from the doo-wop groups of the late '50s, to the Motown groups and soul artists of the '60s, to the sounds of funk in the early '70s.