The term was first used in the late ''60s to apply to Jimi Hendrix's aggressive, high-powered guitar: "heavy metal." While Hendrix died in 1970, the style that he inspired was just beginning to crank up.
Musically, the "new" heavy metal sound was a distinct spin-off from the music of Hendrix. Heavy metal bands of the 70s built their high powered sound around repeated guitar and bass riffs, grating distortion, explosive power chords, simple hard rhythms, and screaming, sometimes unintelligible, lyrics. The bigger, the louder, the more aggressive and angry, the better the sound.
While some fledgling heavy metal bands used their power sound as a substitute for musical skill, several bands were able to merge the sound of "heavy" with artistic abilities.

Led Zeppelin, fronted by the vocals of Robert Plant and the guitar wizardry of Jimmy Page, set the standard for every heavy metal group to follow. Their musical offerings from 1970-78 were commercial and critical successes. Songs like "Stairway to Heaven," "Whole Lotta Love," and "Communication Breakdown" show the ability to harness the power, riffs, improvisation and vocals into superlative works of music.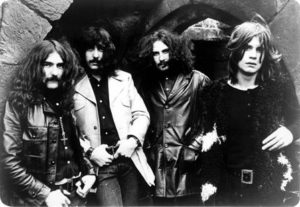 Among the best of the British heavy metal bands gaining popularity in the early 1970s was Black Sabbath fronted by vocalist Ozzy Osbourne. Like many bands to follow, Black Sabbath members reveled in the macabre with symbols of death, drugs, the occult and Satan-worship constant in their stage presentations, album covers, and personal clothing and jewelry. Although they claimed it to be innocuous fun, their look and lyrics created the same effect for teens in the early 70s that Elvis and Chuck Berry provided in the mid'50s: parent alienation. Though the impact was short-lived (1970-75), their personae as "Princes-of-Darkness" was successful enough to influence the next generation of power rockers.
Black Sabbath, "Paranoid" 1970
The mantel of heavy-metal gods was claimed at the beginning of the 1980s by Australian band AC/DC. Though they claim they borrowed their name from a switch they saw on a vacuum cleaner, most believe they were capitalizing on a commonly used term for bisexuality. Their power riff-based grooves backed lyrics on traditional metal themes: sex, death and violence. Their gold and platinum albums and highly attended tours of the eighties solidified them as legitimate princes of the genre and earned them an invitation to the Rock 'n' Roll Hall of Fame in 2003.
Other metal bands of the seventies and eighties included Nazareth, Judas Priest, Iron Maiden, and Def Leppard. Each followed the high-powered, grinding riffs, driven rhythms and screaming vocals of earlier groups.
In addition to the musical and lyric themes mentioned earlier, several other common themes exist among heavy metal bands of the era. These include: a penchant for long hair, bizarre behavior, and outlandish clothing; a consuming addiction to drugs, alcohol and sex; an inevitable element of shock onstage, and the unfortunate specter of tragedy for them and their fans. Several metal band members died of alcoholism or drug addiction, while others, like Def Leppard's drummer, Rick Allen, who lost his arm in a car accident, had personal injury or tragedy. Three of AC/DC's fans were crushed to death at a 1991 concert in Utah.
While most of the British heavy metal bands preferred simple power chords, guitar riffs and high vocals, American bands of the style preferred a heavy metal (sometimes called hard rock) style that favored more complex melodies, more intriguing harmonies and, in some cases, more theatrical presentations.
Alice Cooper, one of the first hard rock bands of the early 70s, originally started as a cross-dressing, androgynous band in the glam rock movement, but gained notoriety when they exchanged their glam outfits for ripped black t-shirts, skin tight pants, horror makeup and boa constrictor snakes. Their sometimes-campy stage concerts were built around hard rock songs with explicit and parent-defying lyrics, with long instrumental sections as musical background for Cooper's violent and depraved theatrics. Between songs of teen angst and rebellion, Cooper would mutilate baby dolls, drape himself in snakes and lurch about the stage with a replica of his own decapitated head dripping faux blood. The antics supposedly began when, in one concert, a fan threw a live chicken onstage. Cooper threw the bird back into the audience only to have the fans tear it apart. The newspapers next day announced, to the horror of the public, that Alice Cooper bit a chicken's head off and spit its blood into the audience. Instead of publicly denying the gruesome deed, Cooper began building theatrical violence into the concert act to make it unique from other bands.
The stage violence and hard rock sound of Alice Cooper (actual name Vincent Furnier, but, according to a Ouija board, Alice Cooper was a reincarnation of a 17th century English witch by that name), gained chart and fan acclaim for giving voice and vicarious thrills to angst-ridden teens. Songs like "Eighteen," "School's Out," and "No More Mister Nice Guy" were theme songs for teenagers who found the Beatles too pop-oriented and the Stones too passé. In a short time, Alice Cooper had 25 gold records with 50 million sales and successfully alienated untold millions of parents around the world.
Alice Cooper, "Welcome to My Nightmare", 1979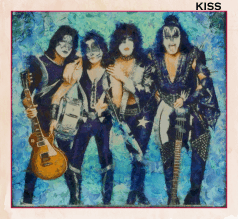 KISS, like Alice Cooper, established themselves as a hard rock theatrical band in the mid 70s and early '80s with bizarre costumes and extensive makeup. The band built an aura of mystery around them by refusing to be photographed without their character makeup (after 12 years they did relent to this). The meaning of behind their name (some claim it meant Knights in Satan's Service) was also fodder for fan and critic rumors. Live concerts of KISS also involved extensive theatrical sets, pyrotechnics and complex lighting. Although their sound was just as hard edged as Alice Cooper, they never went as far in their celebration of stage gore. Perhaps this was one of the reasons why they slide towards the mainstream by the end of the 70s with merchandising, comic books and a feature length cartoon on NBC entitled Kiss Meets the Phantom of the Park.
Kiss – "Rock and Roll All Nite"
Other hard rock bands of the late '70 have had longer staying power. Van Halen was built around the vocals of David Lee Roth and the extraordinary guitar playing of Eddie Van Halen. The band had success on the charts first in '78 and, despite the departure of Roth, were a frequent chart presence throughout the early MTV years.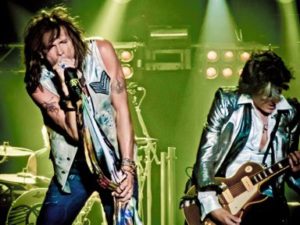 Aerosmith, originally formed in 1970, featured the swaggering front man vocalist Steven Tyler and the brilliant lead guitar of Joe Perry. Though they achieved some success in the early 70s, personality conflicts caused several members to leave in 1979. In 1986, the band reunited for good and, with rap duo Run-DMC rerecorded an Aerosmith classic "Walk This Way." The record is widely acknowledged as pivotal in rock music history as being responsible for both the resurgence of Aerosmith's career and the legitimizing and mainstreaming of a new musical style known as "rap." The band was inducted into the Hall in 2001.
The same year that Aerosmith entered the Hall, the British band Queen was also inducted. Queen, whose name doubly honored the British monarch and their openly gay preferences, began their career with an elaborate stage show incorporating the glam costumes, pyrotechnics and theatrical setups. The collection of Queen hits over the years almost defies classification, though, with everything from traditional hard rock to rockabilly ("Crazy Little Thing Called Love") and quasi-disco ("Another One Bites the Dust"). Their musical versatility stems from their diverse musical influences and educated backgrounds (college degrees in electronics, biology, illustration and design and astronomy). Although they were unwilling to be pigeonholed into one style, Queen is best known today for pioneering a hard rock song style known as the "power ballad." Apart from their six-minute, multi-layered classic "Bohemian Rhapsody" (which was given a second wave of popularity in the movie Wayne's World), their best-known songs are the sports anthems "We Will Rock You" and "We Are the Champions" (1977). Heavily studio produced songs, these works featured powerful vocals on extended pop like melodies backed by aggressive drums and power guitar solos. More than any hard rock band of the era, Queen achieved a level of commercial chart success.
Queen, "Somebody to Love":
In November 1991, after 15 years of chart success, lead singer Freddie Mercury announced that he was dying of AIDS, making him one of the first celebrities to openly acknowledge that he was afflicted with the disease. The following April a memorial concert was held at England's Wembley stadium where the surviving band members were joined by Elton John, David Bowie, Def Leppard and Axl Rose among others. The concert, which was broadcast around the world to over 1 billion people, honored the singer's dynamic talent and raised the awareness of the AIDS disease.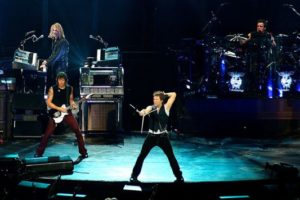 The remainder of the 1980s saw other hard rock and heavy metal bands appear in the spotlight. Some, like Bon Jovi, created a pop/hard rock sound built around the good looks and vocals of their lead singer. Others adopted the longhair, bad boy image and added a speed or thrash heavy metal sound. American bands Mötley Crüe, Metallica, Anthrax, Metallica, and Megadeath dominated the heavy metal scene in the late '80s with lightning fast complex riffs, often without vocal melody. These "hair bands" of the '80s were pushed aside in the early '90s for an alternative grunge style.
The two sides of the hard-rock/heavy-metal sound of the late 70s and early '80s are built around some common characteristics. The hard rock side –Alice Cooper, KISS, Van Halen and Queen — stemmed from the shock rock world of Jim Morrison and the stage theatrics of David Bowie's Ziggy Stardust. Frequently they followed the pattern, established by the Rolling Stones and continued by Led Zeppelin, of building their personality around the stage charisma of a lead singer (Mick Jagger, Robert Plant, Alice Cooper, David Lee Roth, Steven Tyler and Freddie Mercury) and the explosive energy of a lead guitarist (Keith Richards, Jimmy Page, Joe Perry and Eddie Van Halen).
The heavy-metal side of the 70's and 80's movement was built more around power and drive than charisma and explosive guitar solos. The aggressive side of the blues based Cream/Jimi Hendrix sound of the late ''60s was reborn in a more distorted, aggressive riff based, power chord explosion a decade later. The dark and occult-filled fantasy side, explored first by Led Zeppelin, became the standard abrasive lifestyle for Black Sabbath, Judas Priest, Iron Maiden, Def Leppard, Metallica and Megadeath.
Though criticized at times for its gruesome visuals, grinding riffs or screeching solos, both hard rock and heavy metal bands of the 80's played a crucial role in the development of '90s alternative or grunge music. Along the way, they also vocalized the emotion and, sometimes, the anger for many, mostly young and male, fans.