The blues-rock side of the British Invasion of 1964 primarily centered around three bands: the Rolling Stones, the Animals and the Yardbirds. Although the Stones and Animals had excellent blues-rock instrumentalists, it was the vocal solos by Mick Jagger and Eric Burdon that dominated the sound.
It was the Yardbirds, though, which was to become the spin-off point for three of the greatest guitar soloists in rock history: Eric Clapton, Jeff Beck and Jimmy Page.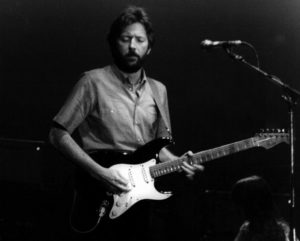 The Yardbirds were formed in London in 1963 and consisted of two electric guitars, electric bass, drums and harmonica. Later that year the lead guitarist left and was replaced by Eric Clapton. At first called the Most Blueswailing Yardbirds, the group played strictly blues covers of Chess artists like Muddy Waters and Elmore James. A 1965 tour of Europe with bluesman Sonny Boy Williamson resulted in a joint album the same year.
On the band's fourth album "Having a Rave Up" in 1965, Clapton played on only four cuts and shortly after its release, left the band, claiming they were abandoning power blues for psychedelic pop. Within a few months Clapton had joined John Mayall's Bluesbreakers, a group that gave him the format to expand and develop as a soloist. Although he was only with the Bluesbreakers a year, it was a time in which he gained significant public following as a soloist. Graffiti signs "Clapton is God" began appearing throughout London. It was also in '66 that he met Jack Bruce and Ginger Baker, with whom he would form the prototypical three-piece power rock-blues band Cream.
Cream was built around the virtuoso blues guitar of Clapton, the aggressive bass of Jack Bruce and the explosive and earthshaking drums of Ginger Baker. During the three years together, Cream sold over 15 million records and toured through the U.S., Britain and Europe to SRO crowds. Although their live concerts were high powered blues-rock jams, they were also capable of creating commercial hits in the studio. Two of their songs, "Sunshine of Your Love" and "White Room," were #5 and #6 on the charts in 1968 and a third, "Crossroads," a reworking of legendary blues artist Robert Johnson's "Crossroads Blues" reached #28 a year later.
Cream, "Crossroads" 1968
With both Clapton and Bruce contributing vocals to the instrumentals, they were able to create electrifying performances in which voice, guitar, bass and drums were equal elements of the whole sound. At one point or another any of the four elements would emerge from the whole to take charge, then shift back while another element surged forward. Their farewell concert at London's Royal Albert Hall in November 1968, which was caught on film, is acknowledged to be one of the high points in rock 'n' roll history.
Short stints with other bands like Blind Faith, and Derek and the Dominos, and playing backup for Delaney and Bonnie, followed for Clapton, including playing the guitar lead fills for the Beatles' song "While My Guitar Gently Weeps".
From the release of his first solo album in 1970, Eric Clapton has released over 30 solo albums. In recent years he has gone back to his blues roots releasing Riding With the King, a duet album with blues guitar great, B.B. King in 2000, and Me and Mr. Johnson a tribute to his hero, blues legend Robert Johnson in 2004.
Supergroup Cream reunited for the first time in 25 years to play at their induction into the Rock 'n' Roll Hall of Fame in 1993. Clapton appeared again at the ceremony when he was inducted as a solo artist in 2000.
More than any other artist, Clapton elevated the lead guitar from being strictly a background and fill instrument to being on an equal level with the human voice in rock 'n' roll. Through the Yardbirds years, the Mayall years and certainly in the Cream years, Clapton's guitar voice was often the most dramatic and exhilarating point in the music. While theologians would scoff at the concept that "Clapton is God," music historians would generally agree, "Clapton was the First".
Following Clapton's departure from the Yardbirds in 1965, two other guitar phenoms joined the band. Jimmy Page was the first choice to replace Clapton, but recommended Jeff Beck instead and temporarily moved to the bass guitar. By summer, both Beck and Page were co-lead guitar players, pushing and stretching each other onstage and in the studio. The most important development of the time period was their willingness to experiment with distortion settings, fuzz-tone, reverberation and feedback as a part of the guitar tone. Although Beck left within a few months due to health reasons, Page stayed on, taking over as the main instrumental soloist and continuing to redefine the tonal sound of lead guitar.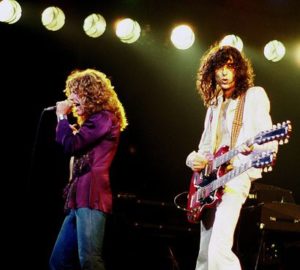 The band broke up in July '68, but Page inherited both the rights to the group's name and the responsibility to fulfill concert contracts. The New Yardbirds were formed when Page recruited three musicians he had met in jam sessions, including vocalist Robert Plant. After finishing the tour of Scandinavia, the band returned to England, went into the studio and recorded their first album with their new name: Led Zeppelin. The band would release nine albums in the next ten years, many reaching #1 and most going platinum in sales. Their tours of America, Britain and Europe broke box office records, many of which were set by the Beatles. After drummer John Bonham's death in 1980, Plant, Page and Jones disbanded the group.
Robert Plant, whose raw vocal blues style was a perfect match for the power distortion guitar lead of Jimmy Page, teamed up on several occasions with Page for recording and concert projects. Several of Led Zeppelin's songs have achieved cult status including "Stairway to Heaven" and "Whole Lotta Love". Total sales for Led Zeppelin records have exceeded 100 million, and the recording industry recognized the band as only the third act in history to have four or more diamond-certified albums (10 million copies sold).
The long-term importance of the high-powered combination of Plant vocals and Page's guitar (he played both rhythm and lead) was that it opened the door for the heavy metal bands of the late '70s and '80s.
Led Zeppelin, "Dazed and Confused", 1969
No discussion of the solo guitar gods of the 1960s would be complete without a presentation of Jimi Hendrix.
Born in Seattle, Washington, Hendrix taught himself guitar while listening to records of Muddy Waters, B.B. King, Chuck Berry and Eddie Cochran. After a stint in the army, he began playing backup in bands behind Little Richard, B.B. King, Sam Cooke, Ike and Tina Turner, and Wilson Pickett.
He was playing in a Greenwich Village coffeehouse when Chas Chandler of the Animals heard him and convinced him to go to London. In the fall of '66, Hendrix recruited Noel Redding on bass and Mitch Mitchell on drums to form the Jimi Hendrix Experience, a three-piece band equal to Cream in intensity and energy. They released two singles and a double-platinum debut album entitled "Are You Experienced?" in early 1967.
Word of the Hendrix phenomenon was reaching America by mid-'67 even though he hadn't performed in the country nor had he released any singles or albums in the U.S. At Beatle Paul McCartney's insistence, the Monterey Pop Festival booked him as one of the featured acts. The performance, captured on film in Monterey Pop, reveals both Hendrix's guitar virtuosity and his penchant for showmanship. At the end of the Experience's set, Hendrix pours lighter fluid on his guitar and sets it on fire, putting it out moments later by smashing it on the stage, into the speakers and eventually launching into the crowd. If there were any doubt about the rumors of his abilities, that classic performance dispelled them.
Hendrix was fanatical about music. His thirst to learn and absorb from others caused him to jam with jazz guitarist John McLaughlin, talk music with jazz trumpeter Miles Davis and listen to the recordings of jazz sax player John Coltrane.
After building his own studio, Electric Lady, in New York, Hendrix would spend thousands of hours playing, recording and experimenting. During the last year of his life alone, over 1,000 hours of performances, outtakes, and interviews were committed to tape at Electric Lady. These were later edited, mixed down and released to the public in the mid-'90s. Although only six albums were released during his lifetime, virtually every note he played in studio or live concerts has been released on approximately 100 albums.
Hendrix's distorted psychedelic version of "The Star Spangled Banner," played at Woodstock in August 1969 was one of the most memorable of the festival. In less than three years he established himself as one of the foremost guitar players in rock history. His dazzling improvisatory skill was matched by his dizzying ability to color and recolor notes and chords. He was able to instinctively fuse the Technicolor of psychedelic rock with the skillful dexterity of jazz and the intense passion of the blues.
A newspaper columnist is supposed to have written that hearing Jimi Hendrix play was like hearing heavy metal fall from the sky. Though he never lived to hear the bands that played under the banner "heavy metal," he certainly influenced them.
Jimi Hendrix died in his sleep just over a year after Woodstock, in September 1970 of complications due a drug overdose. He was only 27.
Hendrix plays "Purple Haze" at the Atlanta, 1970
Hendrix was the quintessential psychedelic virtuoso guitar player of rock 'n' roll. He took the blues virtuosity of Clapton, combined them with a taste for unconventional guitar colors, added the overt sexuality of bluesmen like Muddy Waters and Howlin' Wolf and his own brand of stage charisma, costumes, lights and theatrical flair. The mythical figure of guitar god, conceived by Clapton, was seen in a flash of musical intensity called Jimi Hendrix.
Jimmy Page with an extended solo from "Stairway to Heaven"; at approx. 8:20, Page is joined by Eric Clapton and Jeff Beck: