From the beginning, rock 'n' roll has always been a mixture of musical and visual elements. The snapshots from the '50s include Chuck Berry's duck walk, Jerry Lee Lewis standing and pounding the piano keyboard, and Elvis's shaking knees and wiggling pelvis. Just as important to the visual image was the "look" of the artist. From Elvis's slick curls hanging just about his eyes to the Moptop Four-Beatles– with their matching gray suits and later, long hair and Sgt. Pepper's outfits. Hendrix's psychedelic outfits, Morrison's leather pants, and Motown's matching suits and dresses all reflected an era and complemented the sound of that style.
One of the most influential figures in rock 'n' roll history began his performing career as a street mime and folk singer named David Jones. But the rise of the American bubble-gum group, the Monkees, with their lead singer, Davy Jones, the folksinger changed his name to David Bowie ("I want my music to cut through the lies like a knife").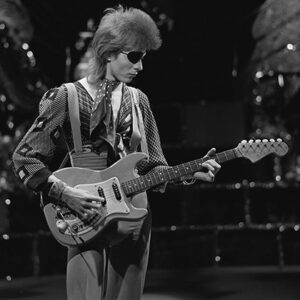 When his initial recording effort, an album entitled Space Oddity, met with limited success, Bowie attempted a bold transformation into the strange world of glitter rock. The glitter look was already a part of the act of Marc Bolin, lead singer for T. Rex and a friend of Bowie's. In 1972 Bowie was the first rock performer to openly admit to the press that he was bisexual. Soon afterwards, he began to adopt the persona of "Ziggy Stardust," an alien creature from Mars who was neither male nor female. His bright orange spiked hair, outlandish uni-sex space costumes and glittery make-up fleshed out the creature onstage. Soon his backup band, the Spiders from Mars, was similarly attired, effectively creating a bizarre visual aspect to their performances. While the music was eclectic, sometimes r&b, sometimes rock, sometimes quasi-folk, it was clearly the glittery, androgynous visual presentation that drew the attention from fans.
With a stage-life of just over a year, Ziggy Stardust retired in 1973, during which time Bowie had become a major star in Britain and a rising star in America. Bowie, the unquestioned chameleon of rock, moved on to other activities, most immediate, the development of a theatrical rock complete with sets, props and onstage actors.
But the style known as glitter or glam rock was gaining members throughout the rock world. Classical and blues piano player Elton John combined outlandish costumes and matching glasses with a rock piano sound and well-crafted pop-rock songs to hit the charts and stage in the early 70s. Lou Reed, of Velvet Underground fame and Iggy Pop, a protégé of Bowie's, also got on the glam bandwagon and recharged their flagging careers. Even veterans like Mick Jagger began strutting the stage in bright, sequined costumes that would have made blues legends like Muddy Waters blush.
David Bowie, "Time" from Glass Spider Tour, 1987