The sound of heavy metal rock at the end of the '70s was a result of ever increasing levels of complexity that were layered onto the blues-based rock 'n' roll sound of the mid-'60s. From the Rolling Stones and the Animals on, artists like Clapton, Hendrix, Led Zeppelin and others created new and fascinating levels of technical and artistic complexity. By the time Emerson, Lake and Palmer, Queen, or Alice Cooper arrived, the basic feel of the blues had been eaten up by gargantuan collections of lights, instruments, costumes and sounds. The twelve-bar blues of Muddy Waters had developed a glandular problem of enormous proportions.
By contrast, the gospel and rhythm & blues sound of soul during the same period had been greatly simplified due to the efforts of the "Godfather of Soul," James Brown.
The late '60s soul sounds of Wilson Pickett ("Mustang Sally"), Aretha Franklin ("R-E-S-P-E-C-T") or Percy Sledge ("When A Man Loves A Woman") were built around a steady eight-beat pulse with solid back-beats, riffs and sustained notes from a horn section, gentle electric guitar and bass riffs. The structures were simple, often built from a twelve bar blues pattern. The solo melody was sung with passion but with a clear tone and sustained notes.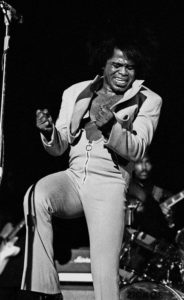 James Brown, in contrast, was getting a more simplified and yet more rhythmically aggressive sound. He accomplished this by starting with simple bass and drum riffs stressing every beat of the measure, expanding the role of the horn riffs, pushing them louder in the mix, de-emphasizing melody, and stressing rhythmic energy with his voice. The lyrics became simpler, the melody was more spoken rather than sung and the backup singers functioned as his "soul choir" often just repeating the lyrics and lines he had given them.
His vocal shouts, energized activity onstage and guttural singing was reminiscent of a Pentecostal preacher urging the saints to cry out to Jesus and repent. Instead of preaching repentance, Brown was preaching self-pride and cultural independence. "Say it Loud (I'm Black and I'm Proud)" became one of the first anthems of the black power movement of the late '60s.
One 4-minute version of his "Get Up Off That Thang," for example, is built on a syncopated two measure bass riff, eight-beat pulse on the cymbals, repeated two measure horn riff with variations and Brown and his backup singers singing variations of the same four lines of text:
Get up off that thang and dance til you feel better,
Get up off that thang and try to release that pressure
Subsequent verses encouraged the listener to "shake," "twist," or "sing" til they feel better, with each verse sung first by Brown and then by the backup singers. Between verses, while the rhythm and horns continued their riffs, singers were allowed to improvise shouts, cries or short melodic riffs of their own. Brown himself would cajole, tease, or coax the action along with references to "feeling good" or "feeling funky."
James Brown, Live from the House of Blues, "Get Up Offa That Thing", 1999
The term "funky" in fact, was a frequent part of Brown's songs: "Funk Power," "Funk Bomb," "Funky President," "Funky Good Time," "Funky Drummer," and "Make It Funky" being a few of the funky songs in his repertoire.
While the simplicity of James Brown's soul music can be seen in the lyrics and melody (two lines), the continuous two measures of horn riffs, bass guitar riffs and drummer's riffs, perhaps the most amazing part of Brown's "Get Up Off-a That Thang" is that harmonically, only two chords are used in the entire song. Seven beats of the I chord (1 and ¾ measure), followed by one pickup beat on the IV chord. Repetition in harmony, rhythm, bass and melody with any variation coming in improvised moments.
James Brown's simplified horn, bass and drum riffs created the grooves, repetitious lyrics and short rhythmic melodies provided some variety, and they were both laid over a characteristically minimal single chord harmony. It emphasized rhythm over melody and harmony and signified the end of soul and the beginning of funk.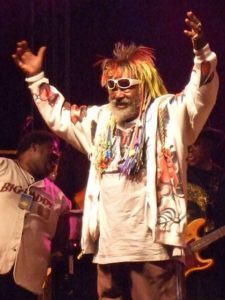 George Clinton and the Parliament Funkadelic completed the process begun by James Brown. Clinton, a decade younger than Brown, had been in the music business since the late '50s, when he had a doo-wop group called The Parliaments. Moderate success in the mid'60s was interrupted by a legal battle over the group's name. While the court case was going on, Clinton, most of the backup band and a few new recruits formed George Clinton and the Funkadelics, playing off the rock's current psychedelic craze. The court case was eventually resolved when Clinton agreed to drop the final "s" from the first group's name, and Clinton's P-Funk All-Stars, Parliafunkadelicment Thang, or Parliamentfunkadelics was born.
Like the soul groove of Brown, Clinton built long, extended songs on simple grooves and contrasting, sometimes improvised solos. Where Clinton differed was in his use of a group of singers (male and female) singing an independent unison riff chorus throughout that was closer to Brown's horn riffs than his responsive chorus. Although the P-Funks had soloists, Clinton was simply one of the several soloists, not the primary voice. Clinton also differed from Brown's soul sound in his use of synthesizers, distorted guitars, and additional percussion instruments like bongos and congas.
On top of the dense pile of independent vocal and instrumental riffs and simple eight-beat rhythmic groove by the drums with subtle back-beat was often a spoken, highly rhythmic lyric that predated hip-hop by well over a decade.
Parliament Funkadelic, "Give Up The Funk", 1976
The term "funk" had been used since the early part of the 1900's in the African-American community as a slang term for the smell of sexual intercourse. Musically, it was applied to a slow, mellow groove, but later was given an up-tempo, insistently driving connotation. Jazz musicians would occasionally encourage one another to put some "stank" or "funk on it" meaning to find the riff and build a syncopated groove.
Brown's open use of it in his soul songs brought the term to the charts, where, in spite of its similarity with another four letter "f" word it was openly accepted by the unknowing white community as a slang term for music, which, in fact, it was. Clinton took the use of the term one step further by modifying existing words or phrases with its adaptation or inclusion. "Play that Funky Music," "We Want the Funk," "Dr. Funkenstein," and "Count Funkula" were creative titles for the driving hypnotic groove created by Clinton and his P-Funk All-Stars. Today, the redefinition of the word has gone even further in western culture so that funk can alternatively mean either a musical groove or a mild state of emotional depression ("I'm in a real funk, today").
Aside from its double or triple meaning, the term "funk" was merely the beginning of Clinton's sexually explicit lyrics. Open references to sex, drug, and pot use, mixed with thinly veiled metaphors of racial separation and with the always-present instruction "get up and dance." Clinton's lyrics, while attempting to define a young, urban subgroup within the black community, rarely admonished them to a proactive stance as Brown had done. Although at times Brown had only a slightly less explicit sexual message ("I Feel Like a Sex Machine"), he also encouraged young blacks towards social action with songs like "I Don't Want Nobody to Give Me Nothing (Open Up the Door and I'll Get It Myself)." In contrast, Clinton's funk was about "getting' down," "finding a funky groove," and "having a party, y'all."
While George Clinton and his Parliament-Funkadelic band was more successful in the "chocolate cities surrounded by vanilla suburbs" as he often called the inner-city ghetto, other, less sexually explicit funk bands were spreading the sound to the white audience and finding commercial success on both the R&B and pop charts.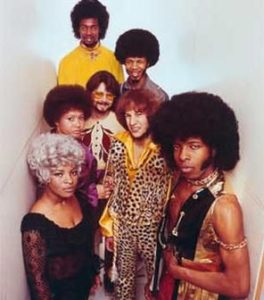 The most significant commercial success for the emerging funk sound was achieved by the group called Sly and the Family Stone. The seven-member gender and racially integrated group was formed in 1967 around a horn section, rhythm section, lead guitars and keyboards and several vocalists. Similar to Clinton's vocal setup, Sly's vocalists shared the spotlight, shifting from unison background riffs to solo improvisations. The Family Stones' song lyrics dealt with less explicit lyrics than either Brown or Clinton, which aided in their chart success. Sly's lyrics reflected his believe in the greater family of man and celebrated it with hit songs like "We Are Family." His abhorrence of racial segregation could be heard in his "Don't Call Me Nigger, Whitey." This blend of political and social statements were balanced with more positive 'feel-good' lyrics like their first hit "Dance to the Music" which was in the Top Ten on both the r&b and pop charts in 1968. Their most successful chart appearance was "Thank You Falletinme Be Mice Elf Agin" which hit #1 on both r&b and pop charts in 1969, the same year they played Woodstock. Few hits followed in the mid-70s and by the end of the decade, the commercial success of funk bands were being pushed aside by its progeny called disco.
War, originally formed as a backup band to ex-Animal lead singer, Eric Burdon, achieved success on its own in the early 70s with socio-political statements like "Why Can't We Be Friends," "Low Rider," and "The World is a Ghetto."
Sly and the Family Stone, "Dance to the Music" 1968
Kool and the Gang began as a soul band in the '60s, but attained r&b success in the early 70s with songs like "Jungle Boogie," and "Higher Plane." The addition of a more versatile lead singer in the late 70s enabled them to create many crossover hits including "Celebration" (#1 pop and r&b in 1980) and "Cherish" (#2 pop, #1 r&b, 1985). By the time the sounds of Kool hits like "Celebration" hit in the early '80s, the sound of funk had fully evolved into disco.
The end of the 1970s also represented moderate chart success for a few white funk bands such as Average White Band (AWB) and Wild Cherry. The latter group being the one-hit wonder band that gave us the funk/disco classic "Play That Funky Music, White Boy."
Wild Cherry, "Play That Funky Music, White Boy" 1976
The instrumental riffs, rhythmic grooves, simplified melodies, explicit or gritty lyrics of James Brown's soul and George Clinton's funk in the early 70s was to influence the evolution of several other styles and the development of key artists in the late 70s and '80s. The solid "bass-on-the-one" riffs of funk, combined with electric guitar and drum riffs and rhythmically recited social lyrics by Clinton was a precursor to the efforts of early rap artists like Grandmaster Flash, Sugar Hill Gang and Run D.M.C. The more commercial side of funk, as represented by the good-time dance sounds of Sly and the Family Stone and Kool and the Gang directly evolved into the studio-produced dance music called disco.