The art rock, hard rock, and heavy metal that developed in the 70s was built around large stage shows, often incorporating lights, sets and costumes, and involved extensive and complex productions. The size of the final product allowed bands like KISS, Led Zeppelin and Alice Cooper to play stadiums with crowds of up to 100,000 and gave birth to the term arena rock.
In stark contrast to the mega-productions of KISS were the smaller, more intimate shows of singer/songwriters of the 70s. Instead of explosive effects and power chords, their popularity was built on acoustic sounds and personal ballads sung in a distinctly low-power style.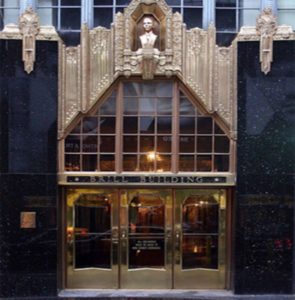 The Brill Building housed many of the anonymous songwriters of the early ''60s who provided hit songs for groups like the Shirelles, but with the arrival of the rock bands like the Beatles and the Beach Boys, with their self-contained song-smiths, the professional songwriter was less of a necessity in rock 'n' roll. Aside from the Motown and soul movement (where most of the songwriters were African-American) and the bubble gum pop movement (where most of the songs played to pre-teens), talented songwriters lacked a market for their skills.
Beginning in 1970, talented songwriters began coming forward to record and perform their own compositions. Their intimate style of delivery, carefully crafted melodies and harmonies, and personal lyric reflections stood out against the heavily produced sounds of bands like the Beatles, the Stones, Led Zeppelin or Jimi Hendrix.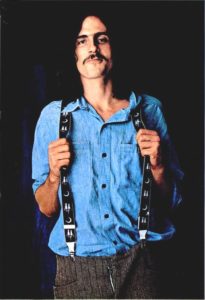 First among the new genre of relaxed and sensitive singer/songwriters was James Taylor. Taylor, who was addicted to heroin by age 20 and spent almost a year in a mental institution, wrote songs of personal confession and hurt. Although he occasionally reflected a light side, it was the sensual, openly transparent side of "Sweet Baby James" that grew a fan base. Backed by a sparse instrumentation (bass, piano, drums and his own acoustic guitar), Taylor developed a devout following through the 70s when he had hits with his own songs ("Fire and Rain" and "Carolina In My Mind") as well as those of friends like Carole King ("How Sweet It Is"). Through the late 70s and early '80s Taylor remained active on the stage and in the studio as well as politically. His Hourglass album, released in 1997 was a platinum success and won the Grammy for best pop album. He was inducted into the R&R Hall of Fame in 2000.
Another important singer/songwriter in the early 70s was Carly Simon who wrote/recorded "You're So Vain" in 1971 (supposedly refers to a former lover: either singer Mick Jagger or actor Warren Beatty), "I Haven't Got Time for the Pain" and "Nobody Does It Better", which was the theme song for the 1977 James Bond movie The Spy Who Loved Me.
James Taylor and Carole King perform Taylor's "Fire and Rain"
The personable pop-rock singer/songwriters of the 70s were influenced by other styles as well. John Denver used a folk-country feel as a key element of his songs about home, nature and the simple pleasures of life. "Rocky Mountain High," "Sunshine On My Shoulders" and "Annie's Song" were some of the songs that helped him sell over 10 million records in the 70s. Jim Croce was also influenced by country as well as the rhythmic energy of black gospel. His early 70s hits "You Don't Mess Around with Jim" and "Bad, Bad, Leroy Brown" were story-songs that encouraged listener sing-a-longs while "Time in a Bottle" was a poignant introspection on life and love in the confessional manner of James Taylor. Both "Leroy Brown" and "Time" went to #1 on the charts. Tragically, both Jim Croce and John Denver died in plane crashes (Croce in '73, Denver in '97).
Paul Simon broke from his singing partner Art Garfunkel to solo success as a singer/songwriter; "Mother and Child Reunion," "Loves Me Like a Rock," "Kodachrome," and "Slip Slidin' Away" were all Top Five hits with a variety of musical styles.
Joni Mitchell, one of the most widely respected of the singer/songwriters of the 70s, gained as big a following of fans in the world of musicians as in the broader public spectrum. Though few of her singles charted, many of her albums were critically acclaimed and sold extremely well through the decades. The long list of artists who have worked with or given tribute to Joni Mitchell reads like a "who's who" of the music world. Jazz artists like Charlie Mingus, Jaco Pastorius, Wayne Shorter and Pat Metheny have recorded with her as have Elton John, k.d. lang, Willie Nelson, Tom Petty, Peter Gabriel, Billy Idol and Michael McDonald. Prince, Jimmy Page, Robert Plant, Janet Jackson, Donna Sumner and a long list of singers have recorded her material. She performed at the Bands' "Last Waltz" and has been frequently onstage with Dylan. In 1995 Mitchell became the fourth recipient of Billboard's Century Award (the previous three were George Harrison, Billy Joel and Buddy Guy). She skipped her induction into the R&R Hall of Fame in 1997, choosing to spend Mother's Day with her newly reunited daughter and granddaughter. The bulk of her work, filled with accessible, floating melodies and poetic reflections on life, is the closest that rock 'n' roll has come to the classical art songs of Franz Schubert or Robert Schumann.
Joni Mitchell performs "Coyote" with Bob Dylan and Roger McGuinn, 1975
Cat Stevens ("Wild World", "Peace Train" and "Morning Has Broken") and Carole King ("Jazzman", "It's Too Late" and "So Far Away") also made frequent appearances in the Top 10 during the early 70s. King and former husband Gerry Goffin had been part of the Brill Building writers in the early ''60s and had written classics like "Will You Still Love Me Tomorrow," "One Fine Day," and songs for the Animals and Herman's Hermits. In 1962 they wrote, produced and performed background for their babysitter Little Eva on her #1 hit, "The Loco-Motion."  An off-Broadway revue of her songs appeared in 1993, a tribute album, Tapestry Revisited, performed by Celine Dion, Faith Hill, Rod Stewart and Richard Marx was released in 1995, and King was inducted into the R&R Hall of Fame as a songwriter in 1990.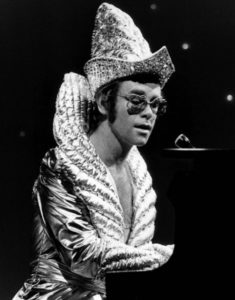 Although his act often incorporated Jerry Lee Lewis antics at the piano and was constantly costumed in wacky themes, pianist singer/songwriter Elton John gained most of his hits in the 70s by way of melodic personal statements. Top 10 hits in the decade included "Your Song" (#8), "Goodbye Yellow Brick Road" (#2), "Don't Let the Sun Go Down on Me" (#2), "Rocket Man" (#6), and "Someone Saved My Life Tonight" (#4).
Less flamboyant than Elton John but just as talented, Billy Joel crafted personal statements with his piano in the late 70s as James Taylor had done on the guitar earlier in the decade. His early hits "Always a Woman" and "Just the Way You Are" (which won two Grammys and has been covered by other artists an estimated 200 times) evolved into a more rocking sound in the early '80s when songs like "It's Still Rock and Roll to Me," "You May Be Right," "Tell Her About It," and "Uptown Girl" showed his more aggressive rock-based singer/songwriter style.
By the beginning of the '80s, the acoustic sounds of the intimate singer/songwriter was giving way to the electric sounds of the rockin' singer/songwriter. In addition to the revised sounds of pianist Billy Joel, the career of rocker/songwriter Bruce Springsteen. Springsteen, who was an '80s melding of the plainspoken lyrics of Woody Guthrie, the political vision of Bob Dylan and the forthright rockin' of Elvis Presley in his rockabilly days, punched his sound onto the charts with songs like "The River," "Born in the U.S.A," and "Independence Day." His sound was backed by a solid rock combo (electric guitar, drums, bass and backup singers) and contained more gritty vocals than other singer/songwriters. His lyrics aimed more at mirroring the angst of the common workingman than the introspective yearnings of love songwriters. Though not in the same vein as Taylor, Elton John or John Denver, his return to the roots of rock sound was just as passionate and just as personal.
Elton John, "Your Song", 1971
Though chart success came for these singer/songwriters, in most cases, it was never their primary goal. The making of a personal musical statement, one that could ring sympathetically in the hearts of their audience, was the initial objective. As others identified with that musical statement, complex feelings could be understood, deep hurts healed and silent frustrations given a more melodic and articulate voice. In this, one of the great powers of music could be released.