The nightlife in New York City in the '20s and '30s was the perfect home for hot jazz. Particularly important was the area known as Harlem, where the largest African-American community in the United States resided. Major black cultural and political figures of the 1950s were born in that hub of activity during a time known as the "Harlem Renaissance." Black poetry, philosophy, art, literature, and music all thrived in this encouraging environment.
Harlem was also home to numerous speakeasies, cabarets, dance halls, and nightclubs. Perhaps the most well known was the Cotton Club which combined elements of a dance hall with those of cabarets and musical revues. Some of America's most famous jazz musicians appeared on its stage, consolidating its reputation as one of the new homes of hot jazz.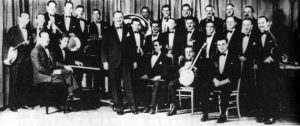 Like Chicago, New York had two separate stylistic threads of jazz flowing simultaneously. The one thread, introduced by white band leader Paul Whiteman, was that of a highly orchestrated, quasi-classical jazz orchestra. There were little opportunities for solo improvisation, although Chicago trumpeter Bix Beiderbecke did have some of them. These were carefully crafted scores which gave the mainstream white community a taste of the hot rhythms, unusual harmonies, and syncopated melodies of this new American style of music.
Even more important  to this flow of classical or pop jazz was the contribution made by George Gershwin, who incorporated the essence of jazz into his pop songs, film scores, and Broadway shows. Gershwin also folded jazz into his symphonic pieces, "Rhapsody in Blue" and "An American in Paris," both of which took the musical world by storm. As popular as these pieces were, they lacked the raw rhythms and abandoned performances of Armstrong and others.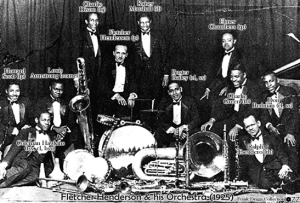 The second stylistic thread of jazz in the '20s and '30s in New York was much more authentic in nature. The sounds of Chicago jazz were present, but the bandleaders were beginning to incorporate more and more musicians into the bands. In the tradition of New Orleans, Armstrong and Oliver had combos made up of 5 to 8 instruments, but in the dance halls of New York, where dance crowds could grow to several hundred, the size of the sound had to be increased. By adding several instruments to a section, the volume was increased and the larger venues could be filled with sound. But having four trumpets in the band instead of one, three trombones instead of one, five saxophones instead of one created significant musical problems for the bandleaders.
In order to tighten up the sound and still provide hot rhythms for the dancers, song arrangements had to be carefully crafted and religiously observed. Featured soloists still were given windows to show their virtuosity, but it was the sections of trumpets, trombones, clarinets and saxophones, backed by a rhythm section (piano, bass, drums and guitar) which provided the bulk of the hot sound.
At first, black bandleaders like Fletcher Henderson tried to pattern their sound after Whiteman's, which emphasized classy, highly organized charts. But he soon realized that they lacked a certain rhythmic energy and a sense of drive. When Armstrong came from Chicago to play with Henderson's orchestra, the swing element was introduced to New York. Capitalizing on the young soloist's rhythmic ideas and melodic phrasing, Henderson's arranger wrote parts for the sax and brass sections which created harmonies paralleling the melody line. The sound of swing was born.
Some have characterized the swing era as simply "orchestrated Armstrong." With brass (trumpets and trombones) and wind (clarinets and saxophones) sections creating musical dialogues with one another, breaking phrases up, supporting an occasional hot soloist, and all being backed by a foundational groove created by the rhythm section; a new standard for hot jazz was established. The sounds of Whiteman and Gershwin had been successfully married to the swing of Armstrong.
The depression era of the early '30s caused several bands to break up. Some traveled to Europe, where jazz was riding a wave of popularity, to find work. Others just traveled from gig to gig in beat-up buses and played for whatever they could. Fletcher Henderson's band was one of the casualties of the economy. For all his creative charts, Henderson couldn't keep the band together and by 1934 was looking to sell some of his chord charts to other bands.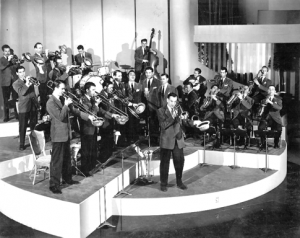 Summary: Big Band
For ten years, from the mid-1930s to the mid-1940s, a form of jazz enjoyed its only time as a national music. From the ballrooms of New York to the dance halls of North Dakota, various sizes of the big band sound were being played, performed and being danced to. It was a dominant sound on the radio, the most popular style in the record store and was the pulse of the heartbeat during World War II. In 1941 it was as American as the flag, the Statue of Liberty, mom and apple pie. For some, the fact that Hitler hated jazz and all it stood for, gave it all the more importance and credence in American culture.
It was a carefully organized, highly structured sound which appealed to the masses, but eventually the matching blue suits and stack of orchestrated swing songs proved to be too constricting for a few. A few who wanted to taste once more the freedom of extended individual improvisation in jazz. A few who wanted, once again, the excitement of a small ensemble.
But from the big band era and its composers and performers, we have a wealth of jazz music. It is as diverse as Louis's unpredictable trumpet solos and Duke's highly crafted jazz symphonies. It is as energetic as Ella's scatting and as sorrowful as Billie's blues. It was as hot as Henderson's arrangements and as sweet as Basie's comping piano. And throughout the decade, it always swung.