Like many of the early jazz figures coming out of New Orleans, Armstrong's early years are a reflection of the poverty and difficulties experienced by many of the African-Americans in the early 1900s. Armstrong's mother, Maryanne, moved from rural Louisiana to New Orleans to find work; met Willie Armstrong, a man already married and with a family; became pregnant with Willie's child; was abandoned by him and on August 4, 1901 gave birth to Louis while living in Jane's Alley, one of the poorest parts of the New Orleans ghettos. From shortly after Louis' birth until the time he was five, Maryanne found occasional work doing laundry, but most of the time was forced to leave Louis in the care of an uncle while she earned food money selling herself in the cheap bordellos of Storyville. Years later in his writings, Armstrong would speak of his admiration for his mother:
"Whether Maryann was selling fish (HUSTLING) I could not say. If she was, she certainly kept it out of sight. One thing, everybody from the church folks to the lowest gave her the greatest respect, and she was always glad to say hello to anybody, no matter who. Come what may, she figured. And with it all, she held her head up at all times. Nothing excited her. What she didn't have, she did without. She never envied no one, or anything they may have. I guess I inherited that part of life from Maryann." (My Life)
His childhood years were filled with two things: hard work and music. The hard work consisted of hauling coal to the bordellos in Storyville, selling rags, cleaning gravestones in the cemetery and whatever odd jobs he could find. Louis and his younger sister would do whatever they needed to do to help with food.
[My sister] "and I used to go out to Front of Town when we were very young– among those produce places–where they would throw away spoiled potatoes, onions into a big barrel, and she and I among other kids used to raid those barrels–cut off the spoiled parts and sell them to restaurants. There was a baker shop which sold two loafs of stale bread for a nickel. They would do that to help the poor children. They could always get filled up at least on bread. [My sister] and I had to do it lots of times. Many kids suffered from hunger. Their father could have done some honest work for a change. No, they would not do that. It would be too much like right." (Archive)
Armstrong carried a deep appreciation for the simple blessings for the rest of his life, never taking for granted the smallest kindness or gesture of goodness shown to him. Though he met presidents and kings and popes, he never assumed any air of elitism. He never forgot his common roots.
The music in Armstrong's life was first learned on the streets around his home. At age eight or nine, he formed a vocal quartet with four friends, performing on street corners for tips. To get the attention of the crowd, they would bang tin cans or blow harmonicas until a few people gathered to listen to them. On one occasion, he took a tin horn and started blowing to call a crowd around them. He realized by varying his lips on the horn he could create a melody. He was eleven years old and he realized that he "had music in my soul." A few months later he discovered a beat-up cornet in the window of a pawn shop for sale for 5 dollars. The Karnofskys, the kind Jewish couple who gave him work, advanced him on his 50 cent a week wages so that he could buy the instrument.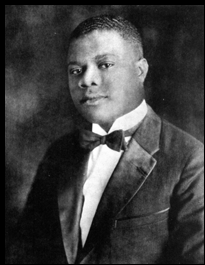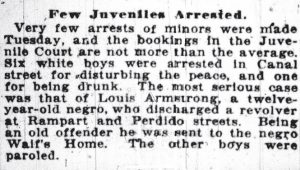 Life took its first major change in the early hours of the morning on January 1, 1913. On a dare, Armstrong took his stepfather's .38 revolver and fired six blanks into the air. He was arrested for disturbing the peace and spent a night in jail. In the court hearing the next day, the judge, familiar with Armstrong's previous run-ins with the police (he was arrested several times for stealing newspapers and then reselling them), sent the boy to the Colored Waif's Home for Boys.
Far more than a juvenile detention center, the Waif's Home was run by a former Army Captain who drilled discipline and self respect into the boys in his charge. Part of the education and training provided the boys was the opportunity to learn to play music. The music teacher at the Home saw incredible potential in Armstrong and quickly moved him from tambourine to bugle, and finally, to cornet. While at the Home, Armstrong received basic musical instruction and was exposed to a wide repertoire of marches, rags, ballads, folk, and pop songs.
It was during this time that Armstrong was given one of his beloved nicknames: "Satchmo." Childhood friends teased Louis about his overly large mouth comparing it to the size of a piece of luggage, calling him "Satchel Mouth." Eventually "Satchel Mouth" was abbreviated and Armstrong wore the nickname "Satchmo" with pride for the rest of his life.
Later in his life, he spoke positively of his time in the Home, even donating generously to the various juvenile homes in New Orleans. By the time he left, in June of 1914, the only life he wanted was that of a musician.