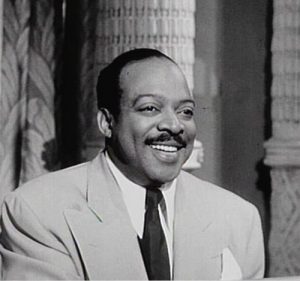 The complex harmonies and expanded forms of Ellington weren't the only front on which jazz was developing in the late '30s. In Kansas City, a young stride piano player named William "Count" Basie was beginning to put his own mark on jazz.
Basie was born in New Jersey, learned piano at home, was influenced by the sounds of Fats Waller and Earl Hines on the radio, and got his first job accompanying silent movies in the local theatre. At age 23 he left home to travel with a jazz combo and eventually ended up in Kansas City, where he decided to form his own band in 1935.
Unlike the New York jazz musicians, who could all read music, Basie's Kansas City band consisted of some who played backup by memorizing "riffs" of each song. These riffs, which were simple two measure patterns repeated over and over until the next chord change, caused the band to put an emphasis on a consistent groove while soloists were free to improvise on top.
Basie's individual style of piano playing developed out of the minimalist presentation of some of his arrangements. Although he started as a stride-piano player, creating high energy oom-chuk, oom-chuk accompaniments, he adopted a "less is more" style by the late '30s to keep out of the way of the soloists. This style of accompanying, made popular by Basie, which creates great space and silence between chords is called "comping."
The simple, steady rhythm section of Basie's band set a pattern for jazz players for years to come. Following the pattern of Basie's comping, the drummer tended to avoid bombastic shows of virtuosity, instead favoring simple, laidback grooves which invariably included a light, swinging beat with brushes on the cymbals. The bass player in Basie's rhythm combo also created one of the fundamental sounds of lighter jazz: the "walking" bass line. Instead of punching rhythms and bouncing through the beats, the walking bass line was a steady stepping line over a consistent "one note per beat" rhythm.
These three elements: comping piano, light brushes on the cymbals, and a walking bass were the core of the Basie sound. In contrast with the energetic rhythms of other bands, it was part of what was known as "sweet jazz," the lyrical counterpart to "hot jazz." No band played exclusively "hot" or "sweet" jazz, but each found their own balance and blend of the two, depending on the tastes and skills of their arranger.
In the "b" section (2nd chorus or verse) of Ellington's classic song "It Don't Mean a Thing," he gave recognition to the balance in jazz:
"It don't mean a thing if it ain't got that swing,
                Doo-wah, doo-wah, doo-wah, doo-wah, doo-wah….
It makes no diff'rence if its sweet or hot;
                Give that rhythm everything you've got"
Basie's style of easy-going, riff-based jazz was a perfect counterpart to the highly orchestrated, energetic and complex sounds of Ellington's band. The combination of Basie's sweet rhythms and Ellington's progressive harmonies would meld into the next development in jazz: bebop.
Many other jazz instrumentalists played a role in the early jazz and big band eras. Sidney Bechet, the first great saxophone soloist, was one of the few instrumentalists of the New Orleans/Chicago era that could be compared with Armstrong. Coleman Hawkins and Lester Young's saxophone solos showed the maturity and lyrical style of the instrument and paved the way for Charlie Parker in the bop era.