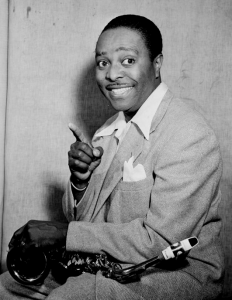 The blues had always been a part of jazz, if not in its 12 bar, AAB structure, then at least in its bent notes and lowered thirds. Basie, Ellington, and others had taken the blues and made them swing. "One O'Clock Jump" by Basie is one of the best examples of a swinging big band song in a blues format.
But starting in 1942, a saxophone player/singer named Louis Jordan took the blues format (12 bar, three chords, AAB structure); put in the infectious energy of swing; added good-natured novelty lyrics (some with suggestive double meanings); pushed the tempo; strengthened the beat; layered the sound with his bluesy saxophone and playful melodies; and created something called the "jump blues."
Jordan and his small combo, the Tympany Five, scored hit after hit in the mid '40s: "Is You Is or Is You Ain't Ma' Baby?", "That Chick's Too Young to Fry," "I'm Gonna Move to the Outskirts of Town," "Choo Choo Ch'Boogie," "Ain't Nobody Here but Us Chickens," "Five Guys named Moe," and "Saturday Night Fish Fry."  These were humorous novelty hits that broke away from the more structured and seriously crafted sounds of Basie and Ellington. Soon, other small combos playing the jump blues were on the charts and the radio. In contrast with the 15, 18 and 25 piece big bands, Jordan had a trumpet, alto and tenor sax, piano, bass and drums. The size of the ensemble was also an asset in getting gigs in venues which either couldn't hold or couldn't afford a big band.
The jump blues sound of Louis Jordan and others in the late '40s evolved into the rhythm and blues sound of the early '50s and was one of the influential forces in the birth of rock 'n roll in the mid-'50s. Regardless of who might be considered the father of rock 'n roll, Louis Jordan was most likely one of the grandfathers of rock 'n roll.