But perhaps the greatest move of his career took place during 1928 and 1929 when he made the professional shift from being Louis Armstrong: jazz artist to being Louis Armstrong: popular entertainer.
In 1929 Armstrong's agent was able to get him a spot playing and singing in a Broadway musical written by Fats Waller called Hot Chocolate. Armstrong's insatiable hunger for applause was being fed on a nightly basis by thousands in the upscale audience. The next couple of years provided many opportunities to appear in feature films, his own radio program and by the late 30s, he had become a nationwide star.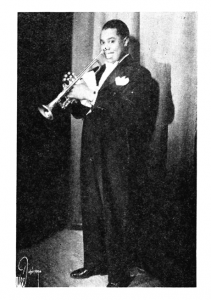 Although this certainly put Louis Armstrong on a national if not international stage, the price paid, his critics said, was at the artistic integrity of his music. Armstrong gradually moved away from energetic, innovative instrumental solos to more of a mellow, pop style playing and singing. (Twenty-five years later, the same accusation was made of the King of Rock 'n Roll: Elvis Presley.) To those in the inner circle of jazz, Satchmo had "sold-out."
For the remainder of his career, Armstrong attempted to craft a type of pop-jazz which was non-threatening to mainstream America. His showmanship could be seen in his amiable stage personae, his gigantic smile, his constant mugging and joking with the audience, and his constant desire to please his fans.  The choice of song repertoire was no longer based on hot jazz classics, but pop song arrangements.
The respect and admiration of younger musicians of all styles resulted in his second famous nickname. In deference to his longevity and singular place as the patriarch of an entire musical style, he earned the endearing name "Pops."
By the mid-1950s Armstrong was recognized as one of the best-known entertainers in the world. The U.S. State Department sponsored Armstrong for a series of tours throughout the world. From Africa to Italy to France to South America, Satchmo's image, voice, and sound were welcomed by millions. He was given the title of "America's Goodwill Ambassador of Music."
But at home, there were certainly times of controversy. In the late '50s and early '60s, Armstrong railed against racism and took a strong, very vocal stand against segregationism in the South. He was accused of being a Communist by some Southern rednecks and by the Egyptian authorities of being a leader in the Israeli spy network in America. Whereas the latter two accusations were patently ridiculous, his vehement statements on racism made him a controversial figure in the entertainment world. In 1957, when commenting about the mistreatment of blacks in Arkansas, Armstrong said:
"My people–the Negroes–are not looking for anything–we just want a square shake. But when I see on television and read about a crowd in Arkansas spitting on a little colored girl–I think I have a right to get sore…do you dig me when I still say I have a right to blow my top over injustice?" 
At a time when the FBI was keeping files on every controversial figure in America, including Dr. Martin Luther King, the file on Louis Armstrong contained at least one letter of admiration on which then FBI director J. Edgar Hoover apparently added in his own handwriting; "Armstrong's life is a good argument against the theory that Negroes are inferior."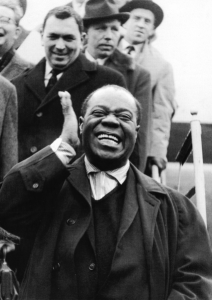 By the early 1960s Armstrong and his reputation had weathered the storm and was once again held in positive public esteem. His performing was more infrequent, his personal appearances and interviews becoming fewer, yet his stature as a world statesman for tolerance and justice was widely accepted. Never one to give credence to classicism, Armstrong treated royalty as if they were common folk, and common folk as if they were royalty.
On one occasion, Louis visited the Pope in the Vatican. As was the common practice, the Pope held out his hand, ring up, in the traditional papal gesture for the visitor to acknowledge respect by kissing the Pope's ring. With an equal amount of respect and in a way only Satchmo could, Armstrong flashed his trademark grin and slide his hand, palm up underneath the Pope's in a traditional jazz "gimme five" greeting.
One final milestone of Louis Armstrong's career took place in 1964. His recording of the title song for a Broadway musical, Hello, Dolly spent twenty-two weeks on the pop charts.  At one point, the song knocked the Beatles' "I Want to Hold Your Hand" out of #1 spot at the height of Beatlemania in America. It was one concluding acknowledgement of his stature as a jazz and pop musician and an acceptance of what he had done as a voice for humanitarianism and racial equality in the world.
When Louis was about to go out and play at his 70th birthday party celebration at the Newport Jazz Festival, a sudden and ferocious downpour sent the audience running for cover. When Louis, ignoring the rain, went out to play for his fans, the fans responded by joining him as he romped through dozens of his hits. Although he kept assuring them that he "wouldn't keep them long," they were there for the duration, cheering and applauding the man who changed music in America.
Early in 1971, Louis Armstrong's health began to prevent him from performing. A heart attack in March sent him to the hospital and then home for recovery for a couple months. On July 5th, Armstrong asked his doctor to reassemble the band for him – he was ready to play again. The rehearsal never happened. He died early the next morning.
In 1988 a Robin Williams movie, Good Morning, Viet Nam, used an Armstrong recording as one of the key musical themes. Seventeen years after his death, Louis Armstrong's voice was once more on the Billboard charts. It would have pleased Satchmo that the song was one which seemed to reflect his optimistic character and his rich life. Fittingly, it was "What a Wonderful World."
No single performer in history has so altered the course of music as Louis Armstrong. With his trumpet and his voice, he set the standard for the majority of popular music in the world. Every genre of music from pop to jazz to rock to folk to country & western has felt the reverberation from his horn and has been changed. If there was such a thing as a "Mt. Rushmore of American music," his image would most certainly be there.
In his own inimitable way, Louis Armstrong once explained the uniqueness of jazz. "We all go 'do, re, mi'" he said, "but you gotta find all the other notes yourself."
Louis Armstrong singing "Mack the Knife", which reached #20 on the Billboard Pop Charts in 1956.