It wasn't until 1944 that the mainstream public started to hear this new style through its first recordings. Parker cut records – so did Gillespie, Monk and the others. What the public heard was more than a little puzzling to their more traditional ears. Unusual chords – were they wrong? Uneven beats – was the drummer lost? And the soloist up on top – sure he could play a lot of notes, but were any of them right? And what was this about hearing bits and pieces of opera themes and other pop songs in the middle of these long solos – what was that all about?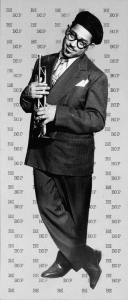 Most discarded it as noise; some found it puzzling.  Quite a few thought it offensive, but between its first recordings and 1950, bop grew modestly in popularity. When it became understood that this was "listening" and "thinking" music, as compared to the "dancing" music of big band jazz, the artists and their efforts gained a solid following and a permanent place in the evolution of jazz history.
As with many revolutions, the purity of the theory is often muddied by the realities of life. In the second half of the bop era (1940-1950) personalities emerge from the philosophy of pure jazz to dominate the spotlight and redirect the flow of evolution.
Bop trumpet legend John Birks "Dizzy" Gillespie, like Armstrong before him, had reveled in the attention he was getting as a jazz celebrity and played to it, wearing a French beret hat, sunglasses, and trimming his goatee to just a patch under his bottom lip. Soon, fans were following their idol, wearing berets and sunglasses and growing similar bottom lip patches. The era of hip and cool was born. Magazine and newspaper ads showed pictures of Dizzy Gillespie decked in his sharp attire, and offered prospective beatniks the "accoutrements of hip" for a nominal price.
Gillespie savored the attention and, on behalf of the U.S. State Department became America's Ambassador of Bop, traveling the world promoting the new sounds of jazz. Returning from his appearances in Cuba, Gillespie brought back Cuban musicians like Chano Pozo, and Cuban instruments which he incorporated into his new band to create the the first flow of Latin rhythm in American jazz music. Some termed the style "cubop" (cue`bop). Gillespie was building legitimacy for bop, but some would say, at the expense of its purity.
Gillespie's bands fluctuated in size from '47 on. When he could afford it, and funding from the State Department made it possible, Gillespie pulled a big band together as backup for his bop solos. When necessary, he went back to the quartets and quintets that Parker tended to prefer.
Charlie "Bird" Parker was so heavily addicted to alcohol and heroin that he signed over half his future royalties to a disabled shoe-shine drug dealer for the guarantee of an unlimited supply of heroine. In 1946, while in a drug and alcohol induced stupor, Parker was arrested for public indecent exposure (he wandered out from his hotel twice dressed only with his socks), suspected arson (he fell asleep smoking and set his bed and the hotel room on fire), and public drunkenness. He was ordered to spend six months as a ward of the Camarillo State Hospital in California. Later, Parker would write a tune, "Relaxin' at Camarillo" in commemoration of this time in his life.
Upon release from the hospital, in early 1947, Parker became distressed by the path of commercialism that Gillespie and some of the others had taken.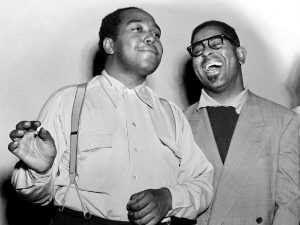 Parker was one of those who objected to the "pop bop" which Gillespie was spinning. Choosing a different path, Parker eschewed Gillespie's larger ensemble for the more authentic sound of a small combo. From '47 to '51 the small combo, which often included a young trumpet player by the name of Miles Davis, was the setting for most of Parker's mature recordings.
In 1951, the New York city narcotics squad pressured city officials to revoke Parker's cabaret license, which had allowed him to earn a respectable living performing in clubs in the city. Sporadic employment, increasing debts, failing health, an increase in drug and alcohol usage, as well as two failed suicide attempts caused him to voluntarily commit himself to Bellevue Hospital in 1954. In March of 1955, Charlie "Bird" Parker, the "Father of Bop" gained release from the hospital in order to play his last public performance at Birdland, a nightclub named in his honor. He died in an apartment in Manhattan owned by his longtime friend, Baroness Koenigswarter, seven days later.
The parallels of Gillespie and Armstrong are many. Both were superb technicians of the horn and musical artists. Both helped pioneer a new level of improvisational jazz. Both took strong public stands against racism. Both were given the status of "Ambassadors" of American music and traveled on behalf of the State Department. Both remained congenial characters who loved performing well into their seventies. Both had winsome personalities and were wonderful showmen.
And both were known for their sense of humor. In 1980 Gillespie threatened to run for the presidency. If elected, he said, he would rename the White House the Blues House and name Miles Davis as head of the CIA. When someone accidentally fell on Dizzy's trumpet in 1953 and bent the trumpet bell up, Gillespie decided to adopt the resulting malformation and had other trumpets made specifically with a tilted bell. "I can hear the sound sooner," he rationalized. Whether it was true or not, Gillespie's bent horn and highly expanded cheeks and neck while blowing it, became his unique trademark.
John "Dizzy" Gillespie, pioneer and legitimizer of bop, died in 1993.
Dizzy Gillespie, "Salt Peanuts", c. 1970s