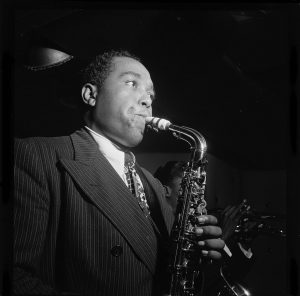 Bop didn't start until Bird arrived.
Sax player, Charlie "Bird" Parker, like the others, had been a part of several bands in the early '40's. As a part of the Jay McShann big band, he was given liberty to cut loose and create blistering solos that stunned audiences and bands who dared compete against them. But being a part of a band meant structure, responsibility, and dependability – words that didn't fit into Parker's vocabulary.
In contrast with his close friend, Gillespie, who was a sharp dresser and smooth front man, Parker was a disheveled, child-like genius with a narcotics addiction. One of Parker's early friends, Stan Levey, describes seeing Parker for the first time:
             "I was working on Fifty-second Street with different (bands)…and this guy walks down, he's got one blue shoe and one green shoe. Rumpled. He's got his horn in a paper bag with rubber bands and cellophane on it and there his is, Charlie Parker. His hair standing straight up. He was doing a Don King back then. Well, I says, "This guy looks terrible. Can he play?" And he sat in and within four bars, I just fell in love with this guy, the music, you know."
Parker was a self-taught player. And, like Jimi Hendrix twenty-five years later, Parker was obsessive about his playing. While still in his teens, playing sax with a big band, he was given the opportunity to solo. Typical of the era, the older members of the band attempted to "put him in his place" by doubling the tempo of the piece and then shifting into an unfamiliar key. Parker was at first confused and then hopelessly lost before leaving the stage in humiliation.
In a determination that was to be his trademark, Parker went home and learned all the solos the band played, as fast as he could play them, and in all twelve keys – a practice he kept throughout his life. He also had a book of practice exercises that he routinely played in all twelve keys, forwards and backwards.
On Thanksgiving Day, 1936, sixteen year old Parker and some friends were traveling to a gig when the car hit a patch of ice, slid over an embankment, and rolled over. One friend was killed; Parker ended up in the hospital with broken ribs and fractured spine. The intense pain he experienced for the next two months in the hospital was eased only by regular shots of morphine. Although his ribs and spine healed, Parker was a drug addict for the rest of his life.
By the time he left home at 19, he had been married three years, fathered a son, divorced and sufficiently mastered his instrument enough to join the Jay McShann band in New York and become star soloist.
However, like Dizzy, his solos were enigmatic to the audiences and problematic to those who played with him in the band. Often ignoring the regular chord progressions, Parker would suddenly shift into other keys and before the band could locate the key, he would be off again, following the elusive melodic butterfly in his mind.
The sessions at Minton's Playhouse which combined Parker, Gillespie, Thelonius Monk at the piano, and Kenny Clarke on the drums were legendary. On many occasions the stage band left the "sit-in" musicians holding their instruments and admiring the creative energy and pyrotechnic displays of Gillespie and Parker.
But Minton's was only the starting place. Soon they were jamming at other clubs, like the Onyx on famous 52nd St. earlier in the evening. Earl Hines asked Parker and Gillespie to join his band in 1943 which also consisted of singers Billy Eckstine and Sarah Vaughn. Vaughn, who was only sixteen at the time, was backup singer to Eckstine and backup pianist to Earl Hines. Within the next decade she would establish herself as the logical bop successor to Billie Holiday and Ella Fitzgerald.
By the late 1940s it was clear to Parker and the others that this new style of jazz could only flourish if freed from the big band structure. They began to perform  and record their experiments in small combos. Parker and Gillespie and ….? Parker and Monk and…? Gillespie and Monk…? The combinations changed, but the essence of bop was the same: butterflies on caffeine whirling over a quilted carpet of blue velvet and thread-worn burlap.
For all its creativity and innovative concepts, bop was not received with the same enthusiasm that had greeted jazz in the swing era. What was it? Was it really music? As Armstrong and many others noted, you couldn't hum a melody and dancing to the erratic beats was difficult. In fact, bop was known as "music for the head, not for the feet" for that very reason. In order to dance, the body must find the steady, predictable pulse to move feet, hips, legs, arms and head. But, if the beat happens 1-2-3-4, 1-2-3-4,1-2-3-4, 1–2-3-4, it is extremely difficult to organize the limbs to move in a manner that isn't embarrassing. When the combo started playing bop, the dancers left the floor to watch and listen. And those who understood listened with their minds and, as one astute critic of the time said, "Your insides cut all the steps that your feet could not cut anyway."
Charlie Parker and Dizzy Gillespie: "Hot House"
In structure, bop drew upon the early jazz forms: 12 bar blues elements and 32 bar (often AABA) song structure. After an initial, unison statement of the melody, soloists would take off into their own flights of musical fantasy, either taking entire verses by themselves or trading 4's or 8's with each other. This made bop solos more of a congenial musical dialogue.  The concept grew out of a time years earlier where jazz soloists in places like Kansas City would compete in less than amiable "cutting contests," where soloists would trade solos back and forth attempting to show their superiority, gain the audiences favor, and win the contest. In its bop format, the traded solos were more collegial and less competitive.
Bop was more than different; it was controversial. Fans of traditional swing jazz and fans of bop often would get into discussions which invariably grew into arguments which sometimes evolved into name calling and on more than a few occasions, physical fights. Just imagine two groups of fans: one of hip-hop and one of country, discussing which of their two styles was the most creative and the most correct reflection of today's society.
Those who believed in this new language were passionate about it. A young sax player remembers the shock of hearing Parker and Gillespie in concert in Los Angeles in 1946:
             "This was for real. The stuff that you heard on records that you didn't believe, you…had to believe because you saw people standing playing it…It was kind of scary to hear, because they were playing so fast that we didn't understand what they were really playing…They were using notes that we didn't even dare to use before because it would be considered wrong. And those stops and go-s between Dizzy and Bird…you know, you'd look at everybody and say, "'Can you believe what we just heard?'"