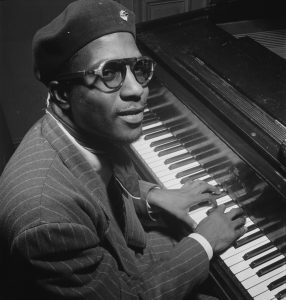 The third member of bop's triumvirate was the eccentric and very private Thelonius Monk. As a soloist, Monk was unlike any other pianist. In contrast with the flowing, roller-coaster solo lines created by other bop soloists, Monk's piano solos were jarring fragments of melodies played by stiff fingers attacking the keyboard in an aggressive, percussive manner. Although Monk did solo on some of the recordings he made with Gillespie, Parker, guitarist Charlie Christian and others, it was his bop compositions that set him apart from the others. Not since Duke Ellington had a jazz composer created so much music with such revolutionary ideas.
A comparison of Monk with Ellington is warranted. Monk took the expanded harmonic vocabulary developed by the Duke and added his own layer of sounds. Many of the innovative tonal ideas which Ellington explored by mixed sections of instruments of his band were extended by Monk into the single instrument of the piano.
In the early 1920s classical European composers like Russian Igor Stravinsky and Frenchman Darius Milhaud were highly influenced by American jazz in their compositions and use of jazz instruments like the saxophone. The influence came full circle in the bop era when Charlie Parker and Thelonius Monk studied Stravinsky's works and even incorporated some of his musical themes into their improvisations. Monk's audacious piano playing hints at this jazz-classical-jazz influence.
In contrast with the popularity of Parker, which vacillated throughout his life, or with that of Gillespie, which came from nowhere and remained strong until his death, Monk remained characteristically in the shadows during the early years of bop, only to gain recognition in bop's second wave of popularity.  Monk, an eccentric who preferred experimenting at Minton's long after everyone else had left, was satisfied to compose his songs and remain in the background of others' recordings for the first years of the bop revolution.
From 1952 to 1957 Monk had recording contracts with four or five different labels, none with any great success. In 1957, however, several appearances with John Coltrane, tours of Europe and America, and a New York concert with an orchestra playing arranged versions of his works, gave Monk the respect he deserved. By 1964 he had a recording contract with the powerful Columbia Records, appeared on the cover of Time magazine (an honor bestowed on only three other jazz musicians), and had numerous tours of America, Europe, Mexico, and Japan.
From 1970-72 he recorded and performed with an All Star Combo which included Dizzy Gillespie as well as others, but suddenly withdrew from public appearances just as his recordings were achieving a new wave of appreciation. With the exception of three Carnegie Hall performances with an orchestra in 1975 and playing with a quintet at the Newport Jazz Festival in 1976, Monk remained in seclusion until his death in 1982 at the New Jersey home of a close friend, Baronness Koenigswarter, who had also owned the Manhattan apartment where Charlie Parker died twenty-seven years earlier.
Just as big band spawned two offshoots: jump blues and bop, bop also helped to instigate two further jazz movements: cool jazz and free jazz.