Introduction – The Contemporization of Jazz – Soft Fusion and New Age
The three paths taken by jazz in the past twenty years have not been that dissimilar than those taken by contemporary country & western music. Beginning in the mid '80s, a renewed vigor in the traditional sounds of bop, swing and early jazz was being felt. Jazz ensembles in high schools and colleges around the world were finding a wealth of material existed in stacks at the back of the music closet. Younger fans were discovering dusty albums in their parent's attic with names like Duke Ellington, Dizzy Gillespie and Louis Armstrong.
Around the world a renewed interest in jazz caused festivals in Montreaux, Switzerland and Umbria, Italy to join dozens around the world and those in every major city in America to bring every style of jazz from Dixieland to hard bop to the public. Mainstream artists who were protégés of Gillespie and Parker and Monk in the '50s were brought out of obscurity to headline these festivals. Almost every previous form of jazz was developing a renewed appreciation, a new audience. A jazz renaissance had begun.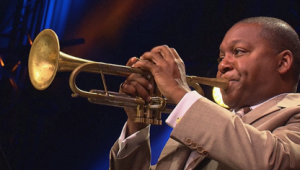 One of the best proponents and most vocal defender of the neo-traditional movement in jazz has been trumpet player Wynton Marsalis. Without a doubt, no player in jazz history has had such a meteoric rise to stardom. Signed to a recording contract with Columbia Records at age 20, Marsalis won two Grammys (one in jazz, one in classical) by age 22, director of Jazz at Lincoln Center by age 31, winner of the first Pulitzer Prize awarded to a jazz composer for his oratorio "Blood on the Fields" at age 35.
Beginning in the mid '80s Marsalis, together with his brother, saxophonist Branford Marsalis and others like guitarist Kevin Eubanks (at one time, the bandleader for Jay Leno on the Tonight Show) were avid practitioners of a neo-traditional movement in jazz. In the past decade, Wynton has aggressively sought to give exposure to jazz history and tradition.
While hosting the  Lincoln Center concerts on jazz, Marsalis has brought a new level of understanding to prospective jazz audiences around the world by way of televised concerts and audio and video recordings. Marsalis is at the vanguard of a new generation of jazz musicians who are actively taking their art to the next generation of enthusiasts.
Traditional jazz was built upon the concept of swing. Whether it was big band, Dixie or bop, the element of swing was always present. But another style, de-emphasizing the swing tension of jazz was evolving which more closely reflected the cool experiments of Miles Davis in the early 1950s.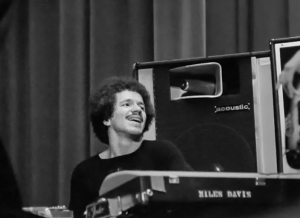 This new path might have started as early as 1964 when clarinetist, Tony Scott, infused elements of Indian and Asian melodies into a softer sound. His Music for Zen Mediation (1964) and Music for Yoga Meditation (1967) were the first attempts towards a spiritual jazz sound.  Another early influence was pianist Keith Jarrett, who, like Chick Corea and Herbie Hancock, had been part of Miles Davis' first attempts at the fusion sound. From 1969 to 1971 Jarrett played with Davis, electric organ first and then both organ and electric piano when Corea left in 1970. Soon after Jarrett left Davis' ensemble, he turned his back on electronic instruments and went back to his first love, the acoustic piano. His work in the '70s and '80s brought a renewed interest in acoustic jazz and set the stage for the emergence of pianist George Winston and others in the Windham Hill group of acoustic jazz artists.
These artists were not only influenced by the piano music of romantic composers like Debussy, but the floating ethereal quality of Gregorian chant and by the sounds of nature: ocean waves, babbling brooks, and rainstorms. Early on, the mellow, quasi-spiritual acoustic jazz was termed "New Age" music by record stores who created a new category somewhere between classical music and traditional jazz.
A number of New Age artists achieved success in the '80s including Yanni, Andreas Vollenweider, Brian Eno and the group Mannheim Steamroller, whose Christmas albums in particular have been well received.
During the '90s a female artist named Enya emerged from Ireland to craft a new age style of music dependent on synthesized sounds. Her records have been welcomed by both critics and public alike, showing that the market for new age pop/jazz was significant.
But a third, more moderate path was also being taken. Similar to the country artists who acknowledged their traditional musical roots, but also wanted to form a contemporary, pop version of their music, there were those jazz artists who chose to find a new path which angled closer and closer to the middle of the road.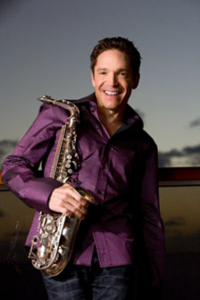 The MOR ("middle of the road") jazz sound was being stated first in the late '60s by a very few individuals like flugelhorn player Chuck Mangione. The soft, breathy quality of his solo lines made them easy for the pop public to digest aurally, but with the aggressive drive of fusion, Mangione tempered his sound to fit the funky groove being developed by Miles Davis and others.
By the end of the 1970s, the popularity of fusion jazz had evaporated into the shadows of the disco movement. The driving brass punch of Tower of Power and other groups had too much funk for those seeking a smoother, more lyrical sound.
The arrival of the 1980s brought a reincarnation of fusion to fit the desire for a contemporary jazz with less beat and a softer melodic line. Groups like Spyro Gyra established a sound that utilized typical jazz instruments with improvisation, but a more modest rhythmic beat than '70s fusion groups. This style, which has most recently been dubbed "smooth jazz," could just as accurately be called "fusion-lite" or "pop-jazz."
Saxophonists Kenny G, Dave Koz and David Sanborn, Japanese keyboardist Keiko Matsui and pianist David Benoit have also been highly regarded in the smooth jazz idiom.
Many jazz purists discard both smooth jazz and new age music, claiming that since neither consistently incorporate swing rhythms and improvisation (some smooth and most new age is as strictly scored as an Ellington chart). However, there are those individuals and groups, such as Spyro Gyra, Fourplay and the Rippingtons, who have tried to pay homage to their traditional jazz heritage by incorporating characteristic nods towards their bebop, cool and swing roots.
Keiko Matsui – "Safari" – Newport Jazz Festival, 1999