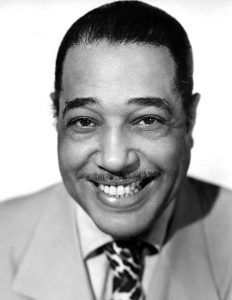 Perhaps the most innovative and certainly the most prolific composer of the big band era was Edward Kennedy "Duke" Ellington (1899-1974). What Louis Armstrong did for the improvised solo line, Duke Ellington did for the harmony and structure of jazz.
During his life, Ellington composed over 2000 works: 1,000 short instrumental pieces, hundreds of popular songs, over twenty large jazz suites or tone poems for orchestra, three sacred works, six film and television scores, seven musicals or stage works, a couple of ballets, and one opera. The sheer volume of his work warrants him a place of significance in jazz history.  It wasn't the weight of the music that was most important, but rather the transformation of the sound and the respectability that he brought to the genre.
Ellington first made a name for himself as bandleader at the Cotton Club in Harlem from 1927 to 1931. His run as a bandleader, however, began in 1923 and went uninterrupted until his death in 1974. No other bandleader in music history had the stability that Ellington enjoyed. Some band members played with him for twenty to thirty years without switching bands.
Such loyalty allowed him to craft complex arrangements that were at times less like a jazz song and more like a sound painting. Mixing sounds of different instruments together, building more complex harmonic sounds, and drawing upon the strengths of individual players in his band, Ellington took jazz from the backroom speakeasies to the tuxedoed stage of Carnegie Hall. Symphonic jazz which incorporated strings and full percussion sections, was hinted at by Whiteman and developed by Gershwin, came to adulthood with Ellington.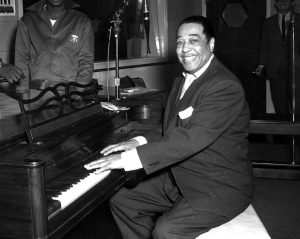 During his career, Ellington and his band made more recordings than any other jazz group. His compositional breadth extends from the 1932 song definition of jazz: "It Don't Mean a Thing if It Ain't Got That Swing" to the majestic "Black, Brown, and Beige," a fifty-minute tone poem describing the history of the American Negro.
Unlike Armstrong, Duke, the son of a Washington, D.C. butler, grew up in relative affluence, being taught by both his parents an elegant manner of speech, dress and conduct. Undoubtedly, it was this sophistication which earned him his nickname reflecting royalty.
He was, however, entirely self-taught as a musician. His craft was learned in the clubs of Harlem and was so well developed by the 40s that he could often be observed writing songs, parts, and sections in restaurants and airport lobbies.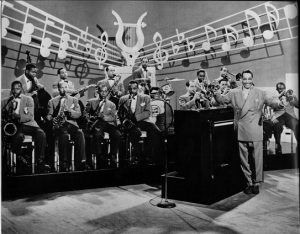 By the late '30s, Ellington was also moving jazz down a new, more complex harmonic path. Simple chords of three or four notes (triads and 7th chords) were expanded to chords of five and six notes (9th, 11th and 13th chords) as well as complex augmented and diminished chords. Harmonies no longer followed a simple and predictable path; chord progressions which had been standard in American music since the time of Stephen Foster were now being given unexpected and unpredictable turns.
Just as he was borrowing from the forms of classical music, he was also adopting compositional techniques from classical theory to jazz performances. If Armstrong completed the alphabet, Ellington made the musical statements polysyllabic.
The impact of Ellington, then, was threefold: 1) the extended harmonic language, 2) the expanded musical forms, and 3) the elegance and class that he brought to the jazz.