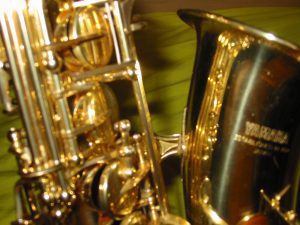 Just as classical music of the nineteenth century was built on the concept of rhythmic precision, it also valued pitch precision as one of its elevated standards. Any violinist, flutist, or trumpet player who slid around the pitches was viewed as an amateur.
Folk music, however, didn't subscribe to such strict limitations. Appalachian singers and fiddlers would regularly bend, slur or slide into pitches as part of the "feeling" of the songs. Blues singers and guitar pickers of the Delta region slurred notes and bent strings to reflect the ache in their hearts. African-Americans of the South approached melodies of spirituals and gospels more as suggested guidelines rather than exact formulas for their religious fervor.
It would only be logical, then, that jazz, which grew up in the area around New Orleans and was influenced by folk, blues and spirituals, would adopt a more lenient approach towards pitch accuracy.
These styles, together with musical influences from Caribbean and African cultures, gave early jazz pioneers the patterns for bent, slurred, and connected melodic pitches.