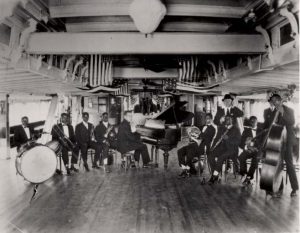 For the next two years Armstrong played in dance halls, cabarets, honky-tonks, and on street corners. He was a regular cornet player for two different bands, including one led by his idol, "King" Joe Oliver. In 1918, at age 17, he was hired by a bandleader named Fate Marable to play in a riverboat jazz band which traveled from New Orleans up and down the Mississippi River. In order to get the job, Armstrong had to prove that he was 18 at the time, so he went down to the local draft board, lied about his age, and obtained a certificate incorrectly stating his birth date as July 4, 1900. Between sessions on the riverboat trip, Marable taught young Armstrong how to read music and furthered his understanding of harmony and rhythm.
In 1921, a young Fletcher Henderson (later to develop into one of jazz's most innovative arrangers) tried to talk Louis into moving to New York to join his band. Armstong declined, proclaiming his loyalty to Marable's band. But a year later, when Oliver wired Armstrong to join him in Chicago, 21 year old Louis packed a bag, grabbed a trout sandwich from his mother, and caught the evening train for Chicago. It was a move which would transform his career and push the development of jazz to a new level.
Everything before Chicago was preparation for Armstrong. It was grinding through thousands of songs with hundreds of other musicians in dozens of cabarets, dance halls, honk-tonks, and dives. It was learning the traditions, discovering his skills, and experimenting with new ways of shaping musical ideas.
The monumental stature of Louis Armstrong in American music was not due to the compositions he wrote, for he was not a composer. Armstrong's genius lay in the fact that he was an innovator and, in a sense, a completer.
It was as if the musical alphabet before Armstrong consisted of 2 vowels and six consonants. The feel of jazz was definitely there, but the language was severely limited in what it could produce. Armstrong came along and provided the 3 additional vowels and 15 consonants which made the jazz alphabet complete. Those who performed jazz after Louis Armstrong were given a model and a pattern for what the jazz solo, whether instrumental or vocal, should be.
The innovations that Armstrong brought influenced not only jazz in Chicago, but jazz and pop music throughout America and, by extension, to the entire world. Music would never be the same after "Satchmo" set the mold.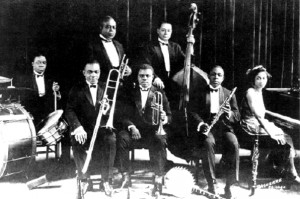 Although his first recordings in 1922 were as a member of King Oliver's band and as a second chair to Oliver's first cornet, partway through the second song of the first session, it was clear that genius was present. By the second song, Oliver and Armstrong were working out an unspoken arrangement where Oliver would remain closer to the melody with only moderate embellishments while Armstrong was free to elaborate and invent counter-melodies around him. The product was some of the most inventive and innovative sounds in early jazz.
In 1924 Armstrong left Chicago for New York, where he finally met up with Fletcher Henderson, the bandleader who had tried to hire him in New Orleans. In the Fletcher Henderson Orchestra recordings, Armstrong moved from second cornet to featured soloist, although Fletcher and his arranger had to make major changes in the dynamics of the rest of the band to accommodate the young upstart.
Coming across a "pp" in the arrangement, (a musical abbreviation for "very soft"), Armstrong blew a power line of sound. Henderson asked if Armstrong knew what the symbol meant, to which Satchmo responded "pound plenty." Soon, the entire Henderson Orchestra was playing with the abandon and energy of their star player.
Although Armstrong's time in New York lasted little more than a year, it had a profound impact on the music scene there. Admired by audiences and musicians alike, Louis was changing the standard for the jazz sound throughout the New England cities. Square, predictable Dixieland was out, swinging Armstrong "hot" jazz was in.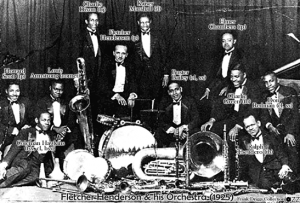 Although Fletcher allowed Armstrong some freedom as an instrumentalist, he didn't allow Louis to express himself as a singer. It was his frustration over not being able to sing in Henderson's band, as well as his wife Lil's jealousy for Louis which brought him back to Chicago in the fall of 1925.
In November, Armstrong put together his own combo and went into the studio to record for the first time as bandleader and soloist. Over the next three years, it was Armstrong and his Hot Five – cornet, banjo, clarinet or saxophone, trombone, and piano – (although at times he added drums and tuba, and changed the title to the Hot Seven); they recorded 65 songs for Okeh Records, one of the top producers of race records in America.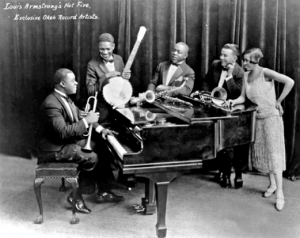 These recordings are widely accepted as the most significant contributions of Armstrong's jazz career. All his previous records were merely preparatory for this body of work, which includes his finest playing, singing and showmanship. It is also significant that this was his first "scat" recording. (For more on "scatting" see Joyce Cobb's demonstration in the AmPopMusic "Audio/Video Room".)
So popular did Armstrong's gravelly sound become, that hopeful young singers were sticking their heads out into the cold night air in an attempt to get a vocal malady which would allow them to copy Satchmo's sound.
As one of the most important icons of American pop singing, Bing Crosby stated that Armstrong was a major influence in learning to shape a pop vocal line. Due to the artistic explosion of these instrumental and vocal recordings, it has been said that if Armstrong had not lived past 1928, his place as an icon and innovator in American music would still have been secure.
Unfortunately, this time also marked a series of major turning points in his career. Personally, Louis divorced Lil (wife #2) and married Alpha (wife #3). Instrumentally, he began the shift from playing cornet to the closely related, but more brilliantly toned and powerful trumpet. Geographically, he moved his base out of Chicago, when, due to the edicts of a morally upright city council, speakeasies, night clubs, and cabaret hot spots around town were closed down. The need for a paying gig pushed him back to New York.