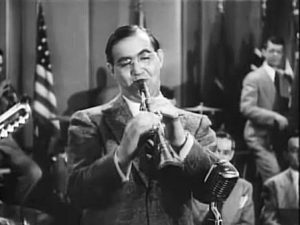 The bandleader who bought the Henderson arrangements was a young 25 year old Jewish clarinet player by the name of Benny Goodman. Goodman, who had been playing professionally since age 14, first heard authentic jazz in Chicago; he shifted from being a classical clarinet player to playing jazz, at first on the sax and then back to the clarinet, his main instrument.
Before forming his own band, young Goodman had played with Paul Whiteman's band and, at age 21, in the orchestra pit for Gershwin's Broadway musicals, Girl Crazy and Strike up the Band.
In 1934 Goodman formed a 12 piece band and recorded several songs for Columbia Records. By November, they were ready to audition to be the featured band on an NBC national radio program called Let's Dance which was to be broadcast into homes across America. Since the program's budget allowed for the purchase of band arrangements, Goodman purchased several charts from Henderson and then hired him to be the band's arranger.
Goodman's place in jazz history is not due to his ability to compose, but rather, due to the interracial nature of his bands, the high degree of performance standards he set, and the extent of the national exposure his presence on radio gave to jazz.
In the 1930s, the idea of an interracial band was revolutionary. Bands were made up of either exclusively black or white members, but never both. Benny Goodman was the first major bandleader to hire the best musicians, regardless of skin color. From the '30s to the '70s, Goodman hired many African-American musicians as both sidemen and featured soloists: Teddy Wilson (piano), Lionel Hampton (vibraphone), Charlie Christian (guitar), and Fletcher Henderson (arranger).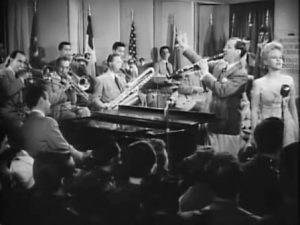 As a band leader, Goodman was a strict disciplinarian, demanding precise intonation, carefully matched vibratos, and a controlled balance between instruments. His brand of swing was both detailed and energetic.
Let's Dance was only the first of several national radio broadcasts that Goodman's band hosted. From 1936 to 1939 they were featured regularly on several CBS broadcasts and gained major national exposure. Due to his national popularity and the pioneering jazz radio broadcasts, Goodman has been given the mantle of "King of Swing."
Following Goodman, many white and black bandleaders achieved star status. Glen Miller, Jimmy and Tommy Dorsey, Cab Calloway, Duke Ellington and Count Basie all benefited from the doors opened by Benny Goodman.
With the growth of the popularity of jazz in the late '30s came a wave of musicians – black, white, male and female – all wanting to play in dance bands. The size and the number of big bands grew as the level of musicianship was significantly increased. Written arrangements, which required that musicians be able to read complex charts, gave opportunities for composers to experiment with new sounds and ideas.
When Benny Goodman and His Band performed "Sing, Sing, Sing" at the Carnegie Hall Concert of swing music in 1938, it signified the mainstreaming of a form of jazz called "Big Band" or "Swing". With this concert – and perhaps this song – jazz became "respectable."