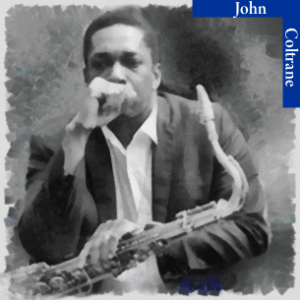 Coltrane was one of the first to push the boundaries. A famous story about Coltrane's lengthy solos goes like this. Coltrane was playing in Miles Davis' quintet and trading solos with Davis during the concerts. Davis, who was a master of succinctness, knowing, like Monk the pianist, when to play and when to wait and when to stop, was becoming irritated with the unending meanderings of the young Coltrane. "Once I get started," the young sax player confessed, "I just don't know how to stop!" Miles' solution was simple. "Try taking the sax out of your mouth," he said with characteristic brevity.
Coltrane's solos are noteworthy for more than just their length. Following the pattern of Charlie Parker, Coltrane shifted keys constantly and incorporated wisps of musical ideas from classical and pop music. Borrowing from Stravinksy and Gerswhin, the solos became avant-garde musical expressions reflecting a "flow of consciousness" style of improvising. His solos leading into this time period have been described as "sheets of sound."
It was understandable that the mainstream public didn't take to it; it was too radical.  The populace often takes time to absorb the novel and innovative to see if there is anything that can be mainstreamed for them; unfortunately, there wasn't.
It was even understandable that the critics and bop jazz fans didn't like it.  If bop had no melody, at least it had a semblance of a melodic shape to its effort, but this was closer to splatterings of paint on a canvas than a series of lines which might represent something in the real world. In fact, the cover of Ornette Coleman's first album, which gave the movement its title, "Free Jazz: A Collective Improvisation," incorporated a contemporary painting, Jackson Pollack's White Light, on the cover. It was a visual representation of what was to be heard on the album, and what was to come.
It was the reception of free jazz by classically trained composers like Leonard Bernstein and jazz music academicians like Gunther Schuller, president of the prestigious New England Conservatory of Music, however, that was surprising. Rather than dismissing it as "noise" and "garbage" as critics and the public had, most understood the musical struggle that this style represented. In fact, many classical composers had been attempting similar avant-garde performances for almost a decade.
At the heart of the free jazz style is an emancipation from musical rules. Some of the most basic rules of music and jazz: chordal structure, melodies which extended from the harmonies provided, uniformity, and consistency of meter and rhythm – all those things that make music singable and dance-able, were simply rules. These jazz musicians viewed them as rules which hampered their creativity, tied them to the past, and stifled the sounds crying to be let out.
The improvisational solos of the swing, bop, and hard bop eras were based, at least loosely, on an established pop melody which was traditionally presented in the first verse and brought back in the last verse.
The free jazz solos of Coltrane and Coleman, however, are never built around a pre-existing melody, so no reference is made to previous musical material. Everything is created "free from": free from pre-existing melodies, free from keys, free from meters, free from chords which only hold the soloist back from free-flight musical soaring.
John Coltranes' "Giant Steps" was an important musical bridge between bop and free jazz styles.