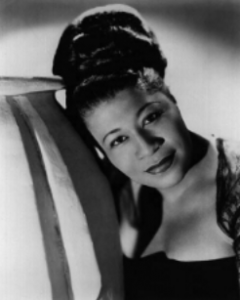 In stark contrast with the tragic life which was Billie Holiday's, was the upbeat, positive life of Ella Fitzgerald. Not only were their lives dramatically different, but their song selections, vocal style, and presentation were also points of significant contrast.
Perhaps no more pointed was the contrast than one night in 1939, when the band led by Count Basie met the Chick Webb band in a "battle of the bands" held at the Savoy Ballroom. On one side of the room, singing with Basie, was 24 year-old Billie Holiday, with her mellow, soft vocal renditions with extended floating lines. On the other side of the room, the light, effervescent voice of 21 year-old Ella Fitzgerald sparkled with the all the good-natured quality of champagne bubbles.
The beginning of Fitzgerald's life seemed to be a copy of both Armstrong's and Holiday's. Orphaned at an early age, Ella spent the adolescent years of her life in the Colored Orphan Asylum, where she was sent for truancy. By her early teen years, Ella was homeless, earning money by running numbers for a gambling boss, serving as a lookout for a brothel, or mostly, earning tips by singing and dancing.
It was as a dancer that Ella thought she had a chance to escape from the streets. She was barely 16 when she signed up to perform in an amateur contest at the famous Apollo Theater in Harlem. But, when she found out that two well-known dancing sisters were going to be closing the competition, she knew she didn't stand a chance competing against them. On the spur of the moment, she decided to sing in the competition instead.
Though she was overweight and awkward-looking in her second-hand clothes and men's boots, she won the crowd over with her voice. After a false start, she relaxed and took off with two songs, shifting phrases, augmenting and embellishing the melody lines and walking off the stage to thunderous applause and the grand prize of ten dollars.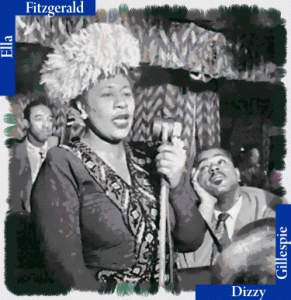 Soon afterwards, Chick Webb hired her as a "canary" (slang term for girl singer in a big band) for his band. Her success was immediate and widespread. By the age of 20, she simultaneously won the Number One Female Artist in America polls held in both Downbeat and Metronome magazines. Her swinging recording of a children's nursery rhyme A-tisket, A-tasket hit the top of the charts that year and remained there for twenty-two weeks, a feat unheard of by a black female artist in the late '30s.
When Chick Webb passed away in 1939, Ella took over leadership of the band. At age 21, she was leader of her own group of musicians, had numerous songs on the charts, and was perhaps the most recognized female voice in America.
If this were the life of a tragic heroine like Billie Holiday, this would be the point where life would take a turn for the worse, and we would see the beginning of the litany of misfortunes that would ultimately bring her career and life to a sorrowful end.
But this was not the typical tragic story.
After quitting her band in '42, Ella signed with Decca Records and over the next 14 years recorded over a hundred songs and made countless appearances in both jazz and pop concerts. By the mid '50s, Ella was an international figure, held with the same esteem as Armstrong and Ellington. After shifting to Verve Records in '56, she recorded a series of albums entitled Songbooks where she highlighted the works of various jazz and pop composers in America. Many refer to these recordings as the definitive performances of many of the standards by Gershwin, Cole Porter, Irving Berlin, and others.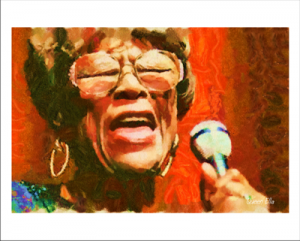 From her first recordings, Ella adopted many of the ideas put forward by Armstrong. Nowhere is this more evident than in her scatting. The nonsense syllable singing which Satchmo popularized in the late '20s was taken to a new level of virtuosity by the "Queen of Scat." The complete control and discipline she displayed, even in the middle of vocal fireworks, showed that, in addition to singing a simple and beautiful melodic line, she could swing her voice in the same way that Armstrong swung his trumpet and Charlie Parker later swung his sax.
Her performances with Basie, Armstrong, Ellington, Goodman, Artie Shaw, Dizzy Gillespie, Frank Sinatra, and others place her in select company and point out the respect she was given by each of these musical giants.
For decades, Ella Fitzgerald was considered the quintessential jazz singer, capable of transforming a simple song into a celebration of melody with her good-natured personality and her scintillating technique. Even into her seventies, Ella Fitzgerald brought sparkling performances to her fans. At an age when voices begin to lose energy and accuracy, Fitzgerald could still show her ever youthful girlish quality.
If Louis Armstrong had had two musical daughters, they most certainly would have been Holiday and Fitzgerald. Both recognized him as a role model, an inspiration, and a personal friend. In their own ways, each portrayed the musical virtuosity and the life experiences of "Pops" Armstrong. One was weighed down by the pain and injustices of life and sought to bring rhythmic freedom into her simple, at times raspy, voice. The other brought high energy and enthusiasm to her performances, always appeared to have the world on her side, and crafted sparkling vocals for a world of fans who adored her to the end.
Ella Fitzgerald, 1965 with the Tommy Flanagan Trio: "Them There Eyes"