Bop was a backlash to the highly orchestrated sounds of swing jazz which emphasized structure and arrangement over individual expression. But at the height of the bop era, the desire by some for a more sustained sound with an emphasis on the tonal color of the solo instrument rather than its technical wizardry was beginning to develop. Its seeds were found in the sparse comping chords of Count Basie and in the light sound of big band saxophone player, Lester Young.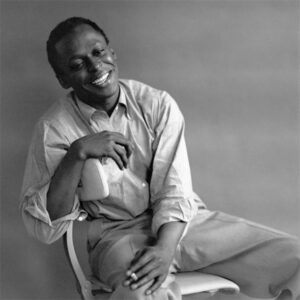 In many of the sessions where Parker, Gillespie, and Monk played was a young trumpeter by the name of Miles Davis. Born in St. Louis, Davis discovered the trumpet at age 13.  Initially, he intended to study classical trumpet in New York City, but hearing Charlie Parker play caused him to change his plans, drop out of school, and follow his idol from gig to gig. Eventually, Parker had Davis sit in with the quintet and when Gillespie left, Parker had Davis take his place.
Davis was not a typical bop trumpeter. Although he attempted the fast and furious solos of Gillespie and others, he often couldn't handle the fast tempo and unorthodox chord changes. Before too long, Davis was hearing another, as yet unformed, style of jazz, built on tonal shaping and sustained rhythmic elasticity. It was a style which more closely fit his skills.
In 1949 Davis formed his own ensemble, a nine-piece group which included several saxophones and French horns. These two instruments in particular, were capable of creating rich, reserved, low-volume sustained chords, over which Davis could weave a floating ribbon of sound. Davis hired an arranger, Gil Evans, who had studied classical composition as well as the works of Ellington, to write highly textured songs for the ensemble. Evans, who actually conducted the ensemble in recordings the same way a studio orchestra would be conducted, gave Davis the complex harmonic pad that allowed him to shape the melodic line. The record, entitled Birth of the Cool, was a milestone in jazz evolution.
Davis' Birth of the Cool was in some ways closer to classical impressionist composer, Claude Debussy, than it was to the "bop-bastic" sounds of Charlie Parker. In its wake, other musicians such as saxophonist Gerry Mulligan, trumpet player Chet Baker, blind pianist Lennie Tristano, and composer Claude Thornhill all crafted their own brand of cool jazz, mostly based on the West Coast.
The Dave Brubeck Quartet took cool and infused elements of "old school" classical technique to craft a sound that blended cool and hip. Performing almost nonstop for 16 years, they became the most successful small group in jazz history, selling millions of records, and playing to sold out concerts, many on college campuses throughout the United States.
The common elements of cool jazz were the ever present, carefully crafted charts filled with sustained chords for rich brass and wind sections; the light playing by the rhythm section; and the elongated, sensuous, velvety solo line which floated in and out with irregularity. Cool jazz was a deliberate turning away from the spontaneity and excitement that was bop towards a more reserved, austere sound, seemingly devoid of emotions. And yet at it's own level, the emotional intensity was preserved.
Apart from the success of Dave Brubeck and the Modern Jazz Quartet, cool jazz in its first manifestation was short lived. By the mid-1950's, cool jazz was being set aside, only later to resurface as an influence in both third stream and new age jazz.