Music was an integral part of American life as early as the 17th century. From singing the hymns and psalms in church to playing a violin, guitar, brass, or wind instrument to learning in the local "singing schools" and societies available in the more urban communities, many Americans had continual exposure to music as a part of recreation, worship or community.
In 1716 Williamsburg, Virginia built the first theatre in America and within a few decades many Americans in urban areas could see stage productions or puppet plays on a weekly basis – and almost without exception they were plays with music. Almost every "spoken" play – dramatic, comic or puppet – had incidental music or songs inserted at periodic intervals.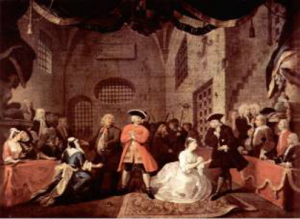 Beginning in the mid-18th century, one of the most popular English theatrical forms found its way to America. Ballad operas were most often comic parodies and spoofs of the wealthy and powerful in society. Unlike traditional opera which is entirely sung (with recitatives and arias), ballad operas contained both spoken word and song, with melodies opening poached from the common usage; folk tunes, bar tunes, street tunes were all drafted into service. The first great English ballad opera, John Gay's The Beggar's Opera, was an extremely popular theatrical draw in America as well as England.
Not only was England exporting stage productions to America, but also sending professional performers and actors in travelling troupes – moving from town to town up and down the urban Atlantic seaboard. These troupes consisted primarily of singers, dancers, musicians, and puppeteers, with a few "legitimate" actors rounding out the ensemble. In addition to stage and open-air performances of ballad operas and puppet plays, regional news items were communicated via song, play, or theatrical announcement.
The first travelling troupe arrived in America from England in 1752. Originally called the London Company of Comedians, they were renamed American Company and gave their first performance in Williamsburg, Va. In addition to having the distinction as America's first theatrical troupe, the company had the distinction of presenting the first stage production written entirely by an American – The Prince of Parthia.
The Prince of Parthia was supposed to be the second American theatre production to open in the American colonies, but bruised egos and political clout moved another contender, scheduled to open just four days earlier, out of the running.
Advertised in Philadelphia newspapers in early April 1767 as a "comic opera" (in retrospect it was actually a "ballad opera" –both of which used spoken dialogue between songs), this other production was set to open on April 20th. But a mere four days before opening, an announcement in the newspaper stated that rehearsals for the opera had ceased and the production would not proceed any further because, as the work "contains personal reflections," it was "unfit for the stage." Most likely, as was commonplace with English ballad operas, the script parodied or spoofed one or more local dignitaries powerful enough to pressure city authorities to close the production before it even opened. Though Philadelphia authorities were able to prevent the show from opening, someone dispensed payback by arranging to have the opera's text and lyrics published in a New York newspaper. The ballad opera which almost became the first theatrical work entirely by Americans was appropriately titled The Disappointment or The Force of Credulity. While The Disappointment missed being the first American-made theatre production to open on an American stage, it is credited with the first theatrical usage of the song "Yankee Doodle." Over the next forty years, the tune would find itself in many American theatre performances each time accompanied by new sets of (mostly) comic lyrics.
The growing success of travelling troupes in the colonies was temporarily interrupted in 1774 when the Continental Congress issued a ruling prohibiting activities that distracted from the efforts of the impending war, specifically
"every species of extravagance and dissipation, especially all horse-racing, and all kinds of gaming, cock-fighting, exhibition of shews, plays, and other expensive diversions and entertainments."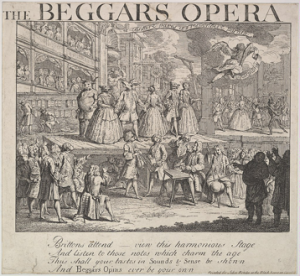 During the years of the Revolutionary War, theater was only legal in New York and Maryland, and while most colonists were forbidden from performing or attending theatre, there are records of "ballad operas" being performed by British soldiers stationed in both New York City and Philadelphia.
During the period of theatrical prohibition some troupes, like the American Company, chose to exile in either the Caribbean or the Old World. Other troupes attempted to circumvent the sanction on theatre, shows and plays by presenting their activities in a slightly altered version under the disguise of "concert" or "lecture" or "entertainment."
The practice of masquerading theatrical events as "lectures" and "concerts" was still in practice in 1784 when the American Company returned from Jamaica.
Although the prohibition on theatrical productions was still in effect, audiences clearly understood that "concerts" and "lectures" had extremely broad definitions. Even George Washington purchased four tickets to a "lecture" in 1784 which, in his diary, he referred to as "Play Tickets." Common practice and official regulations were clearly distant cousins.
The ratification of the American Constitution in 1788 brought about a more relaxed mood in the colonies. The following year Pennsylvania repealed the anti-theatre act, and within a couple of years, all other states followed (Massachusetts was the last to abolish the act in 1793). The American Company became The Old American Company and established a set theatrical "circuit" of regular stops which it visited at specified times each year. An American theatrical company was no longer merely travelling itinerant performers or local groups, but a regional company bringing its productions to a broader audience.
By the end of the century other theatrical companies found a home-base in theatres in Boston, Philadelphia, Charleston, Baltimore, or New York and branched out from this hub, particularly in summer, to perform their fare in smaller towns and communities in the regions around the home theatre. In this, the troupes were copying the common practice of England, where a theatre companies not only serviced the theatrical needs of a major city such as London, Edinburgh, or Dublin, but also the smaller towns surrounding it.
While a few stage productions featured works created by American-born composers, most at the end of the 18th century were transplanted British productions. Even those created by Americans were heavily patterned after the comic or ballad operas from Britain.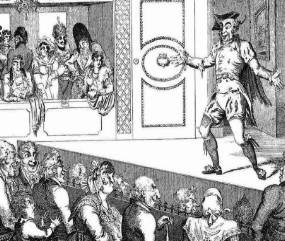 An audience enjoying a typical night at the theater at the end of the 18th century in America was not too dissimilar to an audience enjoying a football or baseball game in the 21st century. On stage, a variety of activities filled four or five hours: dramatic prologue, an extended principal dramatic work (with interspersed songs), pantomime or farce, interpolated songs or dances by individual performers, "afterpieces" or an epilogue all with musical elements linked together by the theatre orchestra. Meanwhile the audience mingled and chatted, ate and drank, applauded and heckled, came and left at their whim. The staid, reserved, respectful 21st concept of "concert etiquette" was completely foreign to those gathered to hear the latest ballad opera in Boston or New York.
At the end of the 18th century, as America was beginning to stand on its own legs as a country, theatre was still heavily influenced by European patterns. Ballad and comic operas were either imported from England or created in America following the British patterns. Most composers for the stage were transplanted from England, France, Germany or Italy. Those few American-born were careful to follow the standards and rules of their European counterparts.
Two final important points regarding American theatre at this time: there was absolutely no distinction between "theatre" and "musical theatre" – it was all theatre with music. Second, while many of the ballad operas borrowed heavily from melodies already existing in popular culture (particularly that stage form called pasticcio, which opening pirated existing popular melodies) none were above augmenting their revenues by publishing sheet music from the stage work. New words were attached to existing melodies, printed as sheet music, and sold to the middle and upper class for entertainment at home.
It was a long road from the 1790s to the 21st century for American musical theatre.