Leonard Bernstein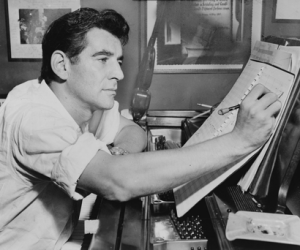 There has never been a set, established path of training for musical theatre composers. Berlin and Cohan were self-taught. Kern, Porter and Rodgers had formal musical training as a preparation for their determined careers in musical theatre. Gershwin and jazz pianist Duke Ellington built careers in pop and jazz before exploring the world of concertos and symphonies. Rarely have classically trained musicians established success in the art music community before exploring the world of musical theatre.
But such was the case of maestro Leonard Bernstein. Trained at Harvard, Bernstein's skill as a pianist and conductor was hailed in the world of American classical music. In 1943 the young Leonard was given the opportunity to step in as replacement for the guest conductor for the New York Philharmonic, one of America's finest, and most prestigious, classical orchestras. His triumphal conquest that evening was heard by live audience and by millions on the radio. His path as classical conductor seemed determined by fate.
But a meeting earlier in his career left other options open. As a twenty-one year old student at Harvard, Bernstein had organized a production of a controversial musical by Marc Blitzstein, The Cradle Will Rock. Through the process Bernstein met writers Adolph Green and Betty Comden; the three would occasionally present musical events at a club in Greenwich Village, with Comden and Green providing lyrics and singing, and Bernstein composing music and accompanying.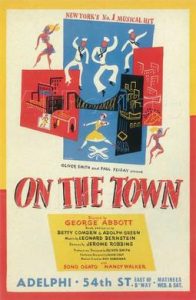 Though it would seem that Bernstein's success in the world of classical music would exclude him from more popular entertainment, such as musical theatre, the opportunity came in 1944 for him to explore the popular side of American music. For On The Town, Bernstein collaborated with old friends Comden and Green, and choreographer Jerome Robbins. The musical was a tremendous success on Broadway and launched the musical theatre careers for the four young talents (Green was the oldest at thirty). Five years after the Broadway success, a movie version of On the Town starred entertainment icons Gene Kelly and Frank Sinatra.
Similar to George Gershwin and Jerome Kern, Leonard Bernstein was able to meld elements of popular music – jazz harmonies and rhythms – with those of classical music. Though twenty-six-year-old Leonard Bernstein received a stern lecture and reprimand from his mentor, conductor Sergei Koussevitzky, the duality of Bernstein's career was set. While conducting, performing, lecturing and composing classical music, Leonard would also find acceptance as a scorer for films, and writer of musical theatre.
The Bernstein/Green/Comden team was reformed in 1953 and given but one month to write the music and lyrics for a new musical called Wonderful Town. The production was honored with five Tony Awards, including Best Musical.
With the exception of the operetta Candide, which was based on Voltaire's classic work, the three important musical theatre works created by Leonard Bernstein were all set in his beloved New York City. On The Town centered on three Navy sailors on liberty in New York City. Wonderful Town was the story of two sisters who came to the metropolitan city from Ohio to find their fortune. Though his third work started with Shakespeare, it ended up in New York City.
West Side Story, Bernstein's greatest contribution to American musical theatre, was based on Romeo and Juliet, the timeless story of lovers from opposite cultural worlds and the tragedy that ultimately separates them. The seeds were planted in 1949 when Bernsteins' friend, choreographer Jerome Robbins, approached him to write the music for a musical which brought Shakespeare's story into a contemporary Jewish vs. Catholic ethnic struggle. The working title for the new work: "East Side Story."
While in Los Angeles for a festival at the famed Hollywood Bowl, Bernstein read an article about an incident of gang violence and realized that a fight between rival ethnic gangs would be more in keeping with the original work than a story based on religious differences. On returning to New York, Bernstein learned that the famed East Side New York tenements had been largely demolished, so the project was re-titled West Side Story.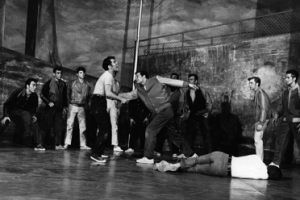 When West Side Story finally made it to Broadway in 1957, after eight years of work, countless revisions, internal disagreements, and cast and creative crew replacements, the work was a ground-breaking production. Directed and choreographed by Jerome Robbins, with music by Leonard Bernstein and lyrics by a young unknown writer named Stephen Sondheim, the work was an unflinching look at street life and violence in the inner city of the late '50s. Twenty-seven-year-old Sondheim would go on to become one of the geniuses in late 20th century musical theatre, for his lyrics as well as his music.
Robbin's choreography and direction was revolutionary: at times, such as the fight scenes, the dancers were given latitude to interject individual movements that reflected the dancer's character – moving them from being a dance chorus to being actors who danced. To maintain tension onstage, Robbin's instructed the actors playing the two gangs, the Polish Jets and the Puerto Rican Sharks, to completely avoid each other offstage. While the members of most dance choruses in musicals appear only for the dance portion of the work, Robbins was determined that the gang members not only needed to dance, but sing and act as well. What Agnes de Mille began with Oklahoma, Jerome Robbins brought to the next level in West Side Story. Robbin's choreography and direction helped make West Side Story a classic work in the musical genre.
In writing the songs and score for the musical, Leonard Bernstein's drew upon his alter world of classical music and training. The "Tonight" quintet towards the end of Act I is built on the same ideas that Mozart used in the conclusions of acts of his operas: simultaneous expression of different melodies, rhythms and lyrics; each actor or group of actors expressing their emotions, hopes, and fears. While the technique might appear to be cacophonous, the audience is able to sort through the multiple layers of text and melody and can identify each character or group and the unique perspectives each have at that moment. With unusual intervals and rhythms not normally seen outside of classical music, Bernstein pushed the envelope of stage music. As one reviewer said after opening night, "The subject is not beautiful. But what West Side Story draws out of it is beautiful."
Today, Leonard Bernstein's name is as closely associated with his stage works, particularly West Side Story as his classical endeavors. In his famous Young Peoples Concerts lectures and performances, he impacted generations of future classical musicians and audiences. In West Side Story, Bernstein brought music for the theatre to a new level of sophistication, used classical literature to focus on inner city life an violence, and gave an invaluable opportunity to a young genius named Stephen Sondheim.