Rodgers and Hart: Urbane Wit and Musical Sophistication
The seventeen-year-old Richard Rodgers met the older Lorenz Hart (by seven years) in March, 1919. Rodgers was about to enroll in Columbia University; Hart had already graduated from Columbia and was earning a living translating theatre scripts. Both had had previous experience writing music and lyrics for musicals, but their meeting and resulting collaborations were to bring about some of the finest musical theatre seen in the world.
In an article in the magazine Theatre Arts Monthly, Richard Rodgers described his first impressions of the 24-year-old Hart:
"He was violent on the subject of rhyming in songs, feeling that the public was capable of understanding better things than the current mono-syllabic juxtaposition of 'slush' and 'mush.' It made great good sense, and I was enchanted by this little man and his ideas. Neither of us mentioned it, but we evidently knew we'd work together, and I left Hart's house having acquired in one afternoon a career, a partner, a best friend and a source of permanent irritation."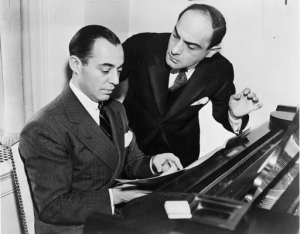 Within weeks of their meeting, the collaboration between composer and lyricist began and within months their songs were being heard by one of the premiere musical comedy producers of the day: Lew Fields. On August 26, 1919, at a matinee of a Lew Fields musical comedy, the first Rodgers and Hart song premièred to the public.
In the song, titled "Any Old Place With You" Hart showed the wit that would be characteristic of his work to follow. One line from the song, which was filled with the names of geographical places, showed his early penchant for internal rhymes: "I'd go to hell for ya – or Phila-del-phi-a!"
Hart's ability to craft witty lyrics, together with Rodgers' fresh melodic ideas and musical sophistication gathered from years of composition and afternoons attending Kern matinees, captured the characteristics of youth, vigor, energy and irreverence that would permeate America's Roaring Twenties.
Rodgers spent only two years at Columbia University, transferring to New York's Institute of Musical Arts (later renamed Julliard School of Music) for his final two years. During his years at Columbia and later at the Institute, Rodgers continued to write with Hart – creating songs for college variety shows and local performing groups. While a member of one of the performing ensembles at Columbia, Richard met another young student-writer interested in musical theatre: Oscar Hammerstein. Twenty years later, Hammerstein would be the second 'middle' in Rodgers long career in musical theatre.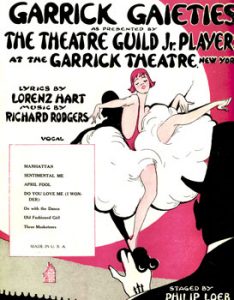 The first complete Rodgers and Hart musical show was a musical revue called The Garrick Gaieties in 1925. When tickets for the two performances of the show, a fund-raiser for a local theatre guild, sold out quickly, another four performances were added. When the demand for Gaieties tickets continued, shows were added again, with the result being a six-month run for a show that was originally to open at a matinee and close at the evening performance. The show contains several Rodgers and Hart classics that are still performed today including "Manhattan" and "Mountain Greenery."
Within three years, Rodgers and Hart had three different musical comedies on Broadway – the beginning of a prolific and dynamic output. In the eighteen years from The Garrick Gaieties in 1925 until the end of their partnership in 1943, twenty-five Rodgers and Hart musicals appeared on Broadway. During that time the team worked with almost every significant producer, performer, choreographer and director of the day. In the 1930s the team went to Hollywood and helped produce eight movie musicals, successfully bringing their talents to all of America.
While a few of the Rodgers and Hart shows have enjoyed revivals, most notably Pal Joey, it is the genius of the show's songs that survive. Hart's remarkable talent in creating succinct word-pictures and internal rhymes, combined with the balanced exuberance and elegant of Rodger's music gave America songs that transcend any era. Pop singers from Bing Crosby and Frank Sinatra to Diana Krall and Michael Buble have built their careers around songs by Kern, the Gershwins, … and Rodgers and Hart.
Lorenz Hart struggled with alcoholism and depression all of his adult life. During the opening-night performance of their last collaboration, the 1943 revival of their A Connecticut Yankee, Hart spent most of the show pacing at the back of the theatre, disappearing before the final curtain. He was found two days later, unconscious, in his hotel room. Though he was rushed to a hospital, diagnosed with pneumonia, Hart never regained consciousness. He died three days later at the age of 48.