Rock 'n' Roll meets Musical Theatre
The '60s also introduced the influence of rock 'n' roll on musical theatre. Just as ragtime and jazz had influenced musicals in the '10s through '30s, rock music and the accompanying culture began to interject themselves into the productions created during the 1960s. 1960's Bye, Bye, Birdie, also by Strouse and Adams, was centered around an Elvis Presley-type character and the infatuation and culture of the teenage fans. A much more authentic vehicle, in terms of the rock 'n' roll sound, was Hair in 1968.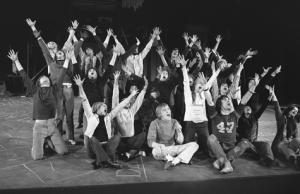 Hair was a pivotal musical on several levels. Its music was a more authentic representation of rock 'n' roll in the mid-'60s, with as many as five of the songs getting airplay and chart-time on rock radio stations. The philosophy espoused in the musical accurately reflected the anti-establishment, anti-Viet Nam, 'tune in-turn on-drop out' idealist of the hippie generation. Finally, it was the first of the 'non-plot' musicals, where episodic scenes were barely linked (if at all) in a story line. Making a statement was more important than telling a story. While the anti-patriotism, pro-drugs, and brief nudity was what caught the public's attention, more subtle were the production and musical doors being opened. Because the score relied on rock instruments, the performers openly used microphones for vocal amplification. Subsequently, area mics and eventually wireless body mics became the norm for musical theatre productions.
In subsequent decades, rock and quasi-rock musicals were amply represented in both Broadway and off-Broadway theatres. Shows like Jesus Christ, Superstar (1971) and Godspell (1971) prepared the way for The Who's Tommy (1993), Rent (1996), Hedwig and the Angry Inch(1998), Spring Awakening (2006) and Green Day's American Idiot (2009). Rock 'n' roll is firmly implanted on Broadway in musicals such as School of Rock (2015), Bloody, Bloody Andrew Jackson (2010), and Dear Evan Hansen (2016).
Incorporating rock 'n' roll, jazz, traditional musical theatre, and hip-hop, the dynamic phenomenon, Hamilton, exploded into American culture in 2015. It raised musical theater to the level of cultural awareness unseen in America since the golden ages of the '40s, '50s, and '60s.