Rodgers and Hammerstein: Music Theatre in the Voice of the Common Man
If in the era between the world wars musical theatre was partially dominated by the Rodgers and Hart team, the second 'middle' of Rodgers career came about right in the middle of World War II.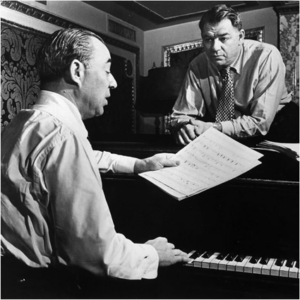 A year before Lorenz Hart's death, writing partner Richard Rodgers tried to interest his lyricist in acquiring the stage rights to a novel – Green Grow the Lilacs. While Rodgers was excited about the book, Hart refused to collaborate with him on the project. After years of collaborating in a love-hate relationship, Rodgers decided it was time to branch out and find another partner. It was to be the beginning of the era of the musical play in theatre – a time when the dramatic quality of the story was of foremost importance, with the music and dance existing in order to serve the purpose of the dramatic, comic or romantic moment and the characters involved in it.
His new lyricist was a long-time friend from his days as a student at Columbia – Oscar Hammerstein II. Hammerstein, whose was born into a famous theatre family, had been working in theatre and writing successful works for stage for over twenty years before working with Richard Rodgers on his new project. Oscar was highly respected as a lyricist and collaborator, having worked with Jerome Kern on the monumental Show Boat¸ as well as stints with operetta composer Sigmund Romberg, and on one occasion, with George Gershwin.
It is a testament to his skill then, that Hammerstein was not only part of the team that created Show Boat, one of the first milestones in American musical theatre history, he was part of the team that created the next great theatrical event: Oklahoma.
While Hart's lyrics were witty, intelligent, sometimes complex, like a bead-bedecked flapper from the 1920s, they inevitably drew attention to themselves. In contrast, Hammerstein's lyrics, seen as early as "Ol' Man River" from Show Boat, were heart-felt, genuine, conversational, and, when needed, weren't afraid to be dialectic. Irving Berlin, who wrote both words and music, said of Oscar Hammerstein, "The difference between Oscar and the rest of us lyric writers is that he is a poet."
As his lyricist's style changed from cunning and clever to poetic and conversational, Rodgers' style of writing would also change with time.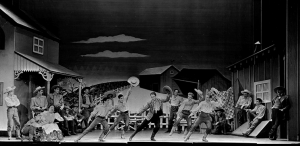 On March 31, 1943, Oklahoma, the first collaborative work between Richard Rodgers and Oscar Hammerstein II, opened onstage at the St. James Theatre in New York. Not only was it the first work of the new theatre team, it was also the first lead roles for several young actors and the first opportunity for young choreographer Agnes de Mille (niece of famed movie director Cecil B.) to have the freedom to create something novel in theatre. None of the cast, production crew, creative crew or audience was disappointed with what happened that night. As Hammerstein would later write, the audience, returning to their seats after the intermission, were radiating excitement and enthusiasm for the next act: "the glow was like the light from a thousand lanterns. You could feel the glow, it was that bright!"
Theatre critics, often starched in their own importance and reluctant to concede to quality, were equally as enthusiastic. "Wonderful," "Jubilant and exciting," "fresh, lively, colorful and enormously pleasing," and "the most thoroughly and attractive American musical comedy since Show Boat" came from different newspaper reviewers. In the New Yorker magazine, the critic wrote: "I feel nothing but the greatest affection for everybody in it. To the Theatre Guild [the producing organization] my gratitude is practically boundless."
The March 1943 opening of Oklahoma was followed by a non-stop five year run on Broadway (2,212 performances), touring companies and, significantly, the first cast recording of a musical theatre production. The first song of the show, the first lyric written by Hammerstein for Rodgers to set to music was "Oh, What a Beautiful Morning." The lyric proved to be prophetic, for a new team was about to take over Broadway.
During the next sixteen years, Rodgers and Hammerstein musicals were a staple on Broadway and in films. The eleven musicals created together have had more revivals and performances by national, regional and community theatrical companies than any other creators of American musical theatre. Their collective first runs on Broadway number over 9,000 performances. Time and again theatre companies go back to such Rodgers and Hammerstein "warhorses" as Oklahoma, South Pacific, Carousel, King and I, Cinderella and The Sound of Music, knowing that even the most mediocre performances are sometimes saved by the sweeping elegance of Richard Rodgers' music and the beautiful humanity of Oscar Hammerstein's lyrics.
Oklahoma was a milestone for several reasons: it was the first major musical theatre production to present a storyline based on life west of the Mississippi River. At a time when Broadway was still projecting an image of "bigger is better," Oklahoma utilized sparse, almost minimalist sets onstage. Never before had the cast of a musical theatre production gone into a recording studio to create a 'cast recording' of their show. This caused the popularity of Oklahoma to explode as people in North Dakota, Louisiana and Colorado could now 'hear' a Broadway show in the comfort of their homes.
Finally, Oklahoma was a milestone in musical theatre history for the innovative and ground-breaking choreography by Agnes de Mille. Up until Oklahoma, dance in musical theatre had been considered an interesting and momentary visual diversion, similar to the commercial breaks in the Super Bowl. Dance numbers, drawn from a spectrum of dance that ran from elegant ballet movement to the trendiest dance craze, were opportunities to watch beautiful girls dressed in wonderful costumes glide, prance and parade about the stage in a temporary intermission between moments of the storyline.
What de Mille did in Oklahoma was revolutionary. Rather than treating the choreography as a buffer between comic or dramatic moments, de Mille used the dance to further the plot and to reveal the deeper emotions of the main characters. The famous choreography for "Laurie Makes Up Her Mind" reveals what the female lead is thinking and feeling, being torn between her two suitors. Viewing dance as an extension of the dramatic moment, de Mille used movement that was designed to show the angst, turmoil or joy of the characters. Just as Rodgers and Hammerstein felt that the lyrics and music were subservient to the moment, de Mille created choreography in Oklahoma that reflected the acting, rather than drawing focus to the dancers' abilities or technique. Never before in musical theatre history had the music, lyrics and dramatic moment been so perfectly wedded to the dance.
It would be almost impossible to over-emphasize the importance of Richard Rodgers and Oscar Hammerstein II, both separately and together, on American musical theatre. Both had an impact on American stage and film from the early 1920s until the early 1960s. Separately and together they collaborated with icons of early musical theatre: Gershwin, Kern, Hart, Berlin and Cohan. It has been estimated that more audiences have seen musicals created by Rodgers and Hammerstein than any other composer or lyricist in history. From the exotic realms of The King and I and The Flower Drum Song to locations of typical Americana like Oklahoma, State Fair, and Carousel to times of historic importance such as South Pacific and The Sound of Music, Rodgers and Hammerstein have transported audiences and have given America a body of musical theatre works that continue to be relevant and engaging into the 21st century.
The Sound of Music promotional video, 2012, Paper Mill Playhouse
Perhaps the timelessness of their works is revealed by Richard Rodgers in the final page of his autobiography, Musical Stages, where he wrote:
"I am often asked where I think the musical theatre is heading. It's one question I always try to dodge because I don't think it's heading anywhere until it's already been there. One night a show opens and suddenly there's a whole new concept. But it isn't the result of a trend; it's because one, two, three or more people sat down and sweated over an idea that somehow clicked and broke loose. It can be about anything and take off in any direction, and when it works, there's your present and your future."
Rodgers and Hammerstein are sometimes considered the "Deans of American Musical Theatre," and were the musical and lyrical links connecting Jerome Kern in the 1910s with Stephen Sondheim in the 1960s. When Oscar Hammerstein died of cancer in 1960, the partnership, and the first great era of dramatic musical theatre came to a dignified close. Though Rodgers continued to write musicals, none reached the pinnacle of lasting quality of his earlier works.