Andrew Lloyd Webber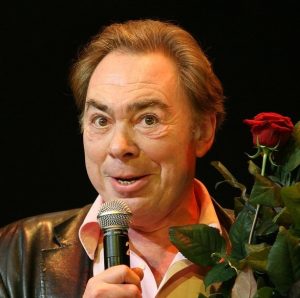 Eighteen years younger than Sondheim, Andrew Lloyd Webber's first foray into musical theatre was a 1968 school project with classmate Tim Rice: a telling of an Old Testament story called Joseph and the Amazing Technicolor Dreamcoat. It took fourteen years for the original twenty-minute 'cantata' to be revised, expanded and made ready for its 1982 premiere.
In the meantime, Webber had graduated from school and in 1971, together with Rice, had created a 'rock opera' titled Jesus Christ, Superstar. Less whimsical than Godspell, which came out the same year, Superstar, is often pointed to as the beginning of the second 'British Invasion' (the first being when the British rock groups – Beatles, Rolling Stones, etc, "invaded" American rock 'n' roll in 1964). Produced first as an album and then as a touring concert version, Superstar was a telling of the last seven days of Jesus. The Broadway version was complete with gaudy, colorful theatrics, and irreverent, controversial moments. Though the critics were mixed in their reviews, the rock energy, innovative staging and contemporary music kept the show going for 720 performances.
At the end of the '70s, Webber and Rice produced their second major show: Evita (1979), a telling of the story of Eva Peron, wife of 1950s Argentinean dictator Juan Peron, her life, love, dreams and death, all provided with commentary by the narrator – revolutionary Che Guevara. Evita was presented in a detached, almost a quasi-documentary manner, showing Evita as both saint and whore, and allowing the audience to arrive at their own conclusions at the end of the show. Incorporating film and other more avant-garde stage techniques, the show was as emotionally jarring as West Side Story was in the late '50s, or Cabaret was in the late '60s. By the late '70s, theatre audiences were becoming increasingly comfortable with the experimental and controversial, and Evita ran for over 1,500 performances on Broadway.
Highlights from the 2012 Broadway production of Evita
As successful as Jesus Christ Superstar and Evita were, no one, even Webber himself, could have anticipated what he was going to produce next. Although almost every musical presented from the late '40s until the late '70s were book-musicals, that is, written with a series of characters in a specific locale, an unfolding plot and a final resolution of the various storylines. Beginning in the late '70s, however, the revue show was starting to be drawn upon; separate revues were created featuring the works of jazz & R&B composers Fats Waller (Ain't Misbehavin', 1977), Duke Ellington (Sophisticated Ladies, 1981), Lieber & Stoller (Smokey Joe's Café, 1995) and Louis Jordan (Five Guys Named Moe, 1992).
In keeping with the revue format, which often had the thinnest of plot lines connecting musical moments, Webber's 1982 musical Cats was a collection of songs and dances presented by felines as created in poet T. S. Elliot's "Old Possum's Book of Practical Cats." Set in an enormous junkyard, underneath a canopy of stars which extended out over the audience, cats of all sorts and preoccupations cavort and sing with incredible energy. Due to the preponderance of choreography, with the exception of two or three roles, the cats are played by dancers who can sing, rather than the other way around. The collection of stories, songs and dances comes to a tearful end when, Grizabella, the old glamour cat, sings "Memory" as she is gently lifted to cat heaven, known as "the Heaviside Layer." In spite of its lack of substantive plot, Cats has been a staple on Broadway and London and been an international sensation with dozens of other professional performances and touring companies performing the work throughout the past almost thirty years. At one point, Cats held the record for longest running musical on Broadway with an amazing 7,485 consecutive performances. It has become as much a landmark in musical theatre history as Oklahoma, West Side Story, My Fair Lady, or A Chorus Line.
By age thirty-four, Andrew Lloyd Webber had produced Joseph and the Amazing Technicolor Dreamcoat, Jesus Christ, Superstar, Evita and Cats – four shows with Broadway first-run numbers of over 10,000 performances. No musical theatre composer in history had achieved that level of gargantuan commercial success. But the vast majority of his career lay ahead of him, and his next project would make all other shows pale in comparison.
Andrew Lloyd Webber first conceived Phantom of the Opera as a humorous melodrama, but the idea of a romantic epic began to unfold soon early in the creative process. If Evita was a quasi-documentary, and Cats was an updated revue show, Phantom of the Opera was to be an operatic extravaganza. Elaborate sets of sweeping staircases, underground labyrinth, a huge crashing chandelier, and a life-size elephant model all augment the ornate and realistic 1880s Parisian opera house set. Cast, crew and orchestra numbers 130 people with 230 costumes, 14 dressers, twenty-two scene changes, 550 pounds of dry ice for each performance and ten fog and smoke machines. The touring companies of Phantom travel in 27 semi-trailers for costumes, sets, and technical gear.
Phantom opened in London before preparing to come to Broadway. A record of $16.5 million in advance ticket sales preceded the Broadway opening night. Shattering the record for longest running show on Broadway, Phantom of the Opera reached its 9,000th performance at Broadway's Majestic Theatre in September 2009. Phantom has been translated into 14 languages, seen in live performances by over 140 million people, won seven Tony awards and had the original cast recording go multi-platinum many times over – 40 million copies. A 2002 movie version reached $150 million in tickets sales. Ticket earnings for the Broadway production are estimated at $1.1 billion, making it one of the most successful musicals in Broadway history. World-wide earnings for Phantom are in the neighborhood of $6.0 billion, making it the most commercially successful entertainment event in the history of mankind.
With the magnitude of the visual, it might have been easy to lose the intimate moments, yet Webber carefully crafted tenderness and vulnerability between Phantom and Christine, the young operatic ingénue. The success of Phantom lies in the fact that the music and the story are never lost in the opulence of the set and costumes or the wizardry of the technical aspects.
Following the magnificent successes of Cats and Phantom of the Opera and the earlier works, it might be understandable if Webber, like composer Frederick Loewe, would choose to coast for the rest of his career, resting comfortably on his ground-breaking accomplishments. In addition to Cats, Phantom, Evita, and Jesus Christ Superstar, Andrew Lloyd Webber has been producing many other, if less monumental, musical theatre hits for the London and New York stages. His version of the children's story, "The Little Engine That Could" was crafted into Starlight Express, a musical fantasy with a rock score and neon lights woven through costumes worn by actors on roller skates. The flashy show originally included a racetrack built over the audience's heads, was the most expensive set in musical theatre history – costing over $8 million. The 761 performances on Broadway were augmented with a record 7,406 performances in London's West End.
In the decades of the '90s and '00s, Andrew Lloyd Webber's output included Aspects of Love (1990), Sunset Boulevard (1994), By Jeeves (2001), The Woman in White (2005),  and The Wizard of Oz (2011), but none have matched the commercial success or critical acclaim of the 'magic period' of the late '70s and '80s. A sequel to Phantom has been written – Love Never Dies – with the story of Phantom, Christine & Raoul being updated to New York circa 1910. The show premiere was delayed when it was discovered that Webber had been diagnosed with prostate cancer. Love Never Dies opened in London in the spring of 2010 and closed in August, 2011.  The latest Webber production, School of Rock (2015), is based on the movie of the same name and is currently appearing successfully on Broadway.
Only Stephen Sondheim can match the number and diversity of Andrew Lloyd Webber's awards: seven Tonys, four Grammys, an Oscar and a Knighthood.
The two titans of musical theatre for the past forty years have been these: Stephen Sondheim and Andrew Lloyd Webber.
Both experimented in form, unusual instrumentation and thought-provoking subjects. While Sondheim created a level of art/music theatre that had never been achieved before, Webber created musicals which were so successful commercially that they became industries in themselves.