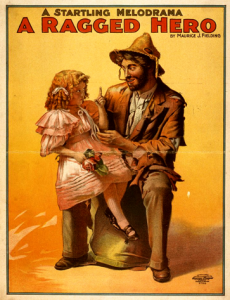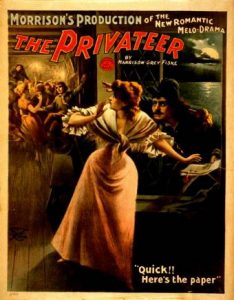 Long before the television "soap operas" of the late 20th century, or the radio soap operas of the mid-20th century, or the vaudeville productions of the beginning of the 20th century, American audiences were enjoying the intermixing of drama and music with the introduction of the French form: Melodrame. The melodramatic plot was formulaic: a situation of "good vs. evil", romance on the side of good, evil temporarily conquering good, but good ultimately triumphing as romance is fulfilled. The theme was to be the foundation for silent films, radio dramas, television soap operas, and countless movies.
The difference between melodramas and previous musical stage works was the use of the music. As one early American melodramatist, William Dunlap, said, the melodrama was a "mixed drama of words and ten bars of music." The "melos" were short instrumental or vocal fragments of music interjected or underscoring the dramatic or romantic action on stage. Played by the theatre orchestra, instrumental melos were at times "hurry music" to convey urgency or "discontent music" to underscore the characters' feelings of anxiety or uneasiness. Romantic moments, dangerous moments, scary moments, or moments of surprise all had their own particular "melo". In a way, they were a cousin to the leitmotivs that were a part of European opera which would be used with great success in the works of Richard Wagner and other composers later in the 19th century.
Melodramas not only contained dialogue and musical melos, but often made use of pantomime as well. By mid-19th century, melodramatic fight scenes were frequently included with appropriate emotionally heightened music. Most melodramas had between thirty and fifty composed melos with scripts carefully indicating which melo was to be played at which point in the drama. While the practice of using musical melos to manipulate the emotions of the audience at specific points in the play might seem primitive to us today, there is no difference between the melos of the 19th century America and the soundtracks of every big-budget movie being enjoyed in cineplexes across America. Using music to heighten feelings and shape emotional moments is the goal of both forms.